Offer: What It Is, What for It Is Used and How to Come up With It
Date: 2023-04-03 | Time of reading: 7 minutes (1424 words)
An offer is a benefit to the user, consumer or affiliate after a targeted action (such as a purchase or subscription) has been taken. It is a suggestion to potential customers to buy something useful and appropriate in a specific period of time. The benefit comes as a discount, a bonus, helpful material, a guide, a gift, a free month of use, etc.
The offer is similar to a unique selling proposition, but they have one significant difference - the offer is valid only for a limited period of time and motivates to buy quickly, while the USP describes the features of the product, which are always current.
In this article we will consider why we need an offer in Internet marketing, where it is used, how an offer looks like, how to properly create and improve it.
Why an offer is required
Of course, the most attractive product for customers is the one that offers a benefit. Such an option is 90% more appealing 90%.
Let's take a closer look at why we need offers in business:
To increase the target audience. Tools for increasing traffic (banners, ads, etc) are offers in online marketing.

To increase engagement of potential and loyal consumers. Successful offers increase customer loyalty and keep the company's customer base.

To increase sales. A high-quality offer draws the attention of the target audience and motivates them to make a purchase here and now.

To create value for the product/service and to form a successful image of the organization. In today's highly competitive marketplace it is not enough for companies to simply demonstrate the characteristics of their product line. For constant sales, it is necessary to convince the customer of the value and exclusivity of your product.

To expedite the sale of the product. In commerce, an offer is a discount or a total sale. Often there are selling "discount" offers - 30-50-80%.
Where an offer is implied
The offer is used by companies in different industries. Let's consider the most popular among them:
1. Goods and services
In this sector, an offer states what exactly the consumer gets if he buys a product. Often they are based on discounts and promotions that demonstrate economy to customers.
For instance, the jewelry brand Puravida often provides marketing offers among their customers.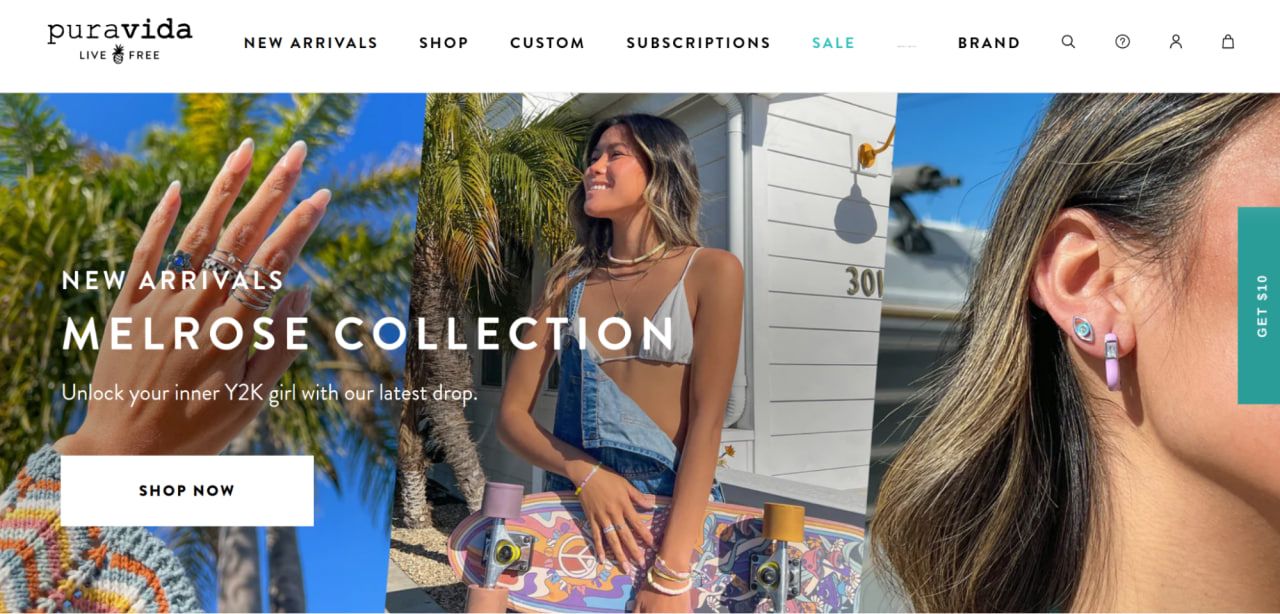 Puravida offers to buy the latest new items online.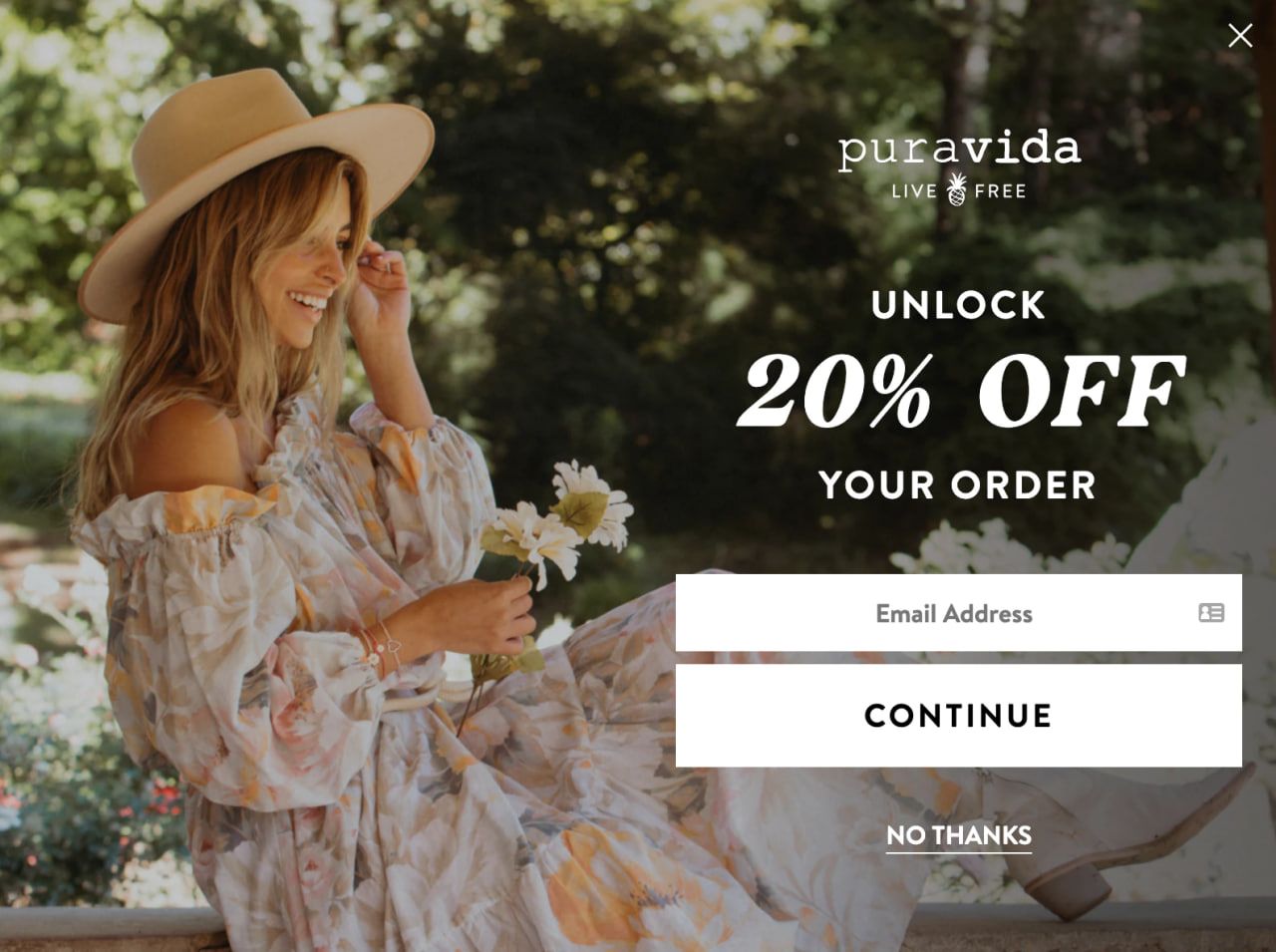 Puravida gives a 20% profit for ordering their jewels.
And here's an offer of Bit.ai providing a platform that organizes your digital files in one environment. The service has its free trial and offers to start using it right away.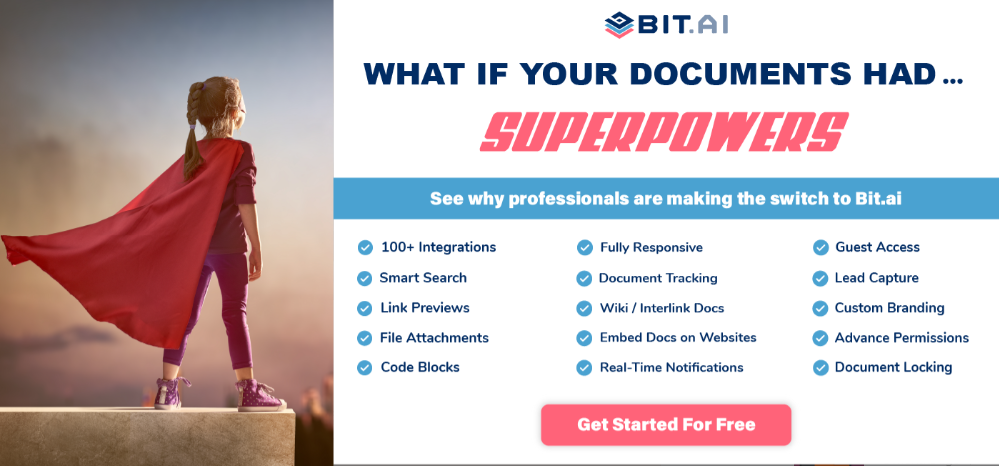 An offer from Bit.Ai to try using their service for free
2. Marketing
In marketing, the purpose of an offer is to determine how a particular product satisfies consumers' desires. Such an offer should not only increase sales, but also expand the customer database. To do this, visitors to the site leave their contact information in a subscription form, take a survey or a questionnaire. A marketing offer consists of:
an interesting headline that attracts attention;

the text, which reveals the benefits of the product or service for the client;

a call to action (CTA) that leads a user to perform a particular activity on the site.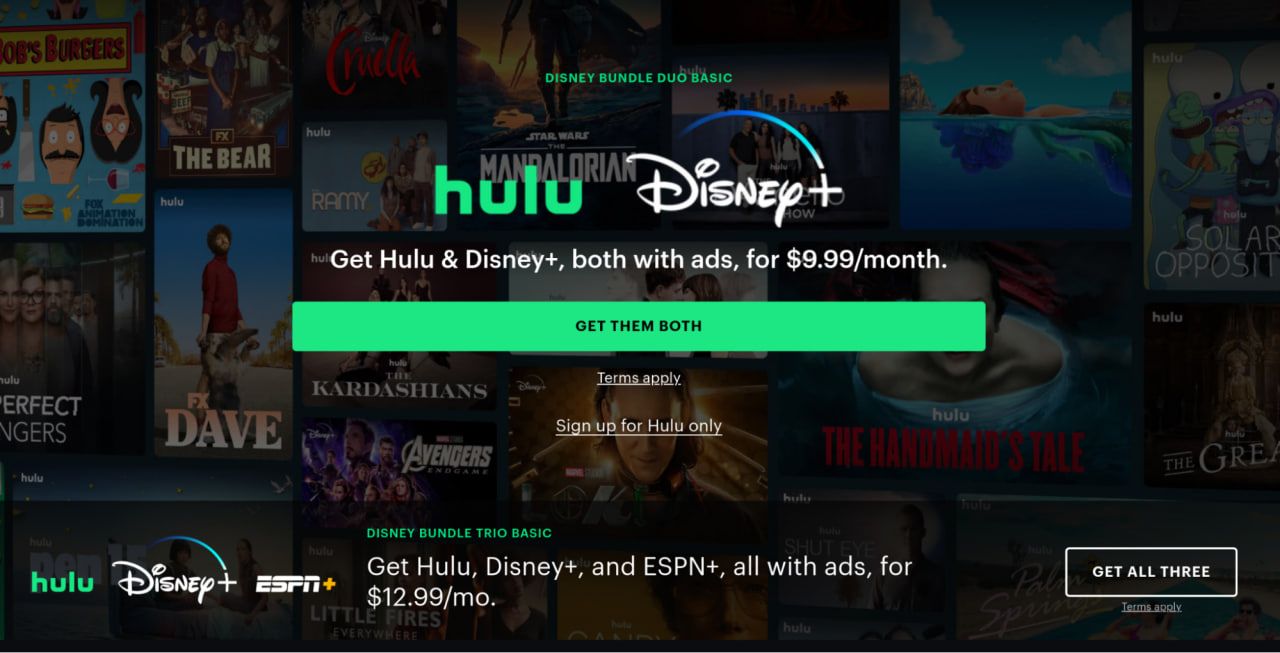 The CTA offering to subscribe to two TV channels at once.
3. Affiliate model
CPA (cost per action), or an affiliate model is a model of Internet marketing in which a company outsources the promotion of its product to intermediary advertisers. The partners' task is to bring visitors to the site so that they perform the target action: buy a product, register, leave their personal information and so on. What is an offer in an affiliate program? This is a technical task describing the benefits of participating in this program. Usually it is stated what the reward will be, from which site the traffic is required, what the products are, etc.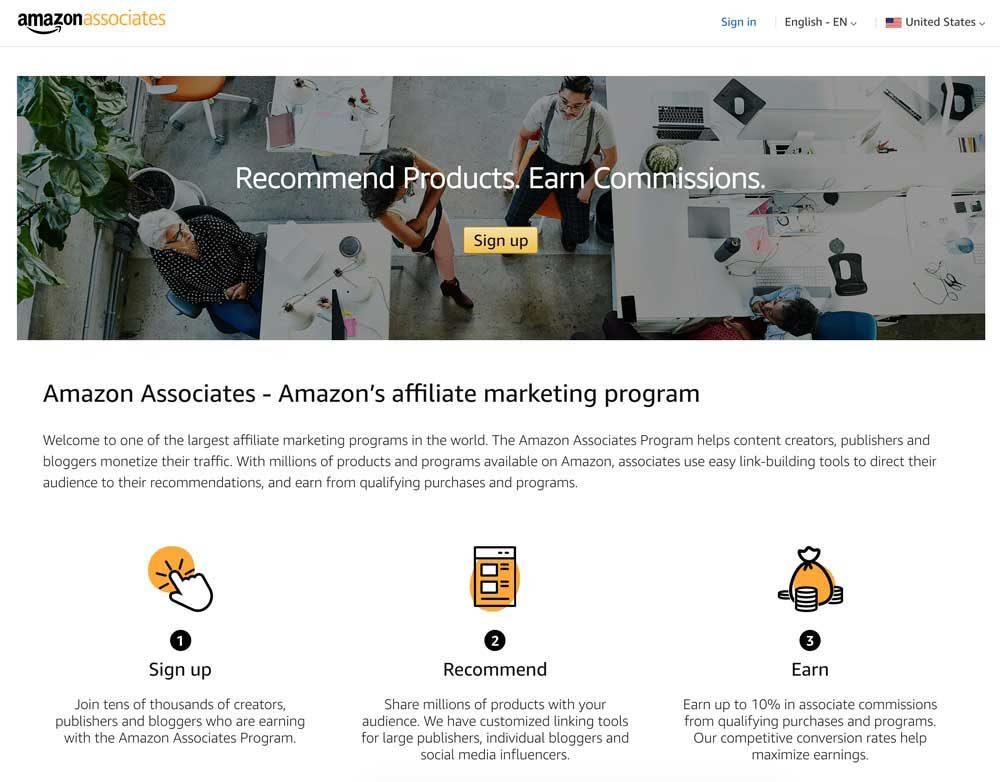 Affiliate marketing from Amazon
4. Recruiting
Vacancies and resumes are recruiting offers that are related to the labor market. These offers are created for job seekers. They contain positive aspects that will benefit future employees.
Job offers are placed on special sites in the job description or are announced during the interview. An offer in recruiting includes:
job title;

job duties;

work hours;

salary;

career opportunities;

social package and other bonuses;

brief information about the company.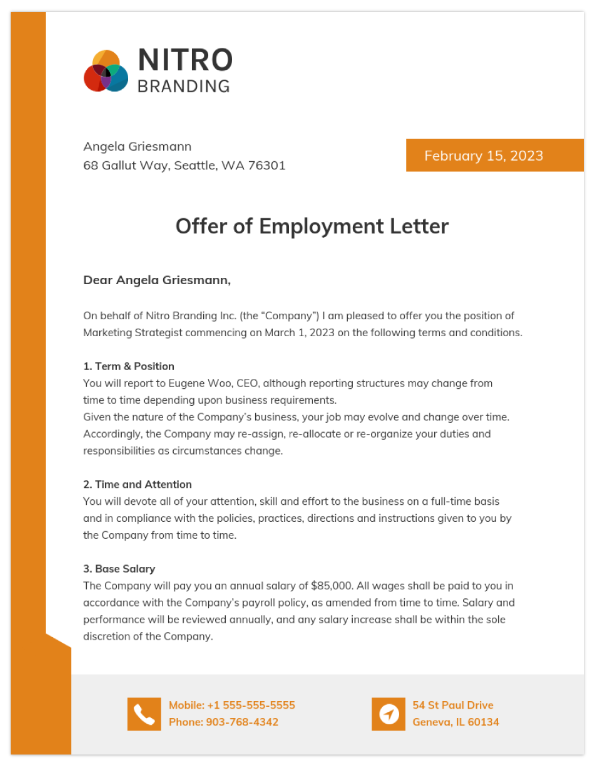 An example of an offer for a position of Marketing Strategist
How to make an offer
Start designing a successful offer with market research: identify the target audience, identify its needs and problems. Once you know this information, begin to develop the offer.
The perfect offer formula is like this:

Benefit is the most important component in making an offer. You should first attract the customer with a unique offer. Don't confuse value and cost. For example, the following description demonstrates the value of a cell phone from its brief characteristic: "A smartphone with ultra-thin body that is easy to hold, having fancy design and delighting people."

A product is what provides the benefit for the consumer. Use the following effective formula: "We offer you (benefit) through (product or service). For example: "We offer you glowing, healthy-looking skin through our special line of facial care products."

A discount/promotion is something that the offer can't do without in the minds of customers. In other words, it is a "bribe" to the customer for choosing your product or service. Promotions, as a rule, imply free delivery, product samples and various gifts with the purchase. For example: "Only today buy one pizza and get extra one free".

The call to action button is a crucial element in the formula of a successful offer. It's not enough to just demonstrate the product, you need to motivate customers to buy or take other targeted actions. For example: "Subscribe for a month and get free consulting from an expert". Offers with different restrictions bring excellent results: order or buy before a certain date or time; there is only a couple of items left, etc.
Instructions for coming up with an offer:
Analyze the target audience, make up a portrait of your customer. The purpose of the offer is to combine the benefits with the desires of people. To do this, study the needs, doubts, objections, values of your target audience. Also, list the merits of the product and explain what problems it solves.

Define the message of the offer. Make an understandable offer for the client: what exactly you are selling, what are the benefits for the buyer. Finally, the result is an offer, having seen which the customer will say: "Yes, I need it."

Apply discounts, promotions, features - anything that makes you stand out from the crowd.

Add a call to action and restrictions.
How to improve an offer
Create a brief offer, consisting of a few sentences and conveying the main point. A large amount of information makes the offer more obscure, the client is then unlikely to focus on it.

Customize the offer for your target audience. A successful offer solves the problems of certain people. For this it is important to understand: who exactly is your customer, what are his needs and his doubts, what motivates him to buy.

Take the figures into account. Show in numerical values how much your customers will save and how much they will get as a gift. The benefits shown in clear values are highly appreciated by customers.

Make an offer for a single item. The consumer's attention will be focused on a specific product.
Conclusion
An offer is a suggestion to buy a product and get a profit. The offer is used in such areas as commodity business and services, recruiting, marketing, affiliate networks. It consists of a small number of offers. Be sure to add a call to action and benefits such as unique features, promotions or discounts.
Consider the needs and fears of your audience to create an effective offer. Demonstrate the benefit in figures, limit the time and number of products. Also, make an offer for a single product or a group of products, so customers don't get distracted.