Landing Pages: What Are They and Why They Matter
Date: 2023-03-27 | Time of reading: 12 minutes (2165 words)
A landing page is a one-page website aimed at motivating the client to make a certain action: to buy, to subscribe, to order a service and so on. Such a web page is intended to advertise and sell products, as well as to collect personal data of the leads.
A landing page is one of the means of promotion which highlights the product from the best sides, eliminates doubts and gradually guides a person to a particular action.
Why a landing page matters
A landing page is a great way to increase a company's recognition, increase sales, optimize SEO indicators and attract new customers. It is an efficient way to expand your customer base.
Here is the statistics to demonstrate the positive aspects of the landing pages:
How a landing page works
A landing page functions as follows: the consumer clicks the link and goes to a one-page site. At the top of it there is the headline with a certain offer. If users are interested in it, they scroll on to get more details. Each following module increases the interest of the visitor and eliminates all doubts. At the end of it the CTA (call-to-action) button or a form of subscription is placed. It is the essential element of a landing page. To receive a special offer they're interested in, the visitors should leave their contact information. Thus, they become leads.
Usually the form has a couple of boxes that ask for email and username. This information is enough to expand the customer base and solve marketing problems. After filling out the subscription form, the person receives a thank-you email.
Advantages of a landing page
Let's look at what are the pros of using a landing page:
Easy lead generation. A relevant landing page with thoroughly worked out content can quickly attract a visitor and convince him to perform a targeted action.

Collection of personal data for the customer base. A landing page collects the necessary information about potential customers. So the company gets to know its audience better, understands its desires and interests. As a result, brand advertising campaigns get better and more personalized.

Improving search traffic. A landing page is developed to match specific search phrases. This is done for free promotion by natural means or through special paid services, such as Google Adwords. The landing will significantly increase your search ranking, making you stand out among other firms.

Effective promotion of new products. You can leave a link to the landing page for potential customers when you come up with new products. This way customers pay attention to the product offered and show activity on the web page.

Easy process of making a decision. Only the most relevant information is included on the landing page. This makes it easier for consumers to make a decision. They can quickly figure out whether to buy a product/service or not.
The common types of landing pages
Product/service landing page
It motivates the customer to buy a certain product. This page contains information with product descriptions, pictures and videos, cost and reviews. Motivators (e.g., special offer, reduced price) are used to encourage the purchase, and doubts and fears are eliminated (return guarantee, a manual, reviews of the consumers). This type is suitable for advertising a single product. If the brand has several positions, a separate page is created for each, as here in the example Tala promotes its product offering to buy it at a discount.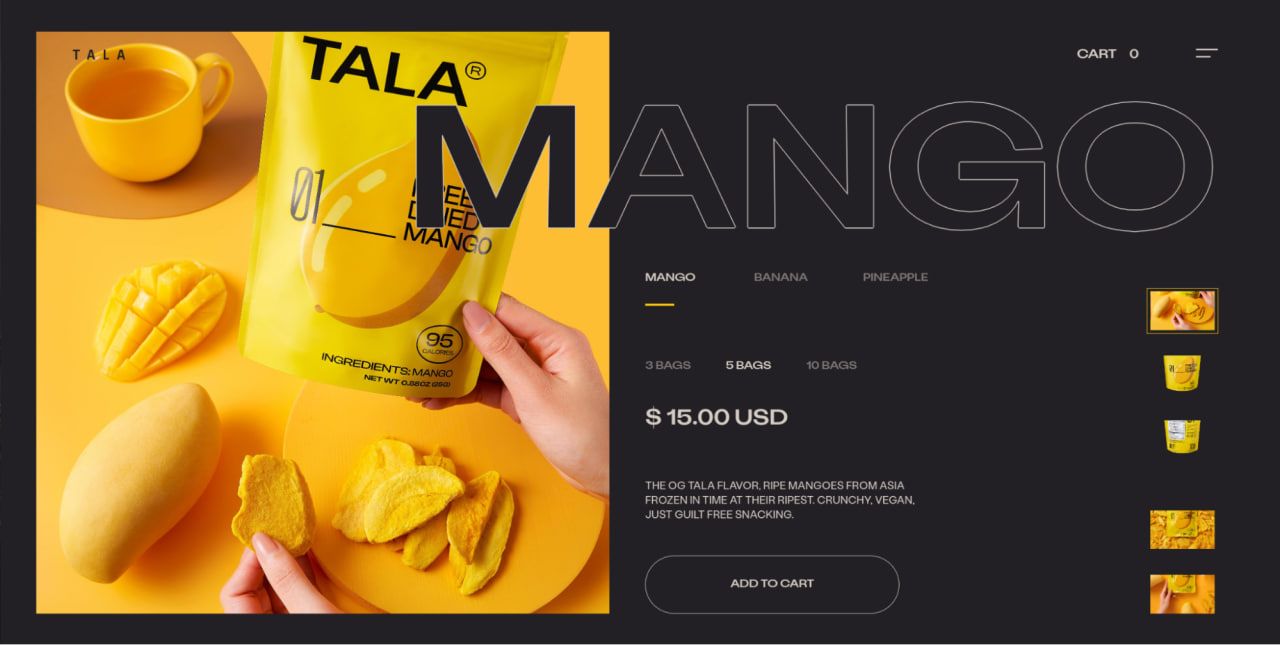 A landing page for services
It is similar to the previous type aiming on the visitor's applying for the service, or a call, or whatever of this kind. Such pages present the process of the service, photos and videos, reviews. It is important to show customers what problems your service solves and in what way. In the example below, Row House offers the first visit for free. To take it, the user should fill out the online form leaving the contact information.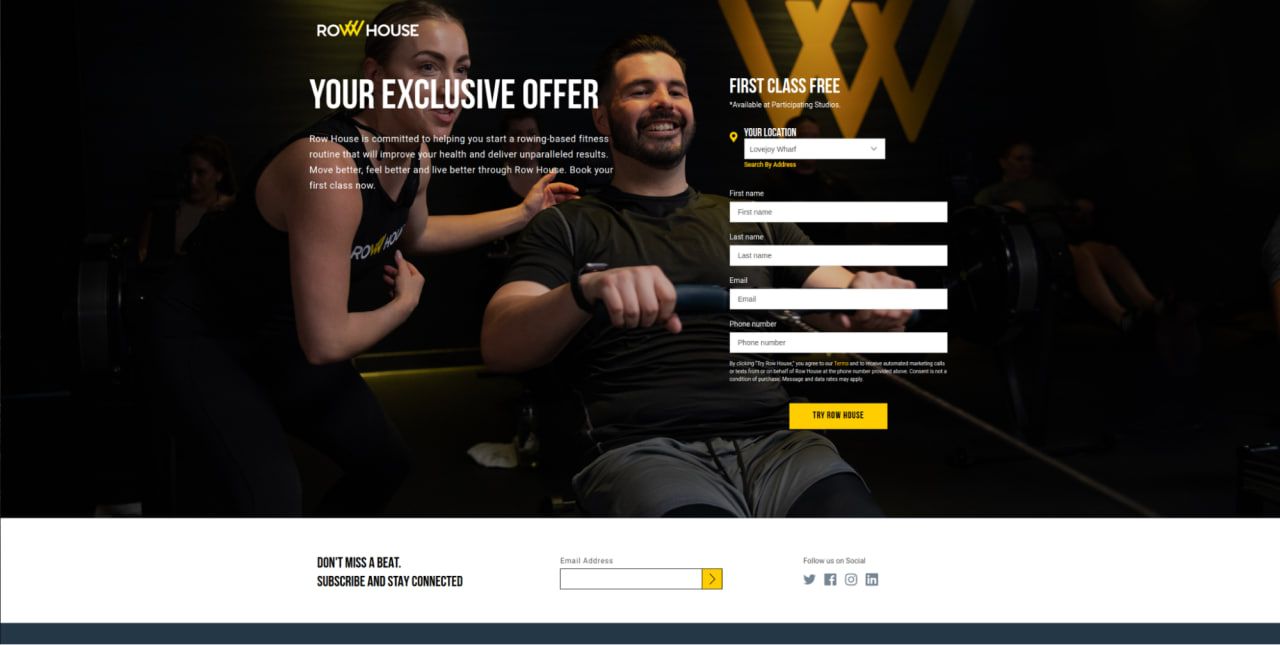 A subscription offer landing page
This type of landing page aims to get agreement to send a newsletter. Through it, the organization gathers a client database more quickly. It is easier for a user of the site to subscribe to topical news than to buy something right away. But keep in mind that intrusive advertising is not appreciated by consumers. Tell them what kind of emails you plan to send. It can be a series of helpful articles or something of a kind.
Be sure to note the benefit that the person will receive in return: a discount or a free trial period. Here Social Media Examiner offers to give you helpful information about the trends of social marketing for free if you subscribe.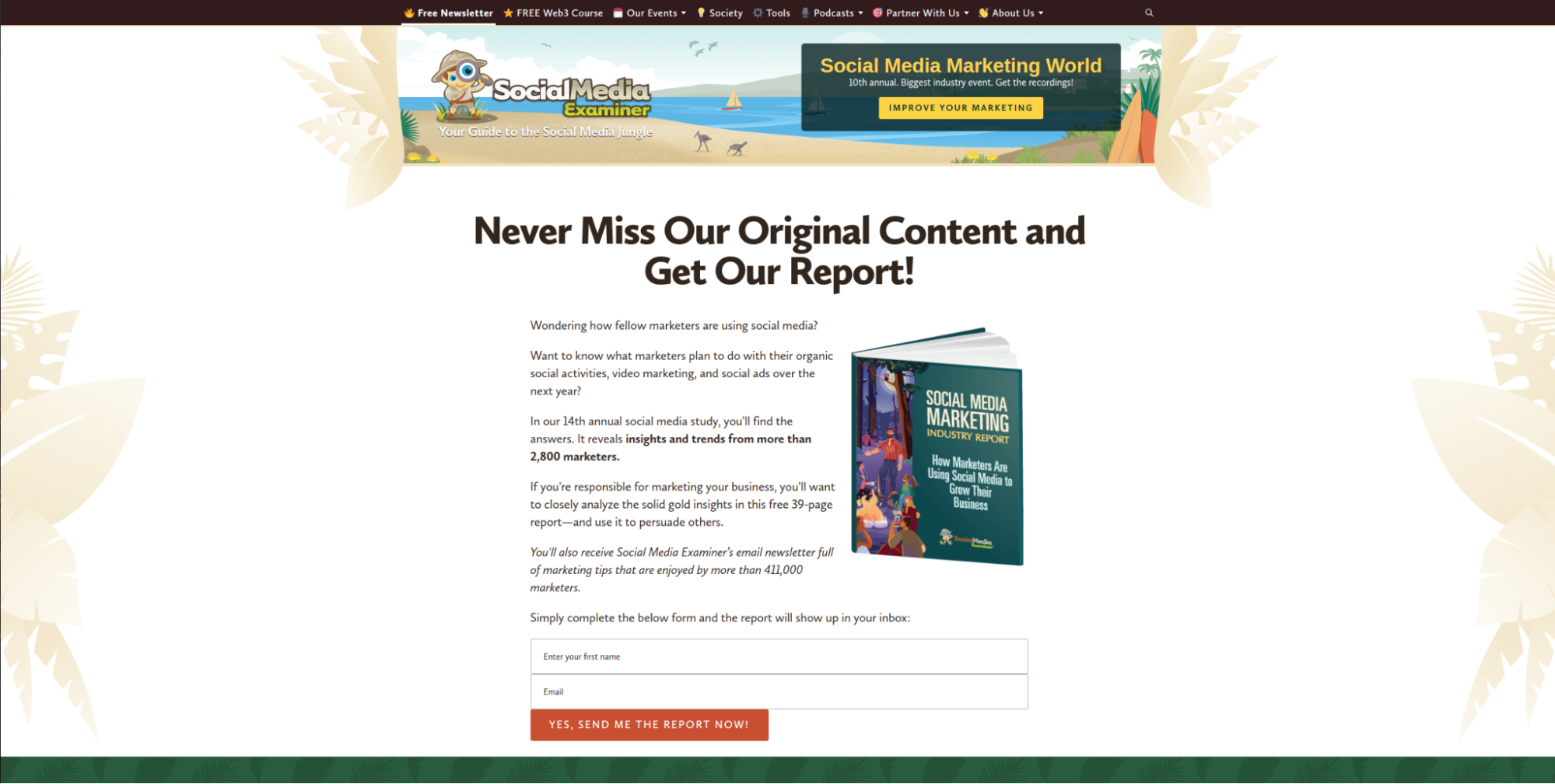 This type of a web page is designed to present a brand or a new product. It is suitable for promotion aimed at advertising, increasing the interest and loyalty of customers. As a rule, these products are sold through online or offline stores, or other channels, so there is no targeted action on the page. This example shows the elegantly designed landing page of Mercedes-Benz aimed at warming up the interest of loyal customers through representing their collaboration with the italian fashion brand Moncler.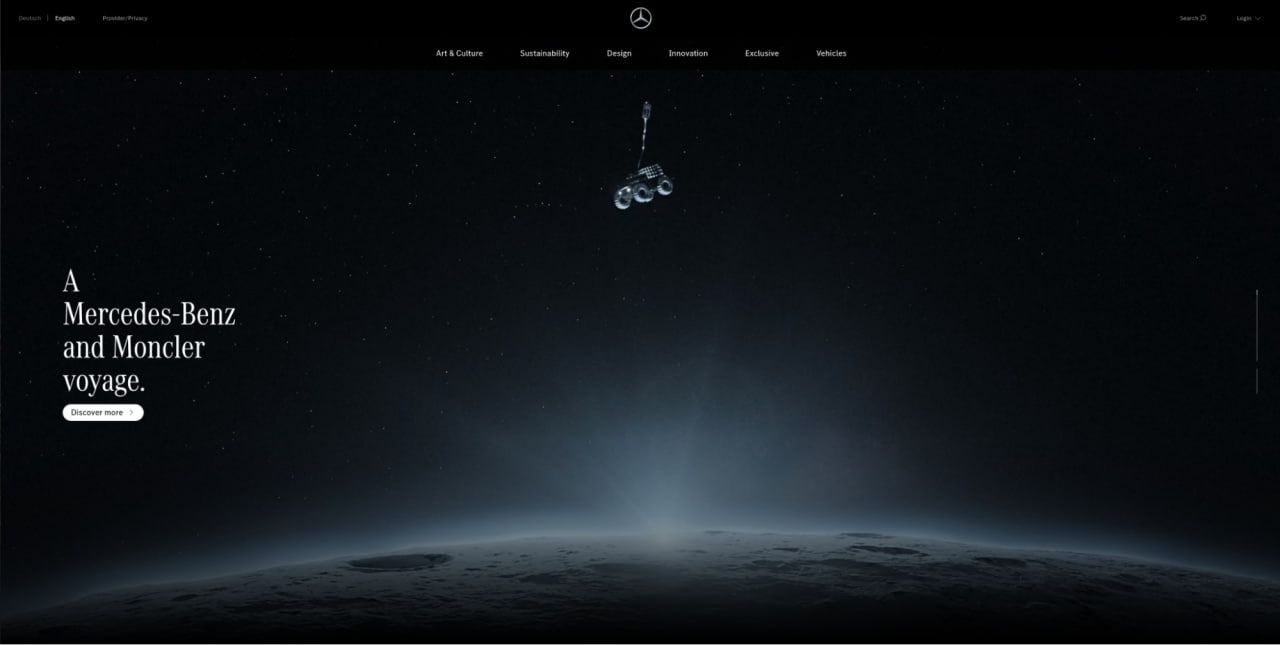 A home page vs a landing page: the difference
The aim of the home page is to convert users into buyers. A landing page contains only basic product information and a subscription form to collect visitors' personal data.
Also, home pages are designed for a wide audience, while landing pages are designed for highly specialized segments that are more likely to convert.
How to come up with a landing page
So, what do we need to design a landing page that really converts?
Specify the targeted action
Figure out why you need a landing page and what would be the visitor's action. needs to do, e.g., to buy a product, or to subscribe to a newsletter, or to download a manual.
Structure the page
The main blocks in a landing page are the brand logo, headline, relevant text, CTA, and a subscription form. You don't have to come up with your own structure: for popular business spheres, there are many free ready-made samples. Or you can look for examples from other companies.
Create a clear headline
The headline is a very important element of your landing page, because customers pay attention to it in the first place. Come up with a brief, clear and catchy headline that will convince the reader to view the web page and push a CTA button.
Below there is an example of a brief and catchy headline that shows the benefits of the offer: Floom offers to buy flowers that are quickly delivered right to your door.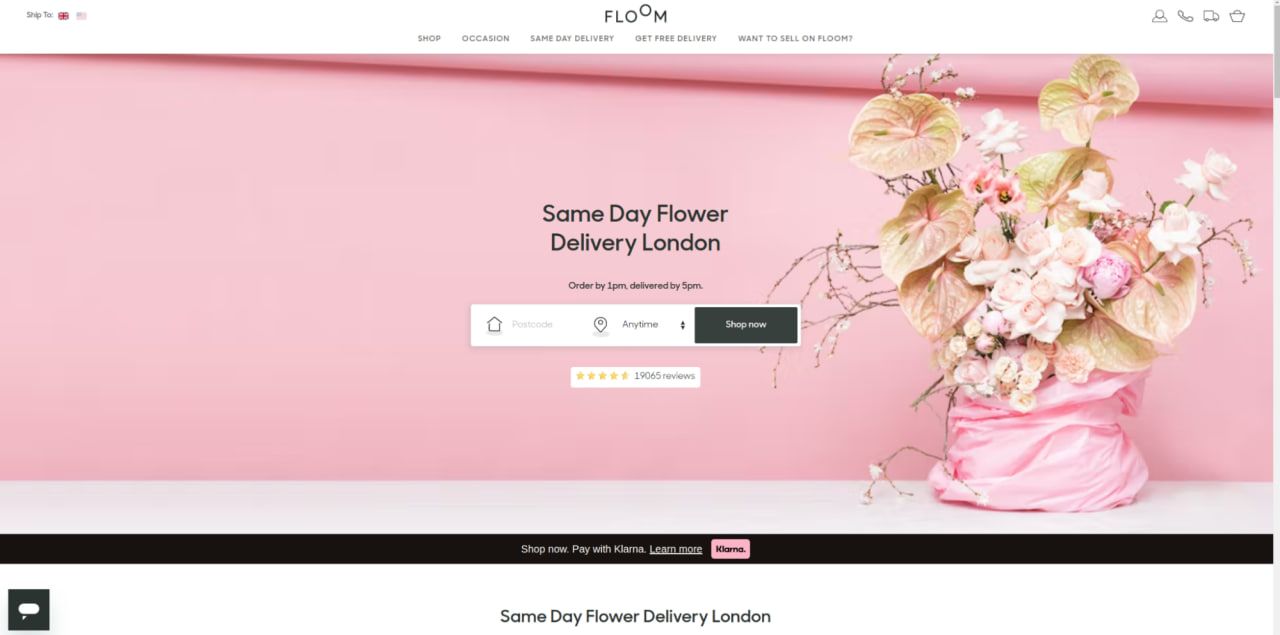 Provide the relevant information
The text after the headline should effectively complement it and be informative to visitors. Use this element as another method of attracting customers. Briefly explain your headline and emphasize the merits of your brand.
Pay attention to how the world famous jewelry brand Cartier highlighted its great history in one phrase.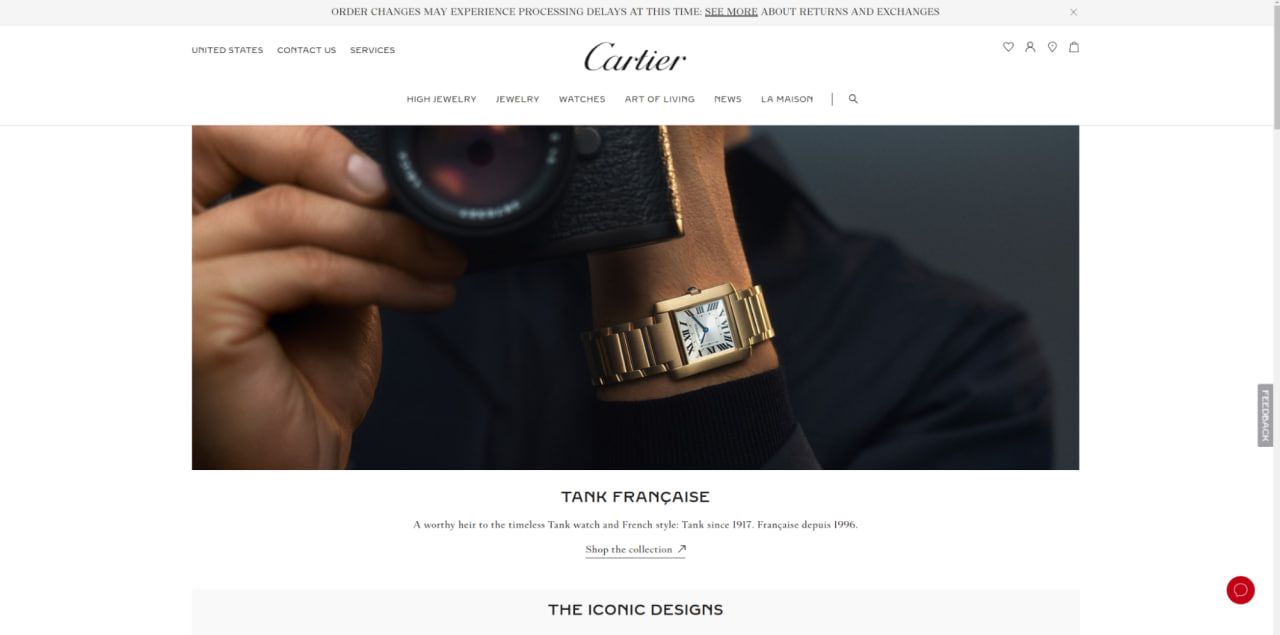 Think over creative visualization
Pictures and photos reflect the general message you're conveying through the landing page. Interesting and appropriate images attract consumers, motivating them to leave their contact information.
For instance, a travel agency Royal Caribbean offers Mediterranean cruises by providing a lot of pictures of dramatic Mediterranean views so that everyone dreams about being there.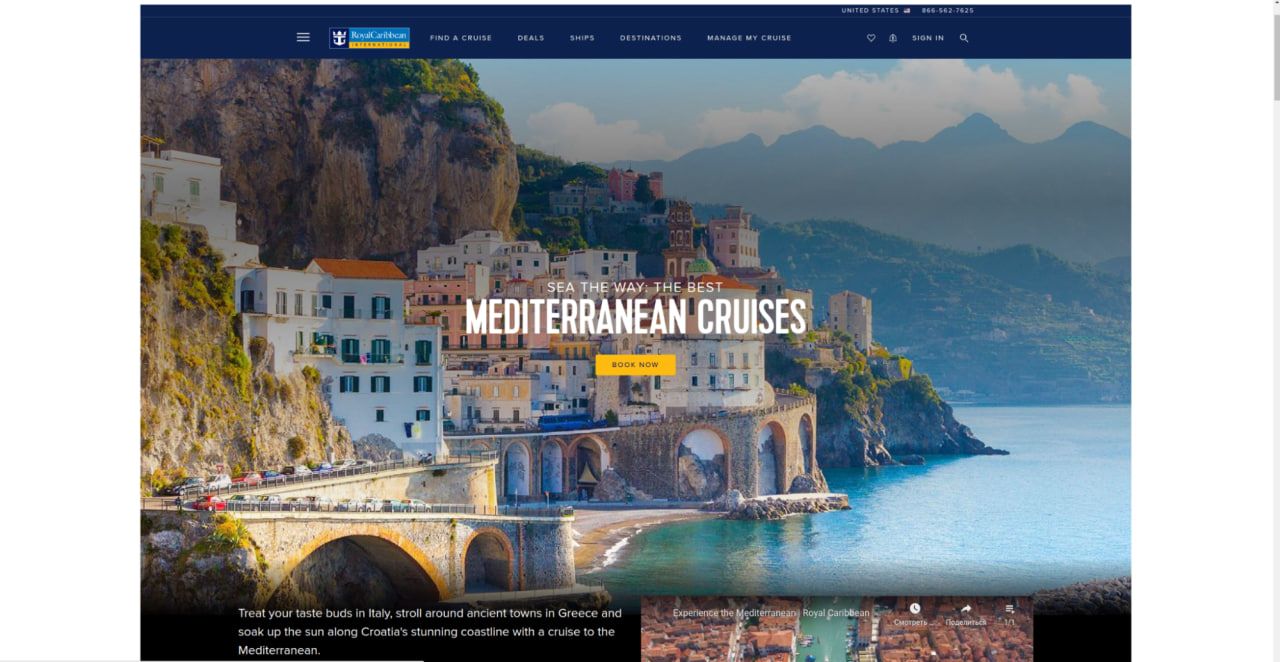 Characteristic features and advantages
These aspects complement each other perfectly. The best way to gently lead a customer to a purchase is to demonstrate product features with a detailed description and explain the benefits of buying the product/service. Analyze offers from your competitors, find your own exclusive features and mention them on your landing page.
Subscription form
The subscription form is an important aspect of the landing page. Thanks to it there is a possibility to add new clients to the database. The form can be short (email and user name) or long (email, full name, phone number, location, etc.).
Consider that the more fields there are, the fewer site visitors want to spend time on them. So try to simplify the form and make it quick to fill out. Below there is an example of an application form for those who are interested in education online from Capella University. People may not be ready to buy a full course right away, so there is the Want-to-know-more? form for subscribing to the newsletter.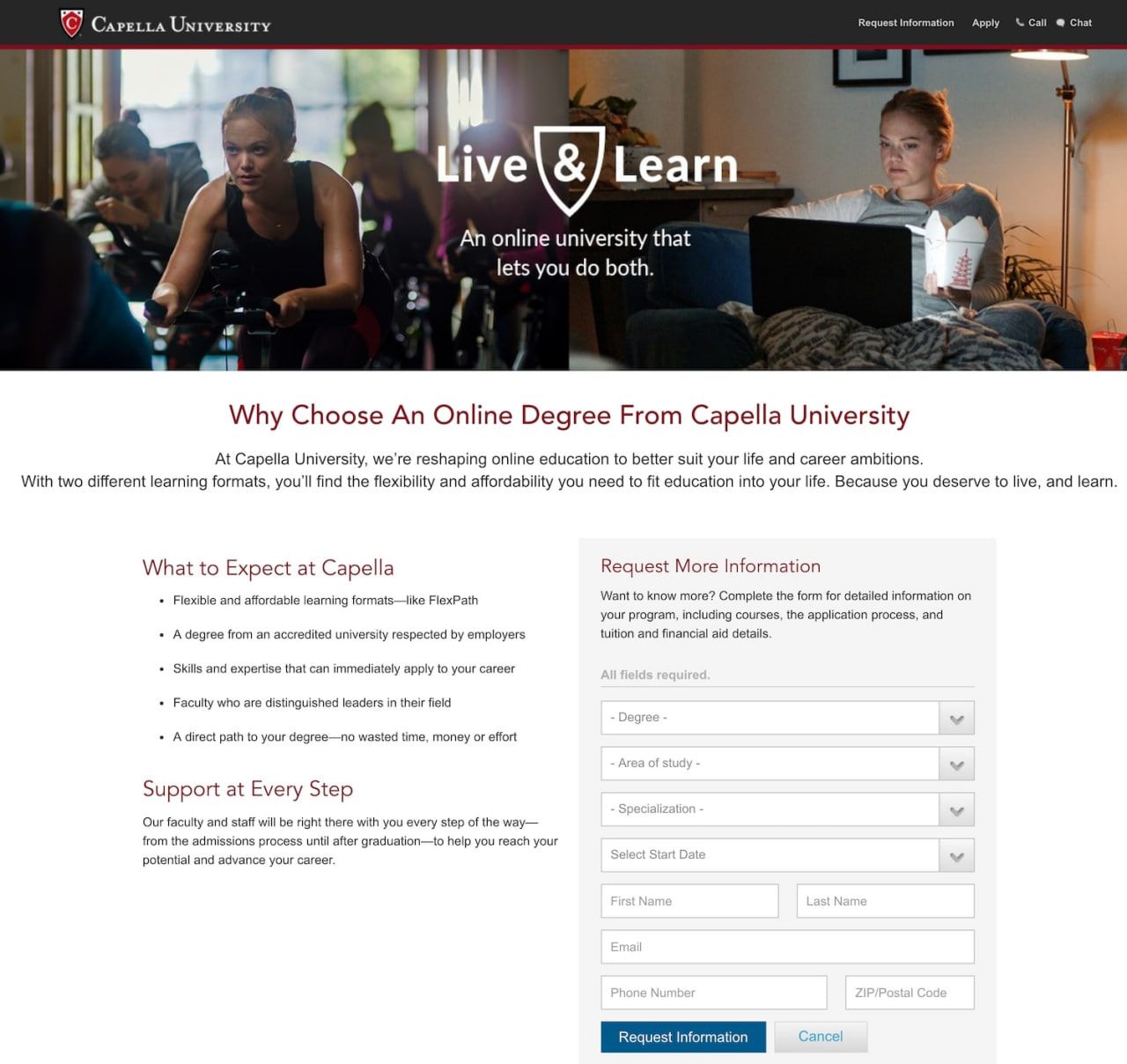 A clear CTA button
The call-to-action button is another component that needs attention. It directly influences the visitors' desire to leave their information. This element should be appropriate to the overall meaning and style. It is important that people understand the benefit they will receive, so make the CTA brief and clear. The example below shows a well-designed CTA button: a user clearly understands that they try the Express VPN service for free and without any risks.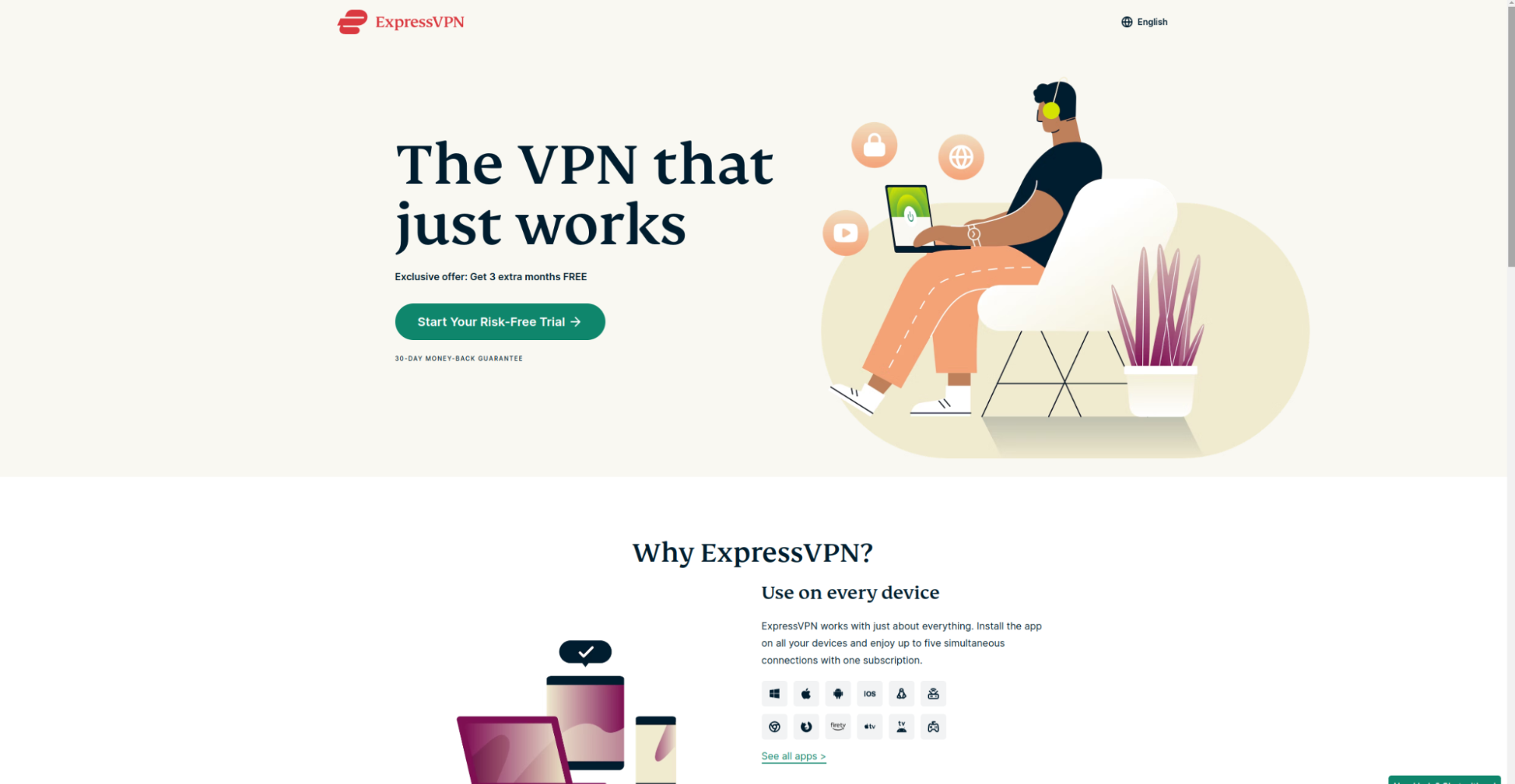 Developing and analysis
There are two options for creating a company website: order it from developers or make it with the help of special services (Wix, Weebly and so on). Online designers quickly create one-page sites, however, they do not take into account the specifics of your business and do not make you stand out among your competitors.
Pay attention that the site looks properly both on your computer monitor and on your smartphone screen, and then connect the analytics services (e.g., Google Analytics) to the webpage. Through them you will monitor the effectiveness. This way you understand which elements need to be changed to make it convert more.
Launching ads
Use the main sources of traffic for advertising the landing page: contextual advertising, publications in social networks, email marketing. We'll talk more about the promotion methods below.
Ways to promote a landing page
It involves adding keywords and phrases to make it easy for your audience to find your site. If the landing page is relevant to search engines, the likelihood of visitors leaving contact information increases. The search results are below the ads, and the keys are in bold, as you can see in the example below.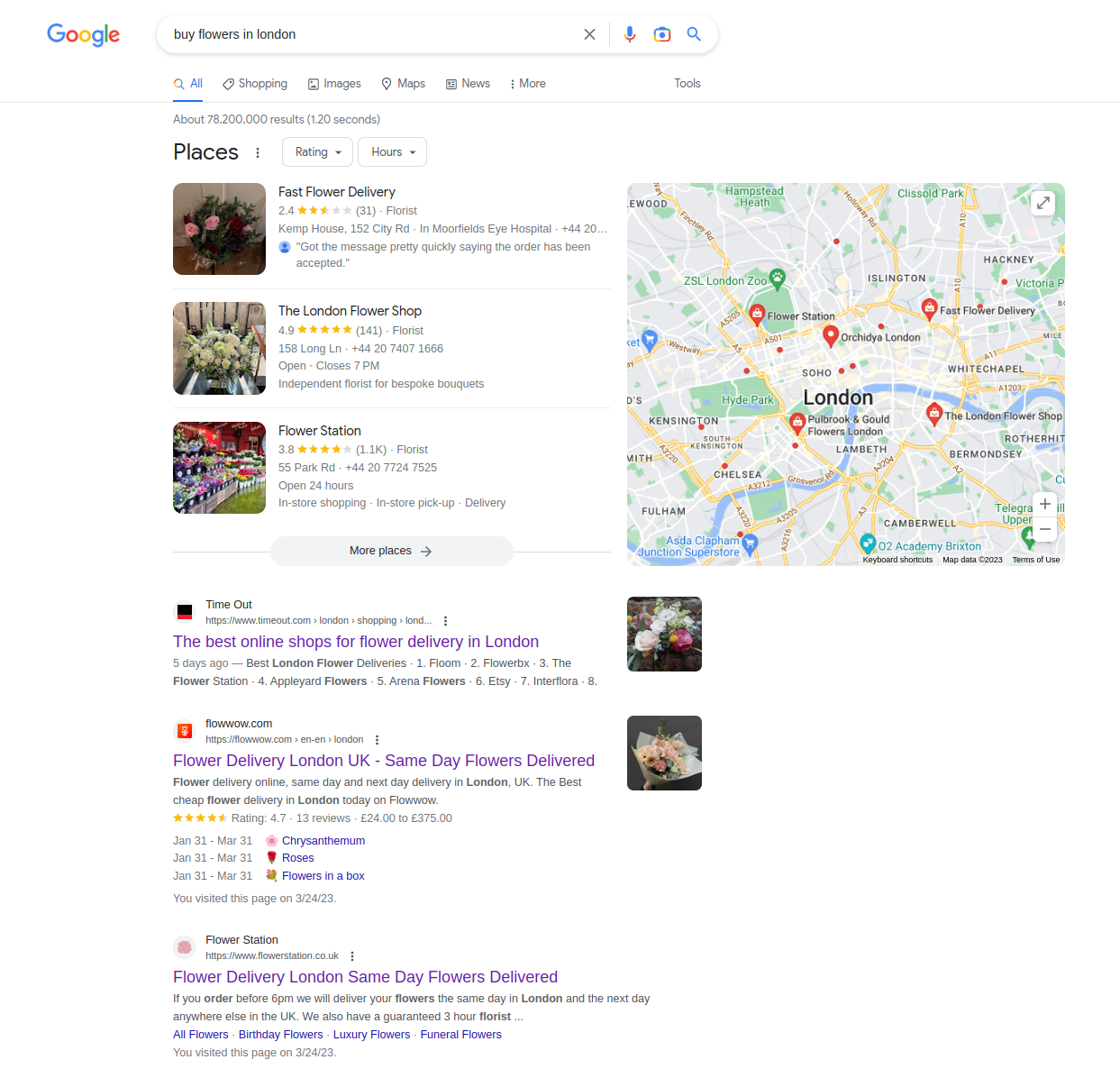 A Pay-Per-Click model is an advertisement model offering payment for the clicks of the clients. You should properly choose the segment of consumers as well as thoroughly plan your budget.
Newsletters are one of the most effective promotional ways which converts leads to consumers. You should send emails to your subscribers with a link to your landing page, attracting them to your one-page site. This method is most appropriate for new products/services or to promote an upcoming event.
This is a great way for promotion because you are running ads on one of the sites where you already have your audience. To increase conversions, study targeting and take into account more personal details about your customers (gender, age, place of residence, status, hobbies, etc.). It is important to create a catchy headline and choose relevant images that highlight the merits of your products.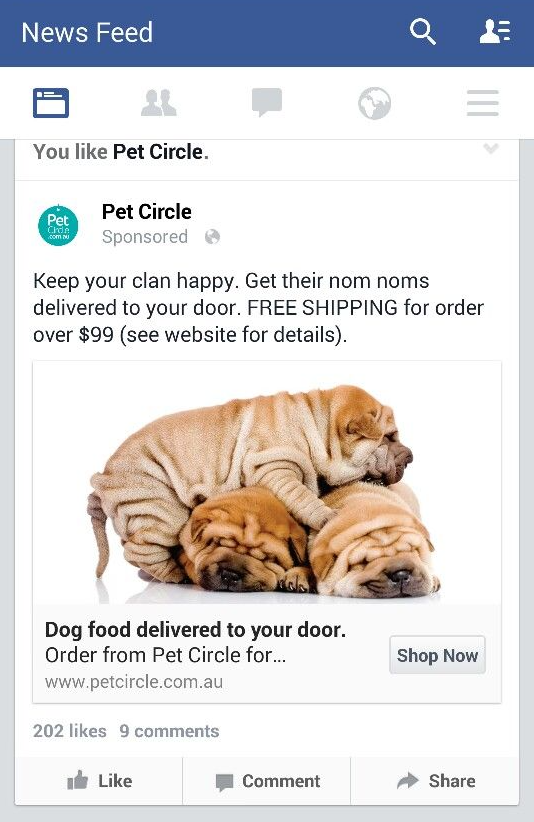 An example of an ad in social network
Guest blogging is also an efficient technique for finding customers and promoting your brand's products. For a good result, you need to choose the right platform. So look for opinion leaders and bloggers who correspond to your company. Do a subscriber analysis and make sure that your offer will attract them. It's not always efficient to call on popular bloggers with an audience of millions. Sometimes it's worth dealing with less famous personalities, but those who have a close connection with their blog readers.
Get in touch with these people, tell them about your products, ask them to test the product/service for free and write a review about it for subscribers. Then create a guest post on their page with a link to the landing page.
Conclusion
A landing page is an effective way for promoting products and developing the brand. This tool contributes to replenishing the customer base, increasing company recognition, generating leads and increasing sales. It is worth bearing in mind that the landing page has a narrow focus and promotes a certain product. Pay special attention to the design of the landing page, the headline, the meaningful text, the CTA and the application form. Follow the advice of this article to create an effective and original landing page, with which you can easily attract your potential customers.