Inbound Marketing: Is It Important?
Date: 2021-07-12 | Time of reading: 7 minutes (1376 words)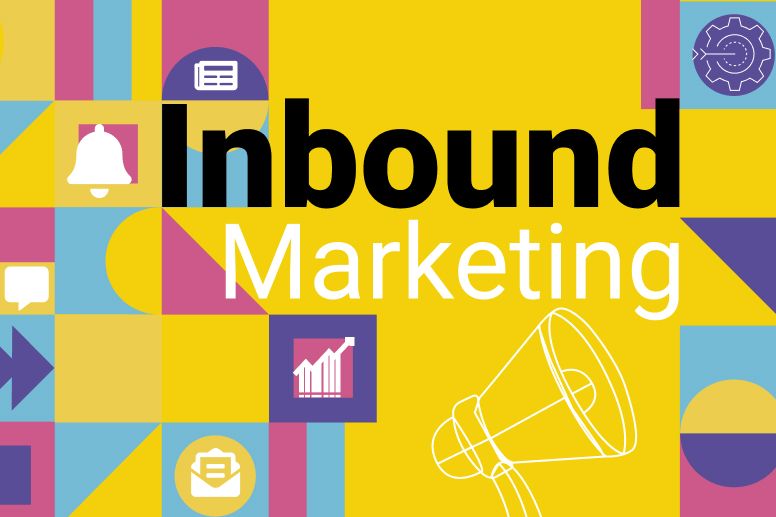 Marketing methods are constantly evolving. As digital media has taken over, marketing has shifted from traditional methods focused on "selling" to inbound strategies, which focus on providing value to a targeted group of consumers.
Conventional marketing methods "push" your message to a large audience, with the goal of getting a small percentage to act. Inbound methodology attracts customers to you by creating value, content, and personalized experiences.
In this post, we'll look at inbound marketing, how it differs from conventional marketing and explain why you need to include inbound methodologies in your marketing strategy.
What is Inbound Marketing?
In simple terms, inbound marketing is the process of helping potential customers find your business. Today, the buying process begins online. Inbound strategies attract potential customers early in their buying process by delivering targeted information, building brand loyalty ultimately resulting in a sale.
Inbound strategy uses many forms of "pull" marketing such as content marketing, SEO, social media, blogs and more to create brand awareness, provide value, and build trust.
Traditional Outbound Vs Inbound Vs Content Marketing
Let's compare inbound marketing with traditional and content marketing. This will help us better understand what this type of marketing is.
Difference between inbound and outbound marketing
Let's take a look at a few key differences between inbound and outbound marketing.
The first thing to note is the goal. Outbound marketing, refers to any strategy where a company initiates conversation by sending its message out to an audience. Outbound marketing "sells."
The second difference is the way information is delivered. Outbound marketing relies on platforms like TV, radio and print advertising, billboards, point of purchase etc., while inbound strategy, as part of digital marketing, uses digital channels such as social media, PPC advertising, opt-in email and other digital platforms. A
The last difference is the ability to analyze the effectiveness of your marketing strategy. Because inbound is digital, it's highly targeted, and can be easily analyzed. Analytics data can tell exactly who viewed your content, for how long, and how they engaged with it. Conventional marketing takes a "shotgun" approach. You have demographic information, for example readership numbers, but it can be difficult to analyze exact reach and how many people act on your advertising.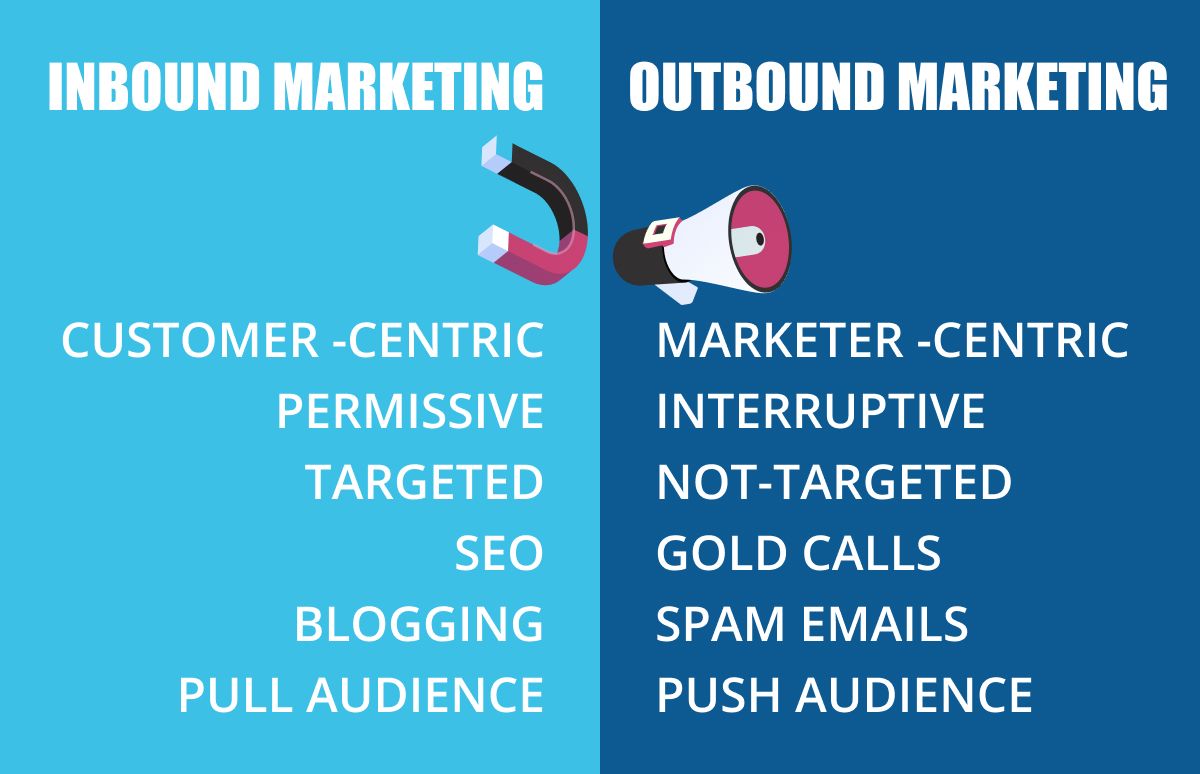 Difference between inbound and content marketing
Inbound avoids "selling" and instead offers potential consumers value through targeted information. By developing buyer personas and targeting the platforms your typical customer would utilize to seek information, you can deliver value.
Content marketing is one element of an inbound strategy. It's an approach focusing on the creation and distributing relevant, consistent, and valuable content to educate, inform or entertain a targeted and defined audience. The ultimate goal is to drive consumers to engage with your content, and take action.
How to Implement an Inbound Strategy
Here are some inbound marketing tips for pulling together your strategy.
Set Goals and KPIs
You can't measure progress if you don't have realistic goals. Goals should be detailed and measurable. Determine which key performance indicators you'll monitor to measure success.
Imagine, your goal is to increase your organic website traffic. For example, now you have a stable thousand visitors a day who come to you after search queries. To begin with, you plan to increase the number of visitors to 1000. When you hit that target, it means your inbound marketing strategy is working. After all, the higher the organic traffic, the more people your content resonates with.
Keyword Research
Keywords are the words and phrases a potential client would use to search for a business like yours. Use a keyword tool to build a list of relevant keywords.
Pay attention to two popular tools:
Ahrefs — all-in-one SEO toolset to optimize your website, analyze your competitors, track your ranking progress and study what your customers are searching for.

Serpstat — he growth hacking tool for SEO, Content Marketing and PPC.
Build buyer persona
A buyer persona is a description of your ideal customer, which is built on the basis of data about your customers, for example, age, location, marital status, position, income, etc. This is also where analysis will help you.
Generate Relevant Content
Use your keyword data to better understand market behavior then write interesting, keyword rich content about those subjects. Develop a content strategy: including blogs, downloadable content like ebooks, PPC ads, etc.
Optimize
Get your website inbound ready and optimized. All roads should lead back to your website. Above, we talked about keyword research for your industry. Create descriptions of pages and products based on suitable keywords, and the audience will find you in search in a couple of clicks.
Don't forget to check your site through the google tool PageSpeed Insights. It helps you determine the page speed on all devices, as well as get tips on how to increase this speed. The higher the score, the better your site will be in search results.
Set up Accounts
Your blog isn't the only place to post interesting content. Create accounts on popular social media like Twitter, Pinterest, Facebook etc.
By the way, you can use specific tools to implement your inbound marketing strategy successfully. These include:
The Benefits of Inbound Marketing
If you still think that inbound marketing is not worth the effort, here are some of the benefits of inbound marketing that can drastically change your mind.
1. Reduced costs
In today's digital age, traditional marketing is ineffective and expensive. Inbound requires much less investment with greater efficiency.
2. Customer trust and brand loyalty
When a customer finds you after market research, you clearly come across as a more reliable company than a brand whose billboard screams, "Buy this right now!"
3. Quality traffic, and high-quality leads
Inbound marketing isn't just about building brand awareness. Since inbound is aimed at attracting the target audience, the likelihood of getting an interested lead is much higher.
4. An opportunity to grow your business
Interact with customers on social media, read their comments and answer questions. This way you can understand what your product is missing and improve it.
The Bottom Line
Adapt your marketing to new market trends. Online users conduct their mini-research before buying a product, so inbound strategy is becoming one of the most effective ways to win competition in the market and successfully develop your business.
You haven't forgotten the key idea of inbound marketing, have you? It helps potential customers find your business. How? By delivering targeted information. Regular reminders about yourself via email and push notifications will help you with this.
If you think emailing your prospective customers daily is terribly difficult, you are not wrong. But you can make this much easier by using marketing automation software.
Such platforms let you send messages to your customers through different channels, automate your marketing processes with scenarios, build conversion funnels… In short, they save your time and a bunch of nerves.
There is plenty of marketing automation software in today's market. Each of them has its own features. Our company Altcraft is also developing a platform for marketing automation. Below are some of the features of our CDP:
Unlimited number of emails and push notifications;
On-Premise and SaaS solutions;
Omnichannel scenarios for Customer Journey automation;
Personalized marketing communications via Email, SMS, Web Push, Mobile Push;
HTML Drag-and-Drop Builder for email templates.
If you want to know more about Altcraft Marketing platform, write to our mail. We will be happy to answer.