Personalization: What It Is and Why Personalized Marketing Matters
Date: 2023-04-07 | Time of reading: 9 minutes (1697 words)
Personalized marketing is a marketing strategy that uses individualized messages and offers for each customer. It includes promotions, discounts, email campaigns, bonuses, and more.
To create these offers, specialists analyze personal information about the audience, such as gender, age, location, status, marital status, hobbies, interests, and more.
What is personalization
Personalization is a tool for increasing sales and successfully launching new products on the market. The main goal is to better understand customers and their preferences. When a company knows the personal desires, it offers exactly what the audience needs. To create a personalized offer, marketers gather information about customers' previous purchases, demographics, etc. To maintain customer loyalty, it is important to warn them about what information will be used and how.
The features of personalized marketing are as follows:
applying individual methods of communication with customers;

focusing on increasing customer loyalty.
This type of marketing exists due to the high competition in the modern market. Companies need to attract new people and maintain the attention of those who already interact with them. Nowadays, there are many new methods and technologies for collecting and analyzing customer data.
What are the peculiarities of personalized marketing?
Traditional marketing works like this: specialists create an offer, and then target an audience. The goal is to attract a large number of consumers and sell them the product.
Personalized marketing, on the other hand, aims to offer customers the exact product or service that will solve their problems and satisfy their desires. For example, a company that provides computer services should offer personalized products for each segment of its audience: gaming computers, mice and keyboards for gamers; fast diagnostics of devices for busy people; convenient and compact laptops for employees.
Therefore, before creating an individual offer, it is necessary to study the portrait of the potential customer in order to know exactly which product or service will interest them.
Why personalized marketing is needed
Advantages of Personalization in Marketing
Standing out from the crowd
Personalization sets you apart from other organizations. It is not enough to simply create an image with a logo and a slogan. Consumers remember companies that offer them solutions to their problems.
Here's a simple example of personalization. For many brands, delivery operates throughout the day: that is, a person sits at home and waits for a courier. Companies that offer a choice of any time interval to save customers' time (for example, from 12:00 to 14:00 or from 16:00 to 18:00) are focused on an individual approach. After all, consumers will plan their day as they wish. This way, you will subtly push people towards becoming your regular customers.
Creating relevant ads and content
Personalization helps create organic advertising that engages buyers. If people see an ad related to their problems, they are more likely to study it.
Building long-term relationships with customers
When customers buy a product, the company makes a profit. However, after the purchase, consumers often forget about the company since the problem is already solved. Personalized marketing maintains relationships with buyers after the targeted action. Email newsletters, SMS notifications, pop-up windows are tools that help to constantly interact with the audience.
Gathering leads
When a company is ready to offer something valuable and useful for free, it creates trust among potential customers. Users leave their email address or phone number to get a guide, instruction, book, video, etc. To create a useful product, a lead magnet, study people's needs and use personalized marketing.
Types of strategies in personalized marketing
Differentiating your company from competitors
Often, customers don't know which company to prefer if they all have similar products, prices, and websites. Personalization sets you apart from others. Offer individual discounts, promotions, bonuses, promo codes depending on the customer's actions on the website, their purchases, and browsing history.
Below is an example from Benefit cosmetics, where everyone can download a photo and try the beauty items on.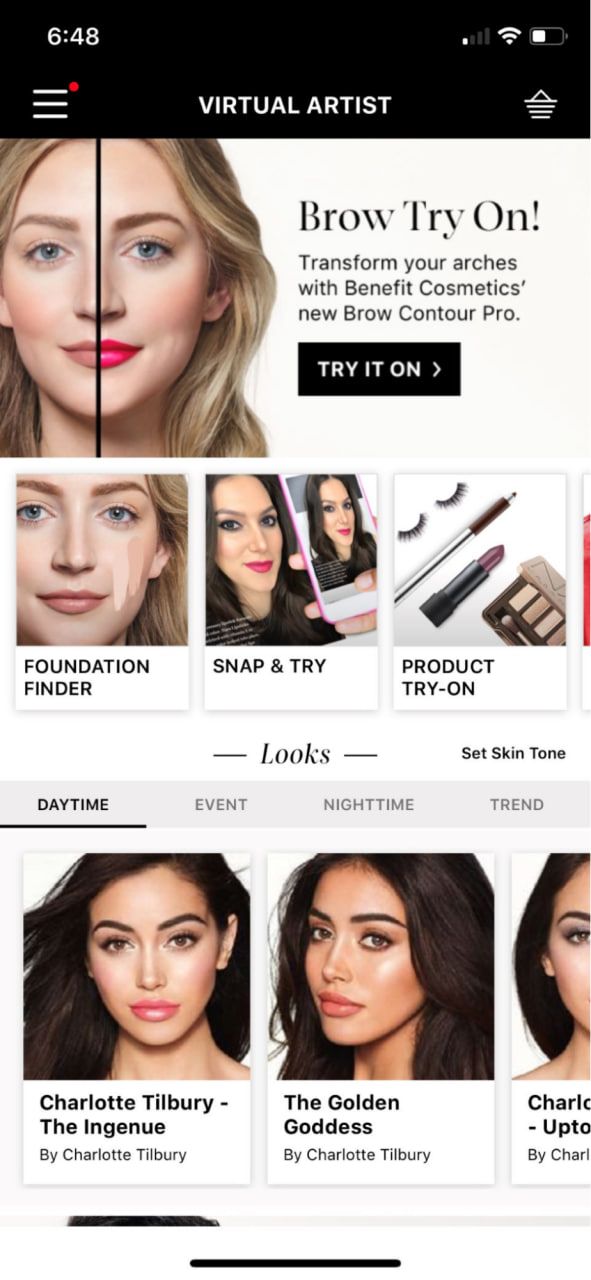 Communication with consumers
Communication with customers is an important part of marketing strategy. It is created through email newsletters, online chats, social media, and SMS.
The main goal of communication is to learn as much information as possible about consumers in order to offer them an individual discount or offer.
Here is an example of communication with customers. The company sends a newsletter. There's a link to the survey and the invitation to pass it in the email.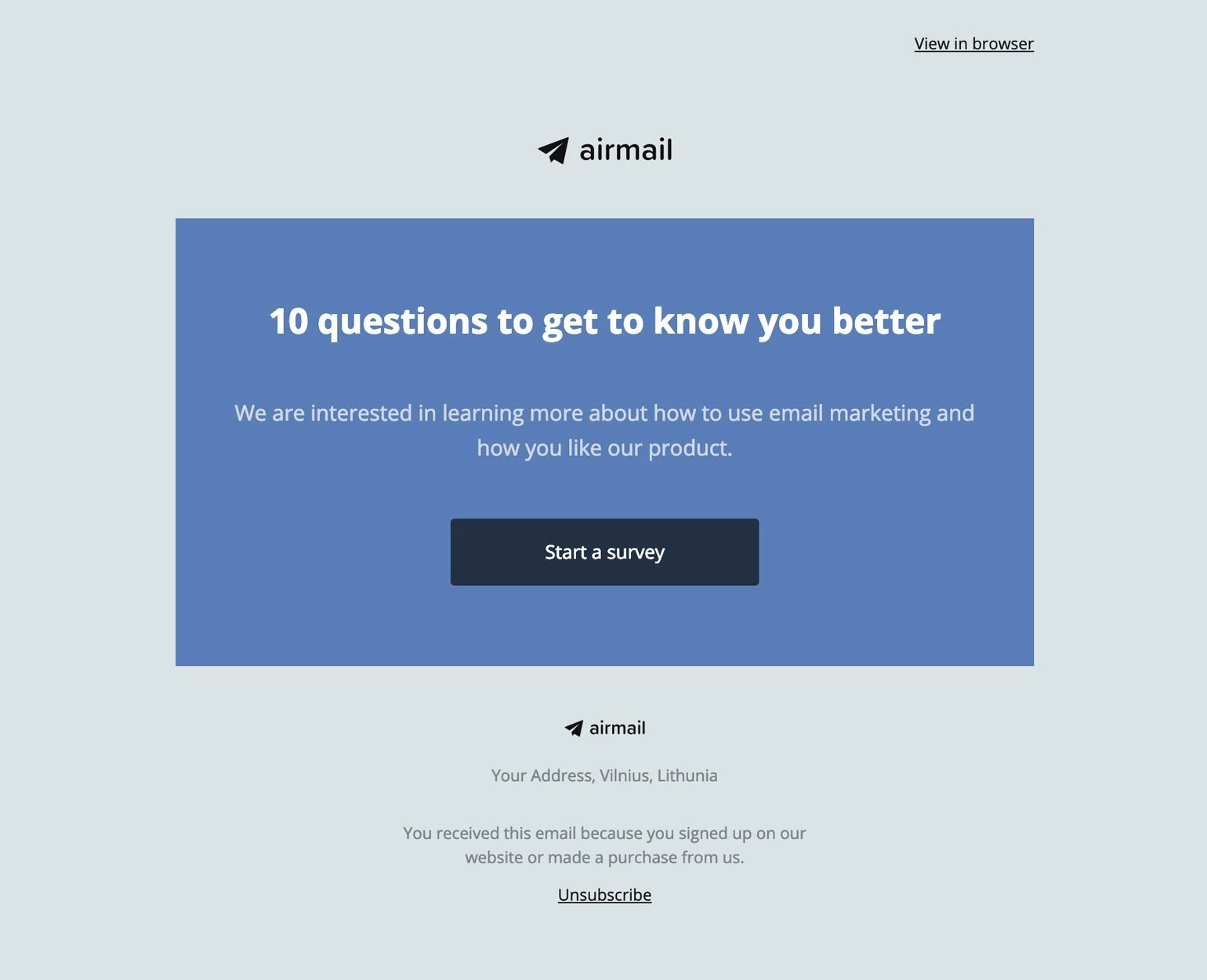 The example of email invitation to pass a survey.
Often, companies give promo codes, bonuses, and discounts to customers after they complete surveys, questionnaires, and other forms of feedback.
Useful content
Create useful materials and help potential customers solve their problems. It can be, for example, a guide to cooking recipes for children or instructions for quickly processing photos.
When a person learns something new and interesting, they are more likely to subscribe to the newsletter and news. The company will continue to communicate with customers until they make a purchase.
Website design
Personalized marketing is used in website design. If a company knows its customer profile, it can adapt the interface to their needs.
For example, many online clothing stores remember the search history of website visitors. In the future, customers are shown products similar to the ones they viewed.
How to collect data for personalization
Customer information can be collected using various methods:
Lead forms
This tool collects various data and requests left by users. The information that the organization receives depends on the questions in the form. For example, if the form includes a "date of birth" field, the company will learn this information after it is filled out.
This is the example of a lead form for a food delivery service that collects the information from a company that needs to order food.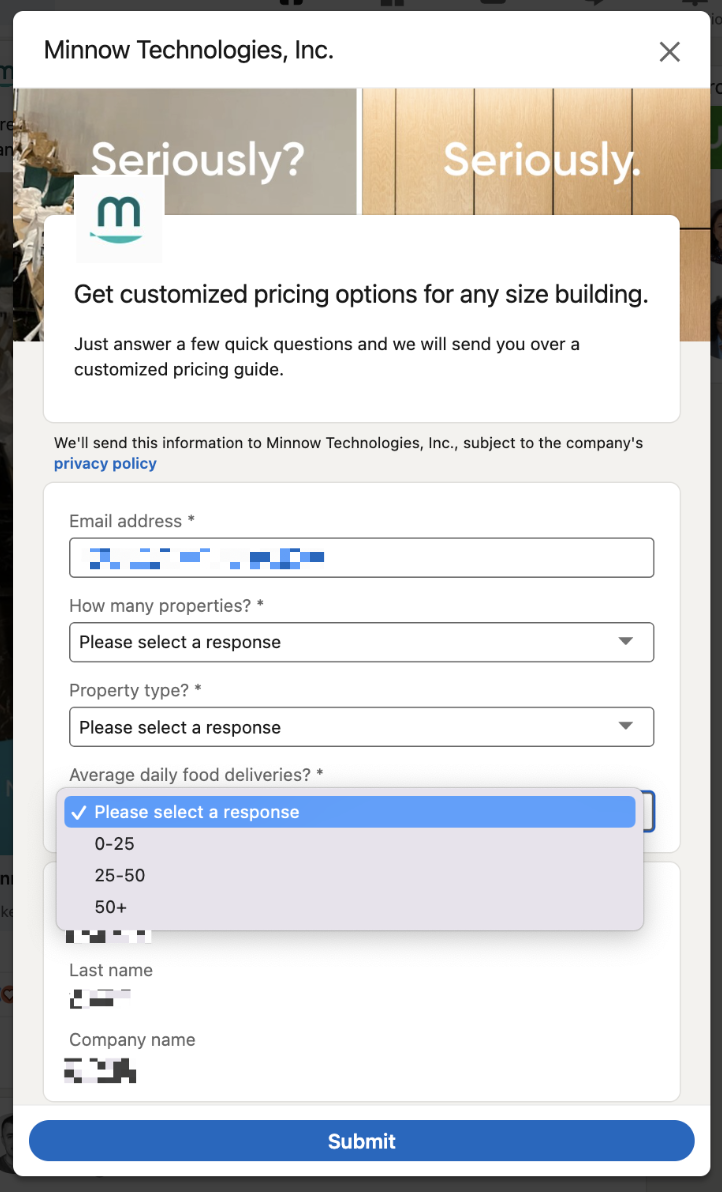 The example of a lead form
Surveys
They are created to determine customer preferences, hobbies, and other information. After completing the survey, the person's profile in the database is updated with new information. This form of collection is conducted on websites, social media, or via email.
Web analytics services
Such services collect information about consumer behavior on the website: which web pages are most popular, how long customers take to complete their purchases, etc.
Web analytics also provides information about the age, gender, time of website visits, and devices used by the user. This information is displayed in reports.
Interviews
Directly learning about consumers' doubts and desires is possible through interviews. This method is great for personalization. Interviews can be conducted in stores, over the phone, or through focus group invitations.
How to figure out a customer profile
After collecting information about your audience, it is worth creating a customer profile. The profile is a detailed description of a person that reflects real brand customers. Without creating a profile, it is difficult to determine the style of the letter and the type of content.
The main points in the customer profile are:
Demographic: date of birth, gender, marital status, religion, values.

Geographic: place of residence, climate, culture, local features.

Socio-economic: ability to pay, status, education, profession.

Behavioral: needs, doubts, fears, average customer check, seasonality, consumer basket.
Not all points are equally important to a company. For example, for a snowboarding store, climate is more important than marital status. And for a store selling children's goods, information about marital status and the presence of children is a priority.
How to use customer data
There are several ways to use data obtained from customers:
Improving newsletters
Use trigger email messages when consumers are ready to see them. Don't forget to add content that interests subscribers. This will increase the likelihood of the message being read.
Interesting offers
When you segment people in your database by profession, age, marital status, and payment capacity, you can create a special offer that fully satisfies the desires of consumers.
Communication with website users
It's important to know what actions the customer performs on your website. At the right moment, show a pop-up window related to their actions on the web page. For example, if a customer is browsing the selection for a long time without taking any further action, add a window with a consultation from a manager to help with the order.
Examples of personalized marketing
This method divides customers by their requests and directs each one based on their individual interests. For example, when opening the website of the Proof organization, the starting page is the same for everyone. However, to view the video, users should provide their personal information (field of activity, profession, or position). This information is processed, and a new page headline is formed, personalized for each type of consumer.
Retargeting for cart
The marketing strategy of the brand Revolve involves using retargeting for cart products. The company shows customers on social media the exact products they added to their cart but didn't purchase.
Conclusion
Personalized marketing is an approach in promotion where an individual offer is applied to each customer: a discount, a special offer, an email, a landing page, content, and more.
Personal data and personalization are necessary for standing out among competitors, creating successful ads, and maintaining beneficial and strong relationships with customers. Lead forms, surveys, analytics services, and interview methods are used to collect personal data.
Thanks to personalized marketing, a company applies various strategies. For example, a strategy for improving communication with consumers, creating a user-friendly website, or gathering necessary information about the audience.