What Is a Brand Book and Why Your Company Needs It
Date: 2023-09-21 | Time of reading: 11 minutes (2080 words)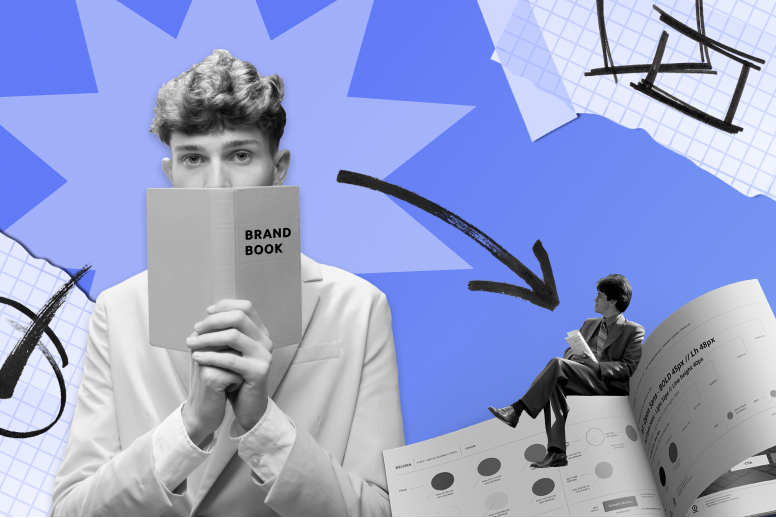 A strong brand represents stability and consistent business revenue. To create one, it's essential to maintain a clear visual identity and messaging across all channels, allowing your audience to form a unified image of your company. This is where a brand book comes in. This document outlines all aspects of your brand, including its core values and visual identifiers.
A brand book is particularly crucial for larger companies with numerous employees and contractors, where the risk of inconsistencies is higher. In such cases, standardized guidelines for online and offline platforms, as well as communications, ensure a cohesive brand style.
In this article, we'll explain why a brand book is essential and what it includes, along with guidance on creating such a document.
What is a brand book and why it is required
A brand book is a document that describes the unique aspects of a brand, including its ideology, values, communication guidelines, and rules for visual presentation.
A corporate brand book serves as a guide for all employees and contractors involved in marketing communications in the public domain. Its primary purpose is to maintain a consistent brand image across all platforms, making it easily recognizable to the audience.
Often, people associate a brand book with a set of visual design rules, including guidelines for the logo, fonts, color usage, and so on. However, such a document is commonly referred to as a style guide, which is just one part of the broader brand book.
Why a company needs a brand book
A brand book is a tool that standardizes a company's visual and textual communication, simplifying marketing management. Typically used by marketers, designers, and other employees who engage with the audience across online and offline platforms, a brand book streamlines and expedites work.
Additionally, a brand book proves handy for business expansion, such as opening new locations or franchises. With consistent rules in place, it becomes easier to manage even remote entities.
Another advantage of an official brand book is the expedited onboarding of new employees. They always have access to information about the company's mission, communication strategies, and visual identity.
What's included in a brand book
A brand book typically contains the brand's philosophy, description of visual identifiers, and guidelines for using the corporate identity.
Brand philosophy
In this section, the brand's mission, values, tone of voice, positioning, character, target audience, and brand history are described. This section reveals the brand's identity - the unique features that set the company apart from others.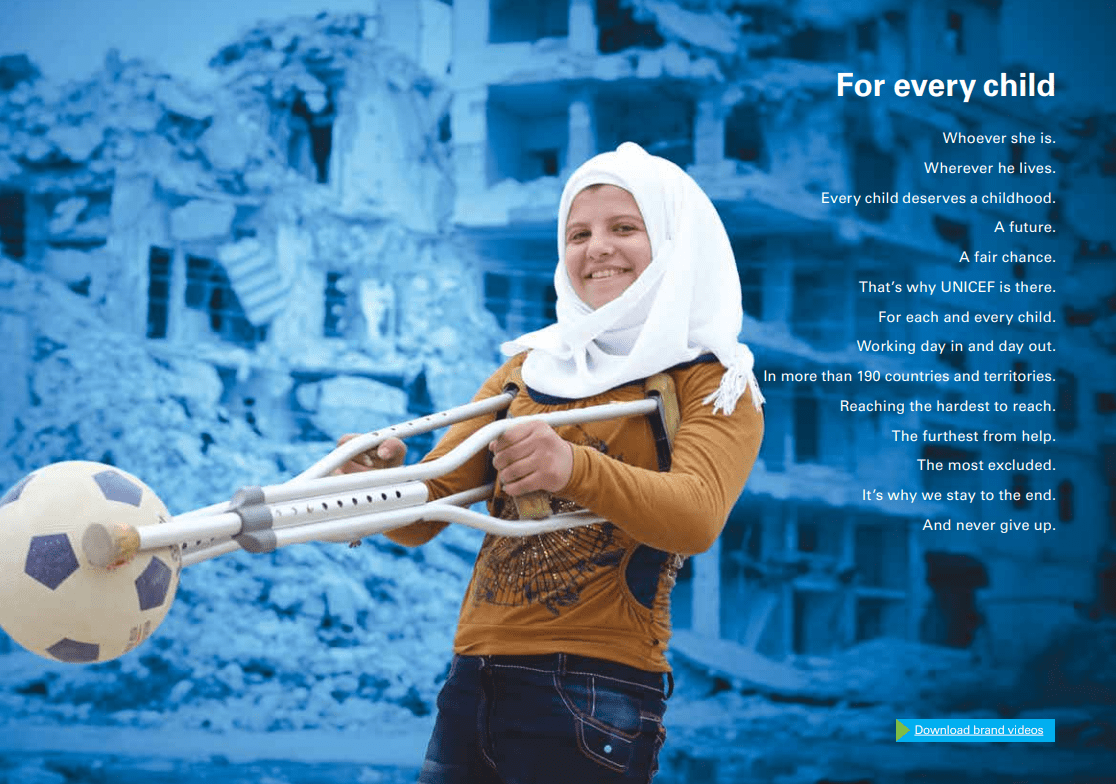 Brand mission from Unicef's brand book
Visual attributes
This section covers the logo (all its versions) and other distinctive brand symbols, corporate colors, variations of the brand name, as well as specifying brand fonts and any patterns that the company uses.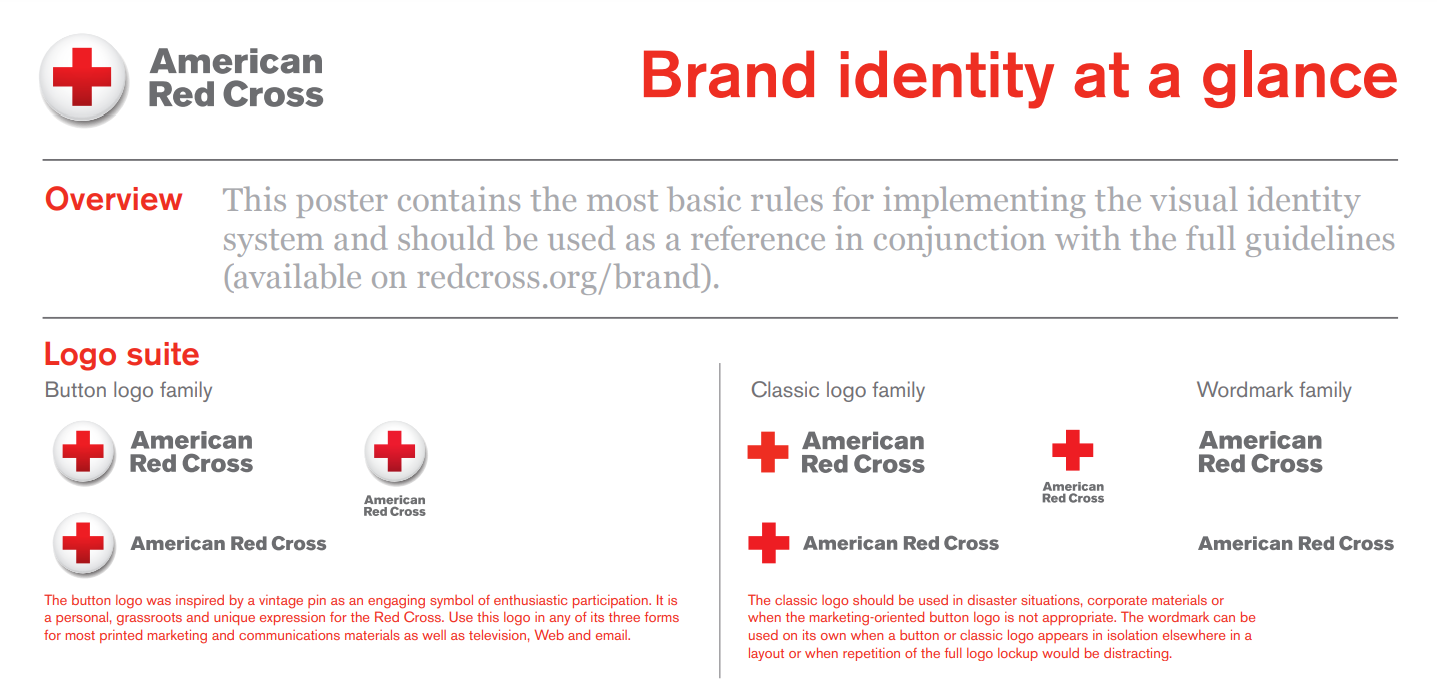 Options to use American Red Cross logo
Guidelines for working with the corporate identity
This is the most extensive section of the brand book (style guide), which provides detailed explanations on how to use the brand's visual elements across different mediums and resources. It outlines acceptable variations in color and shape for graphic elements, the design of marketing materials, documents, product packaging, stands, and more.
To precisely define the corporate identity, the brand book even regulates minor visual details, such as sizes, proportions, potential backgrounds, and the distance between the logo and other objects, e.g., clear space.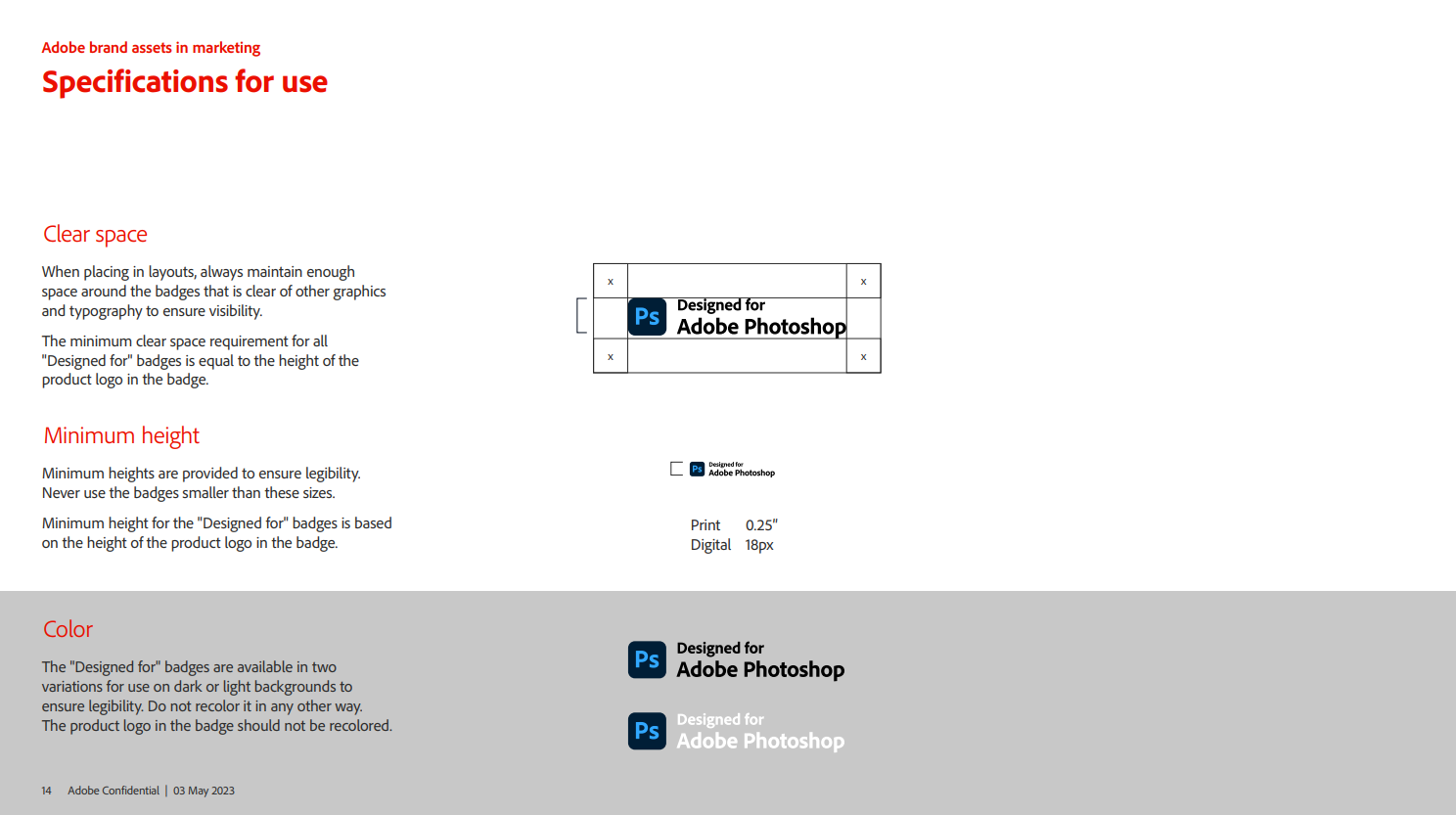 Clear space of Adobe Photoshop logo described in its brand book
How to use a brand book
A brand book is a practical tool. Work with this document step by step:
Identify the issue you need to address and choose the relevant section where a potential solution can be found. For example, you might want to know if it's permissible to translate the logo into black and white colors.

Study the information in the document and take the necessary action — create a design, write content, or provide instructions to the responsible party. In the brand book example, it allows for changing the color of the logo, but only within specific shades or hues.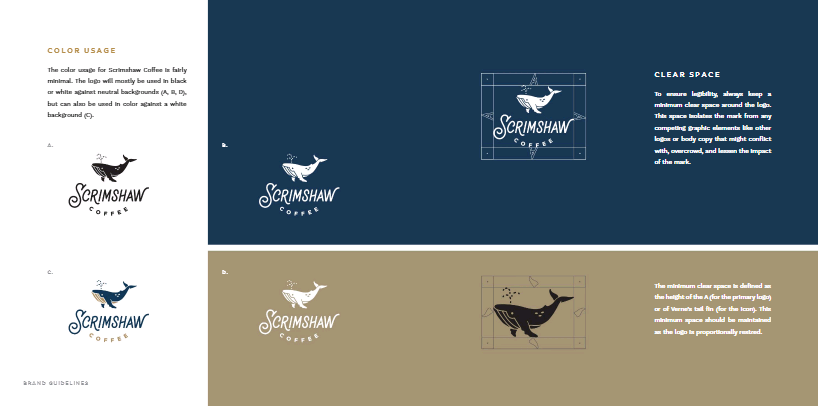 Options to use Scrimshaw logo colors permitted in its brand book
Once the task is completed, it's beneficial to cross-reference it with the document to avoid mistakes.
The use of a brand book is essential for:
designers: they use it to create visual materials;
marketers: it guides content and advertising development;
contractors: when they need to align with the brand's style.
The document is also valuable for other employees who interact with clients because it's crucial for them to communicate in a way that aligns with the brand's values.
How to make a brand book
Creating a brand book is a crucial task that involves brand managers, designers, and marketers (depending on the company's structure), or it can be outsourced to a specialized team.
The development of a brand book typically involves the following stages:
Conduct research. Start by researching your competitors to differentiate yourself. Understand their target audience, brand style, and unique features.

Define brand identity. Clearly outline your brand's identity, including its mission, values, slogan, tone of voice, character, positioning, target audience (customer persona), and unique selling proposition. This step establishes the brand's "essence" before moving on to its visual elements. It's a misconception that creating a logo and a visual style defines a brand; the brand's philosophy is essential.

Create and define brand elements. Designers come into play here, working based on the brand's identity. This stage involves detailing all aspects of the brand's visual elements, such as the logo, colors, fonts, and other elements. It can be meticulous, specifying logo variations, colors, clear space (fixed distance from other objects), and minimum sizes.

Specify brand name usage. Clearly outline how the brand name should be written, including format, size, whether quotes are needed, and whether it can be used in other languages.

Establish color schemes. Set color schemes in various color models, including RGB, HEX, CMYK, and Pantone, for different applications, including digital and print media.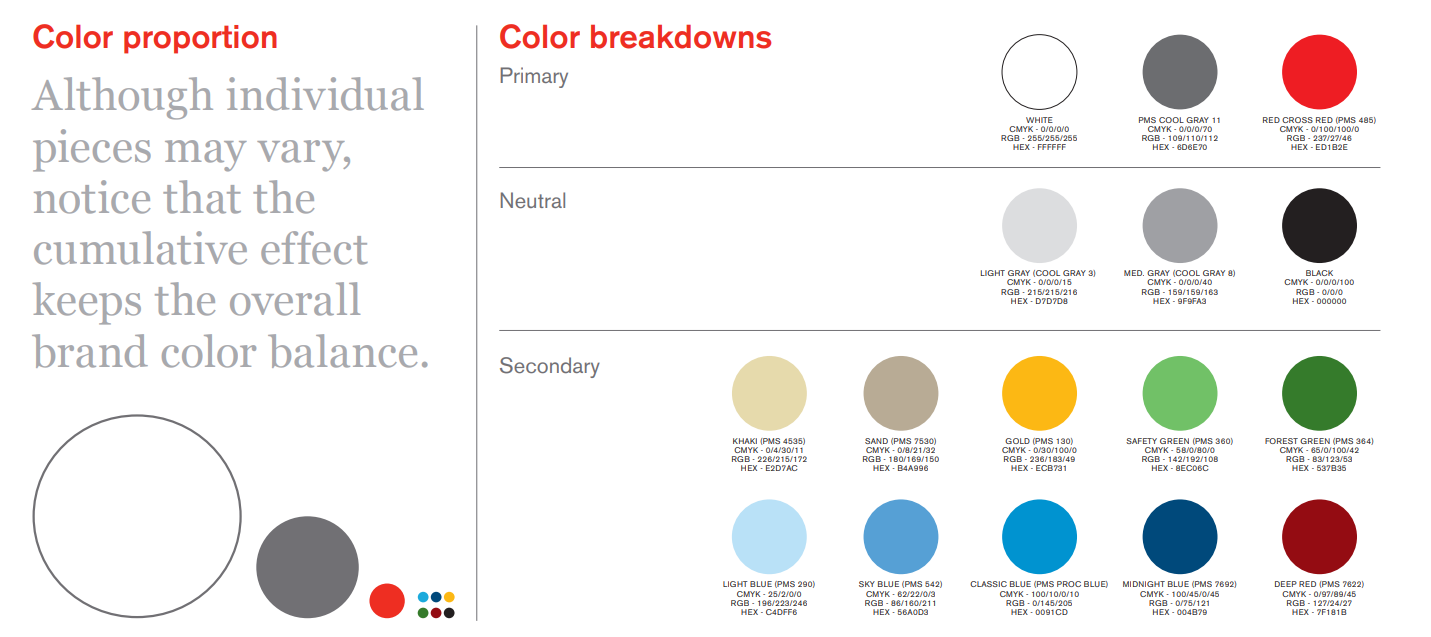 Example of the color breakdowns of American Red Cross
Select or develop fonts. Choose or create the main font and any secondary fonts, specifying variations in style, size, font weight, alignment, and other parameters.

Define document and brand presentation guidelines. Outline rules for formatting documents and brand presentations to maintain consistency in visual style and content.

Specify web element variations. Provide variations of web elements like buttons, banners, and email signatures. It's helpful to include visual representations of how these design elements should appear on both computer screens and smartphones.

Show examples of offline materials. Include examples of how the brand should be represented on offline materials such as business cards, banners, buildings, vehicles, and more.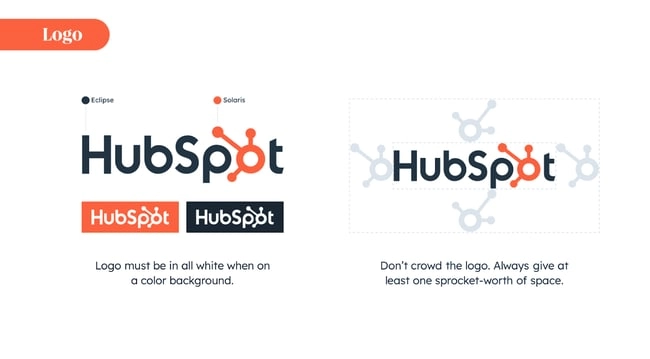 E.g., Hubspot provides requirements about how to use the logo in its brand book
Document Image Usage Rules: Detail guidelines for using graphics, photos, and patterns.
This description should be visual, clear, comprehensive, and easily understandable. A brand book can be formatted as a PDF document, a presentation, or hosted online on the brand's website; there are no strict criteria for the format.
Examples of companies' brand books
The best brand guidelines are typically created by top-tier brands. Let's consider some examples.
Google
The Google brand book is entirely dedicated to the standards for using the logo. It provides concise and thesis-like information on all the characteristics and technical details of:
the logo, icons, and their official variations:
proportions and dimensions of the logo, including the standard minimum size of the logo:
the wrong way of using the logo: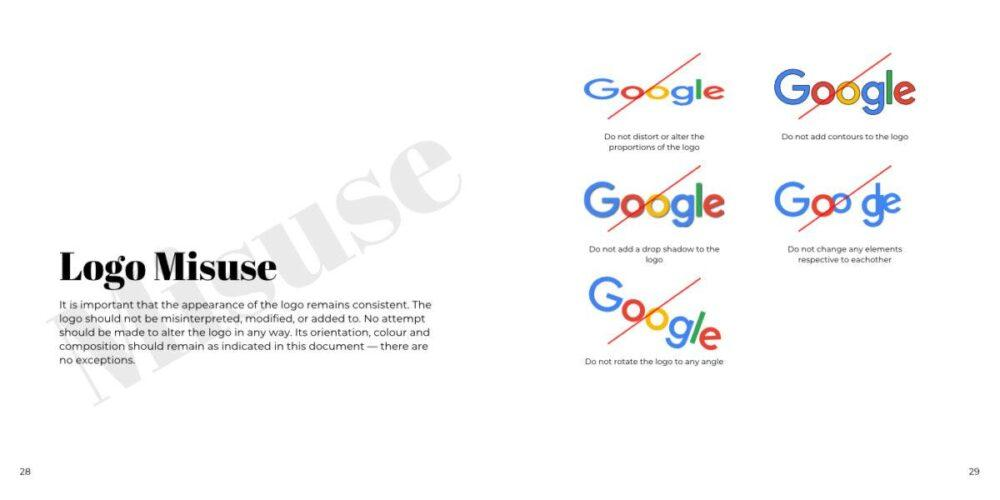 the brand's official colors:
and finally, fonts for the logo:
Tiffany & Co.
Tiffany & Co. has included nearly everything in its brand book, starting from the color scheme, logo and its usage, all the way to future plans and the portrait of the target audience.
It's logical for a brand book to begin with the brand's history and mission. Of course, this would also include the iconic and legendary scene from the movie "Breakfast at Tiffany's" where Audrey Hepburn's character stands in front of the beloved jewelry boutique's window.
The brand book also describes the key directions that the brand adheres to in its development journey.
The brand book also includes technical specifications of the logo, provides examples of incorrect logo usage and color combinations, presents the correct color scheme, and specifies "Baskerville Old Face" as the correct font.
A few words are mentioned about the products the company produces and how it expands its product line.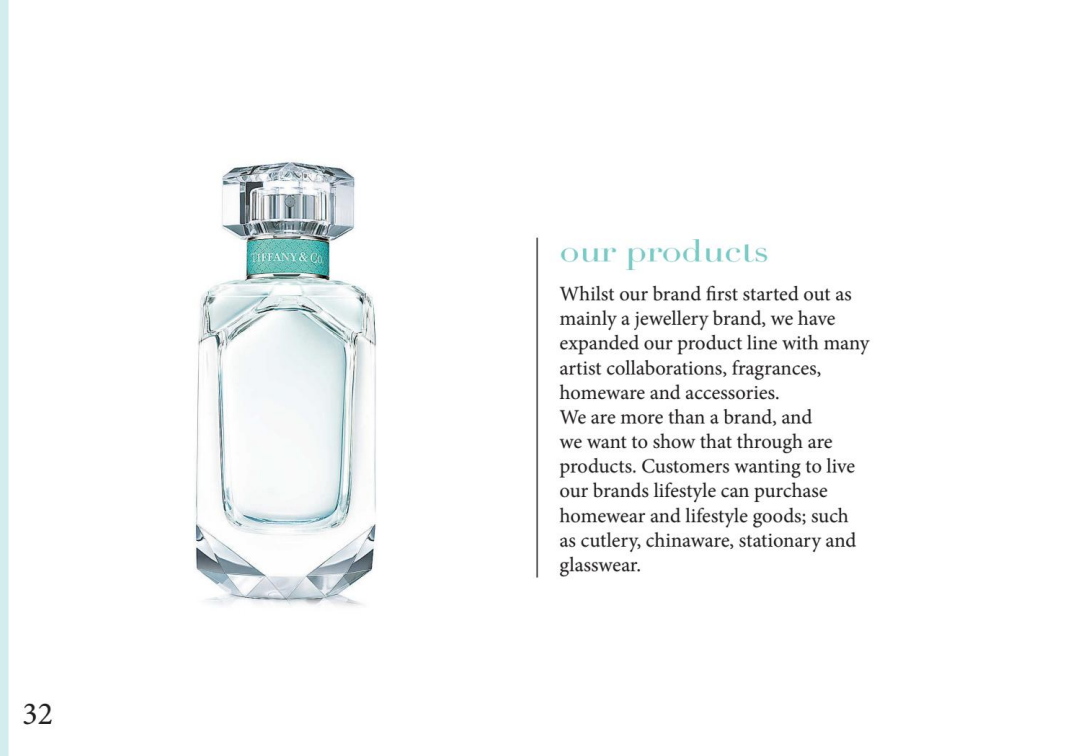 On today's date, many brands place a significant emphasis on the environment and nature conservation. Tiffany & Co. begins by describing the exceptional quality of the raw materials, such as diamonds, used in their jewelry. It then smoothly transitions from mining to environmental protection. The brand emphasizes that even their iconic blue boxes are turning green because they are made from recycled materials, and no forests are cut down for their production.
They also mentioned their own interactive application that allows users to try on jewelry in real-time. The brand book also describes the brand's online presence, including its presence on social media and collaborations with notable individuals.
Skype
Skype's approach to presenting its brand book in a dialogue format is original. It allows the company to describe its philosophy through conversations, which can make the content more engaging and relatable to the reader. This approach can humanize the brand and create a more personal connection with its audience.
Using portraits of the target audience represented through characters and having them explain why they choose Skype is a creative and engaging way to connect with users.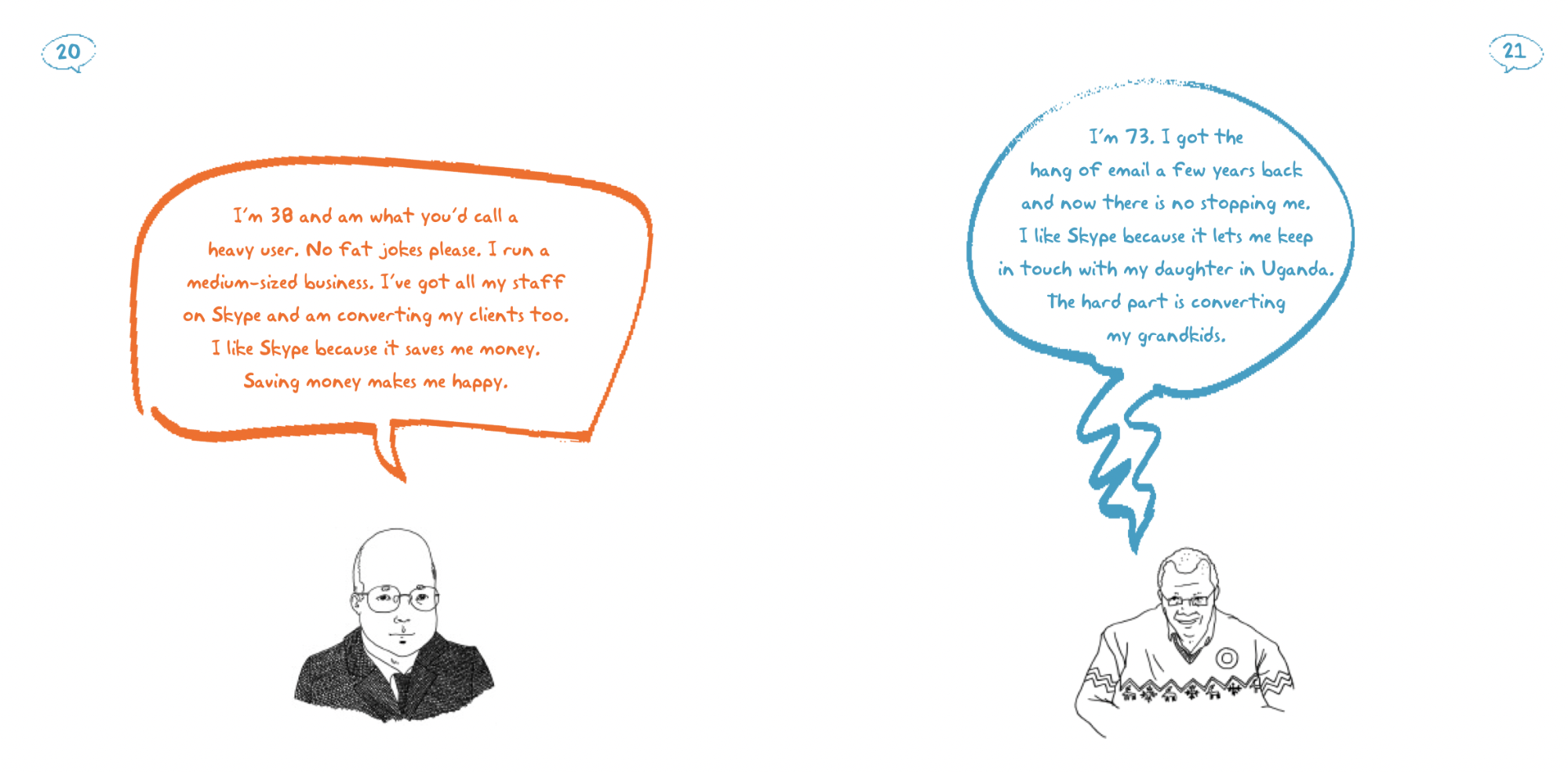 Using dialogue bubbles in the brand book to represent the brand's color pattern is a clever and thematic way to reinforce Skype's philosophy of simple communication. It not only communicates the brand's identity but also visually aligns the brand book with Skype's mission and values.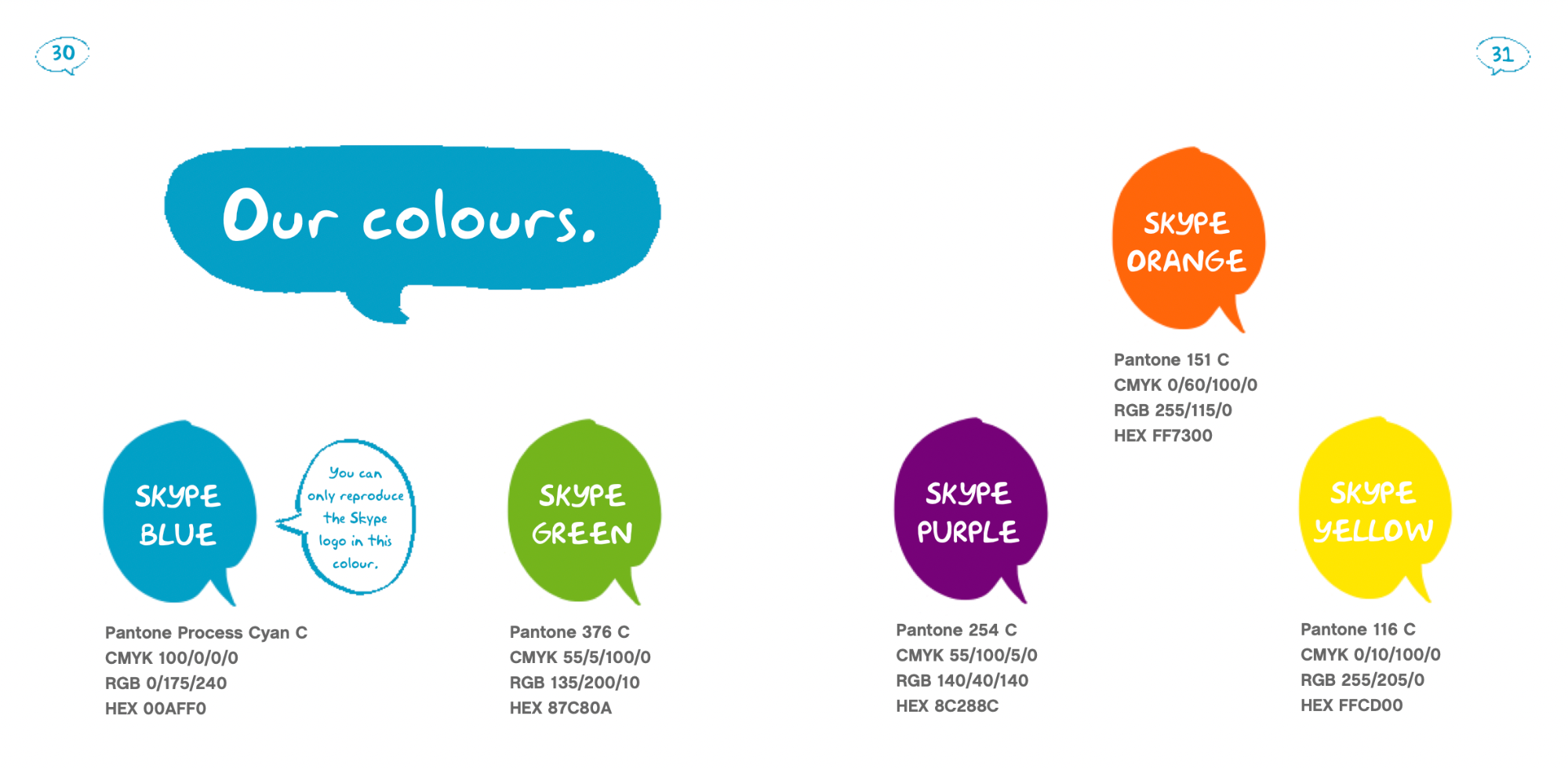 Audi
Audi's brand book, with its unique approach, compares the old and new styles of the brand. The document explains the reasons for the changes and demonstrates them visually. This type of brand book can be valuable in helping stakeholders and employees understand the brand's evolution and the rationale behind it.
The brand book showcases a simplified logo and changes in the brand's colors, which involve removing gradient variations.
Each value is described not only through text but also visually.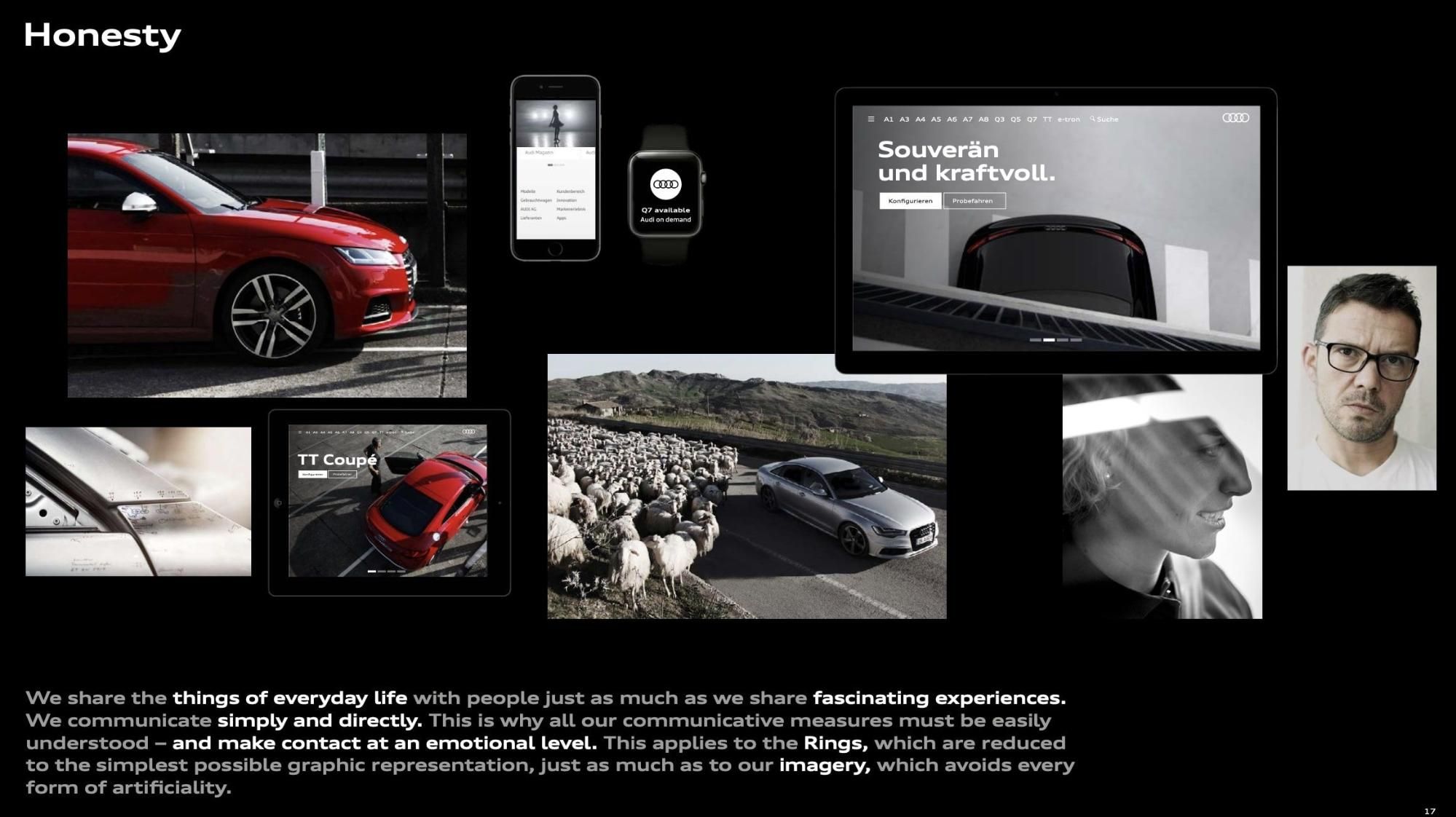 Summary
A brand book is a document that describes the brand and compiles rules for working with its visual elements and communication. This document serves as a guide for employees and contractors such as marketers, designers, and new hires. The brand book's primary purpose is to maintain a consistent brand style across all platforms and media, creating a correct and recognizable image of the company in the eyes of the audience.
A brand book typically includes the brand's philosophy, visual identifiers, and guidelines for working with the corporate identity. It can be developed by an internal team or by external professionals.
You might be interested in: