On-Premise vs Cloud: Which Is Better for Your Business
Date: 2021-09-03 | Time of reading: 4 minutes (733 words)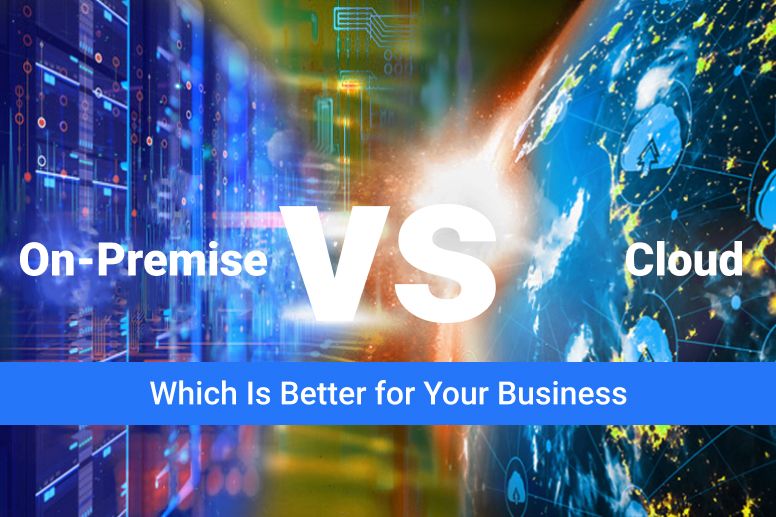 Managing data is a critical role for any enterprise. How you choose to approach this vital function depends on such factors as volume, security demands, and budget.
Since every company's needs are different, each may elect to deploy their data management and computer services in a single method or a combination of more than one.
Options include:
On-Premise Management
SaaS (Software as a Service)
Private Cloud
While each of these strategies has specific benefits, some are simply not the best choice in every context. Let's look at the differences.
What is On-Premise Data Management?
On-Premise Data Management consists of a purchased software package installed, maintained, and administered within your hardware. This platform uses on-site servers rather than remote, off-site systems. Once you buy the software, it becomes your property, allowing for extensive customization and expansion by your IT professionals.
What is SaaS?
SaaS (Software as a Service) is a software distribution system developed by a vendor and hosted on a web application that allows access to customers via the Internet. SaaS is a subscription service in which you pay a predetermined fee to use the software. In general, the SaaS systems are less costly and are scalable to adapt to your company's growth.
What is a Private Cloud?
The private cloud consists of computing services available over the Internet or a private internal network and is accessible only to specified users instead of the broader public. The software is installed on remote servers and managed by the vendor. Security and backup capability are also the responsibility of the vendor.
Characteristics of Each System
Solutions vary based on the needs of each company. For example, banks, insurance, logistics, and brokers' companies often choose on-premises because they are responsible for their clients' data protection.
In other instances, smaller companies and startups may choose to employ SaaS options to avoid the investment required for hardware and IT staffing.
On-Premise Features
Fixed Cost: You pay only a single fixed cost for the agreement period. And, not having to pay for the use of exterior software licenses and storage by implementing an on-premise software platform can be a significant saving. Databases can grow as needed, and messaging is unlimited.

Absolute Security and Control: Since everything stays inside the custom-designed system, customer and company data remain strategically protected by internal security controls and protocols.

Flexible Integration and Customization: With all internally managed data, in-house integration for new uses and applications to create unique, customized reporting is more manageable.

Manages Sensitive Data Best: With the proliferation of hackers and malicious intrusion, many companies find that on-premises platforms deliver greater peace of mind.
SaaS Features
Quick Start: No additional hardware nor in-house support and system maintenance are required.

Security: The SaaS platform employs encrypted data and requires minimal to no support from an internal dedicated IT Department.

Flexible and Easy to Integrate: Select only the software you will need and use, making sure the systems match your operational requirements.

Cost: SaaS can be a low-cost option if your database is not extensive, users will be limited to a small number, and relatively few messages will be sent.
Private Cloud Features
Remote Server: An off-premises hosted solution managed by an ERP (Enterprise Resource Planning) provider allows you to reduce your in-house staffing IT costs in many instances.

Rented Server: No hardware cost.

Optimal Mobile Accessibility: Using a Cloud-based platform, multiple remote users can access data more efficiently.

Data Security Risks: Growing concern and risk of malicious hacking that can expose your database to excessive risk of compromise. Fear of cyberattacks is the main reason why many large enterprises choose to keep all of their data on-premise.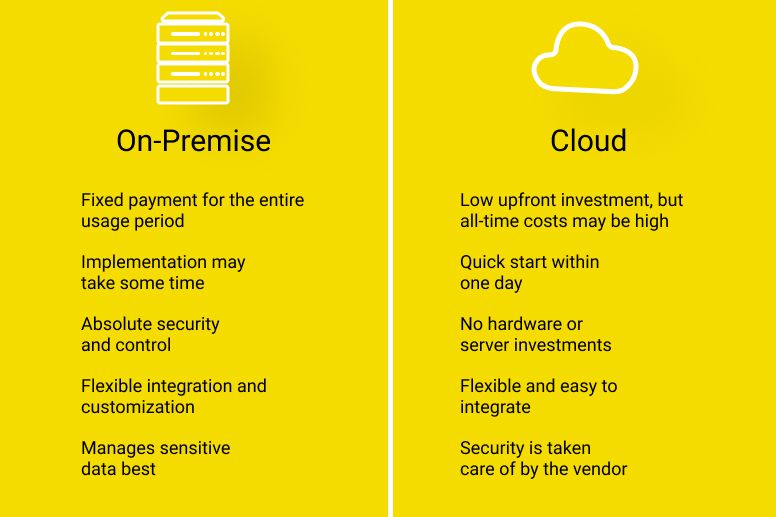 Choosing the Best Hosted Solution for Your Marketing Automation Service
Let's sum up. The on-premise software solution or "on-prem" method has a lower long-term. This method is excellent for businesses that require many users and a wide range of customization options. At the same time, smaller businesses that don't have a large client database should choose SaaS solutions. This way, they can avoid the investment required for hardware and IT staffing.
Altcraft Platform is a marketing automation service that can be deployed on any of the three platform types. Since each has different needs, security issues, and marketing approaches, Altcraft can recommend and support the perfect deployment method tailored to your needs. If you want to automate marketing processes right now, leave an application.
You might be interested in: