From 8% to 15%: How Cuva Implemented Personalized Marketing and Achieved Better Sales Results
Date: 2023-04-13 | Time of reading: 6 minutes (1117 words)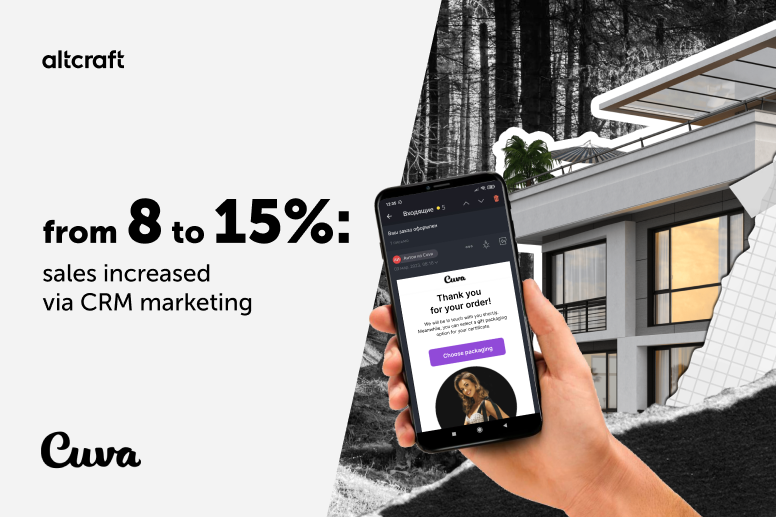 Cuva is a service of gift certificates for vacations in hotels throughout Russia with an open date. The recipient chooses where and when to go. Such a service is unique in this country. Cuva's rating on Yandex at the moment is 5.0.
Why they chose Altcraft Platform
Cuva was seeking for a tool that would meet the following criteria:
ability to set up customer communication at all stages of the Customer Journey Map with minimal involvement of IT specialists;

a convenient HTML editor with cross-cutting fragments;

integration of other communication channels if needed;

sending and receiving API requests in scenarios.
Furthermore, there was a need for ongoing technical support assistance. Altcraft CDP platform met all the needs and was able to solve the main issues. The Altcraft team set up the platform within two weeks, and the marketers started working.
Results
Setting up various scenarios for automating interactions with the service's customers
A welcome chain
Welcome emails are an important element of email marketing. Such a chain is implemented so that the business immediately informs the customer about its work. The main goal is to establish trust from the beginning of the introduction and thereby work with customer loyalty.
How the scenario was performed
We placed a form on the website, and after filling it out, visitors received an email with a promo code for a ₽500 discount on purchasing a certificate. If a person did not take advantage of the offer, we sent them a reminder about the discount after seven days.
Upselling
After the customer has made a purchase, it is important to stay in touch with them and regularly remind them of your business. It is essential to interact with customers in a non-intrusive way so that upselling does not seem too pushy.
How this strategy was implemented
A month after the first purchase, the customer was offered to place the next order with a discount. The promo code was valid within the restricted time. If the buyer did not respond to the offer, they were reminded of the discount.

Reactivating customers
Reactivation brings customers back to interacting with the business. Additionally, reactivation is necessary in order to:
increase sales;

save budget on email marketing;

improve the reputation of the IP address.
How the strategy for customer reactivation was implemented
Thanks to deep segmentation in the Altcraft Platform, subscribers were analyzed by activity. Those who had not opened emails in the last nine months were removed from the database. The rest were then divided into the following segments:
those who had not opened emails in 3 months;

those who read emails but did not click on links;

those who opened emails, clicked on links but did not make another purchase in six months.
The first segment was sent a secret email with useful content. The second segment was sent a survey, the answers to which made it clear what subscribers wanted to see in the mailings. The third segment was given a promo code with a limited time discount.
Omnichannel marketing
Omnichannel marketing, as well as multichannel, uses multiple channels to communicate with potential customers. However, unlike the latter, in omnichannel marketing, all the channels are synchronized. An omnichannel strategy is impossible without a special system in which all the data is stored. Altcraft Platform became such a system for Cuva.
How was omnichannel implemented
We set up an automation scenario to synchronize the work of the call center and email channel. Now, hot leads — those who opened the email but did not make a purchase — are transferred to the call center, where operators help them complete the deal.
The scenario involved three steps. First, we sent an email with a promo code to subscribers. Then we checked whether the recipient opened the email or not. If opened, it means they are interested. The data of these subscribers were then passed to the call center through the API call node.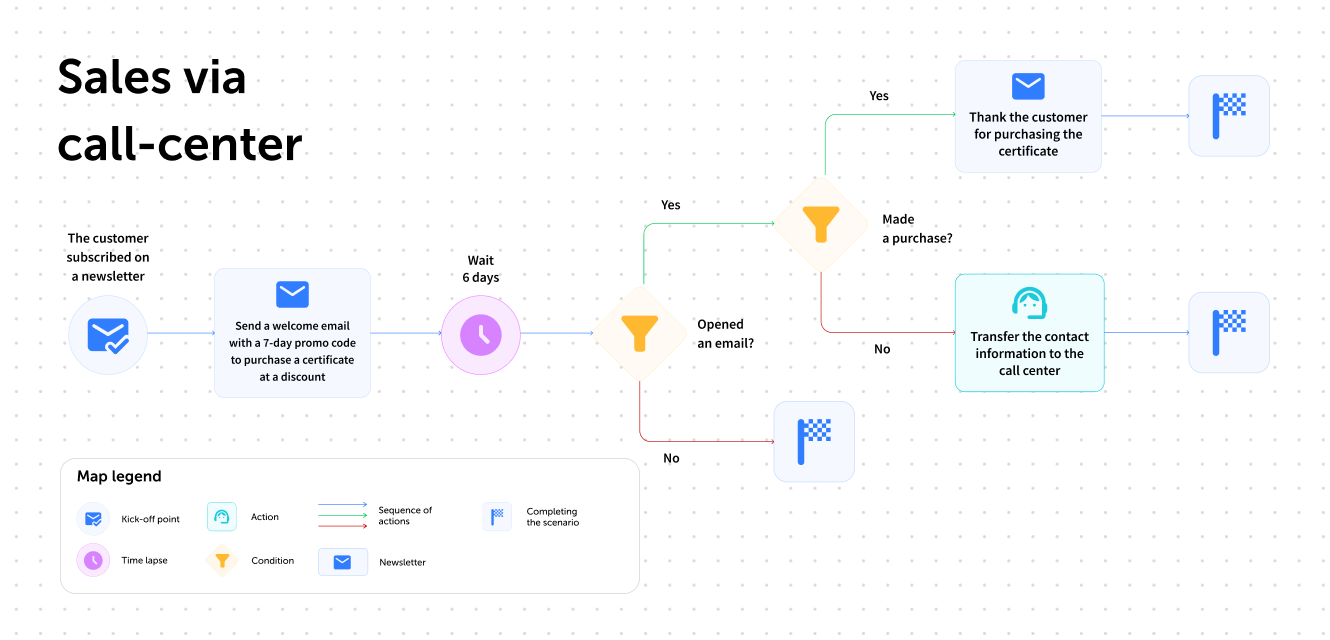 Connecting a Telegram channel/Telegram bot
The volume of Telegram traffic in Russia stands at 68% today, and by these figures, the messenger has long surpassed WhatsApp*. When you have such an effective lead generation tool at your disposal, it's hard to resist.
The Telegram channel, along with email newsletters and a VK group, has become a platform for the team to inform subscribers about interesting places to travel and share attractive promotional offers.
Currently, the channel is actively developing. In the future, they plan to use Altcraft Platform to automate posting in the Telegram channel, as well as sending newsletters to subscribers' direct messages.
How marketing has changed during the collaboration with Altcraft
CRM marketing is based on analyzing customer behavior. With Altcraft's CDP, key data is collected in one place and personalized offers are created for each segment based on that data. Then, these offers are delivered through a user-friendly channel.
This approach has a positive impact on sales. Over the past year, the share of sales realized through CRM marketing tools has increased from 8 to 15%.
The email channel shows the highest conversion rate. For example, on Black Friday, 54% of revenue came from subscribers who purchased a certificate after clicking a link in an email.
Future plans
Connect the SMS channel. Email newsletters are more focused on useful content, while SMS messages are suitable when it is necessary to promptly inform subscribers of important information. For example, to talk about limited promotions or remind them that the certificate expiration date is approaching.

Assign tasks directly in AmoCRM. We want to automate the process of transferring the request to the CRM system. When a client is active in messages (opens, clicks), a new task is instantly created in AmoCRM. Then the sales department picks up the interested lead.

Track user behavior before their first purchase. Tracking user behavior before their first purchase is one of our top priorities. It's important for us to understand what motivated the user to place an order. What hotels did they view? Did they compare locations? Did they purchase a certificate right away or return after some time? By collecting this data, we can improve the customer journey and personalize our email campaigns.
*The product belongs to Meta, a company recognized as extremist in Russia.
You might be interested in: