How to create a message template
What is a Template
A message template is the content that you send to subscribers in your campaigns. However, this doesn't mean that every time you want to start a campaign, you will have to spend time on creating a new template. You can create one template and use it in different campaigns for many years. The type of your newsletter doesn't matter here. It can be a broadcast, a trigger or a regular campaign. Moreover, you can use the same template in different communication channels: email, SMS, push, Telegram and so on.
How to Create a Template
Select the «Templates» section in the main menu and then click «Create» on the top toolbar.
Step 1. Select the sending channel
First you need to decide which channel you are going to use to send your template. For example, an HTML text for an email newsletter, a plain text for an SMS message and so on.
This channel will be the main one. You will create a template primarily for this channel. However, you can always add other channels for this template.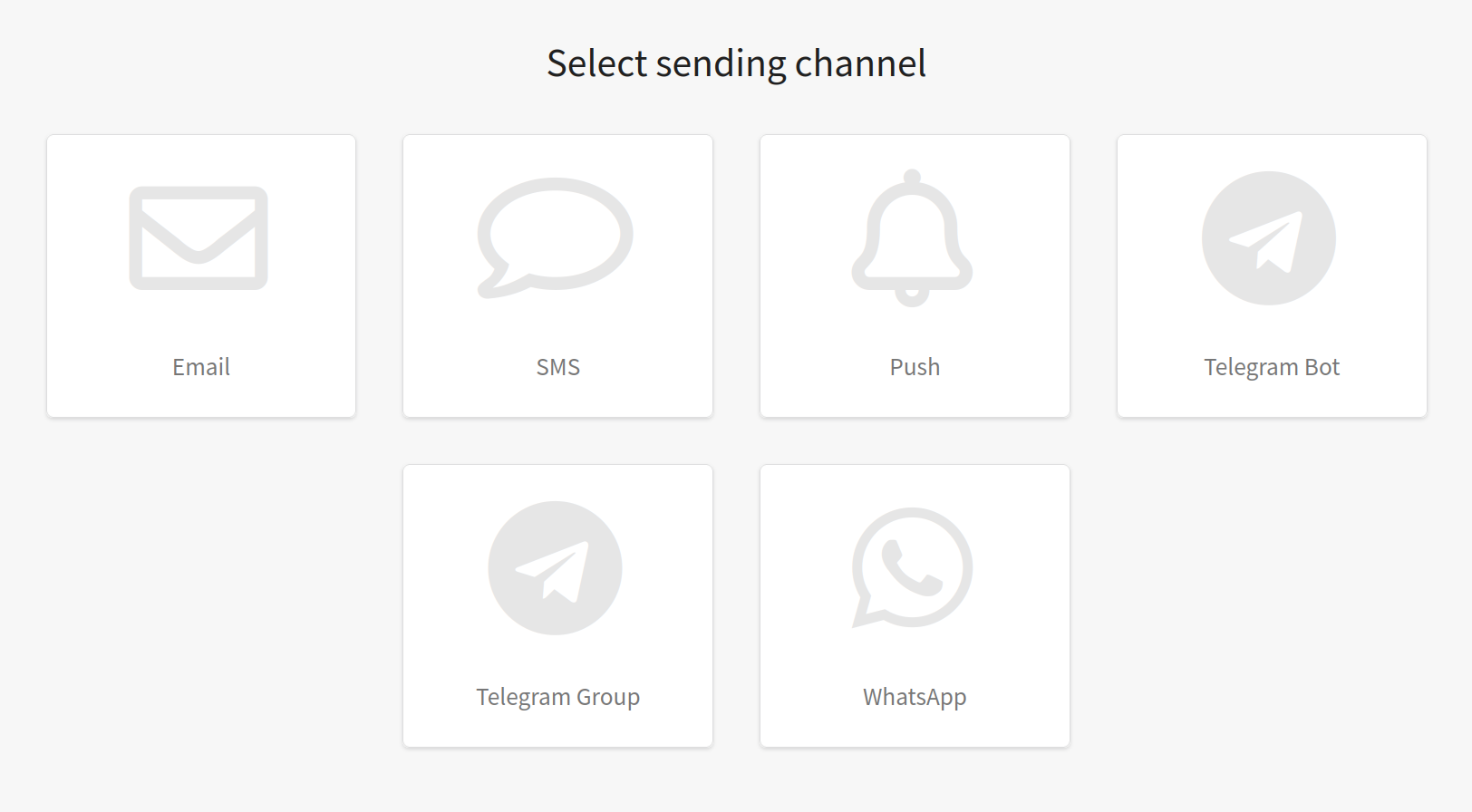 Step 2. General settings
Specify the name of your template on the «Basic Settings» tab and briefly describe it. Set groups to restrict access and tags for quick search.

Step 3. Set up content for a chosen channel
Type in your text for the email body. You need to type in the text for each sending channel separately. Therefore, if you are going to use this template in different channels, add them by clicking on the + icon: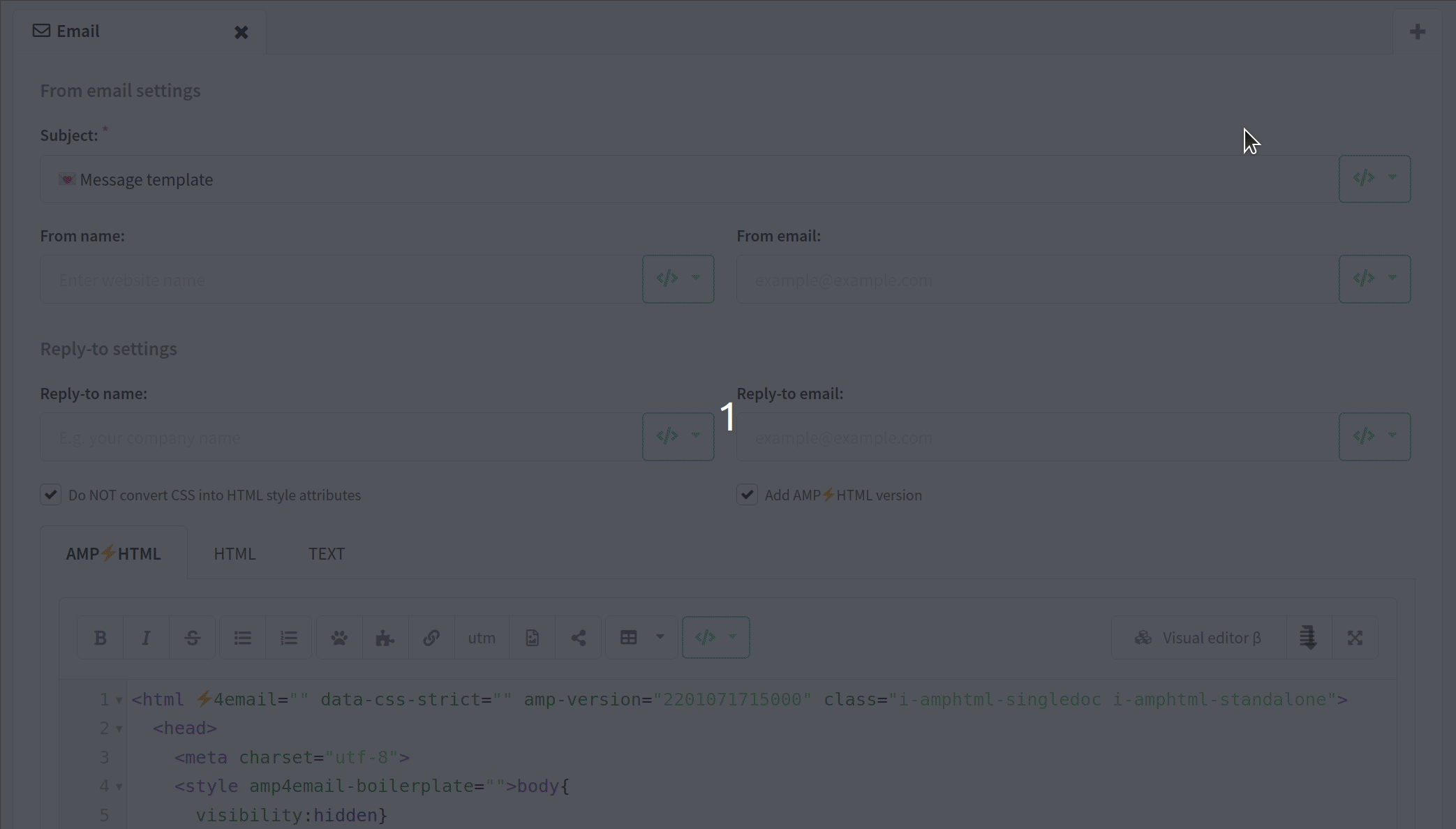 3.1. If you create a template for an email newsletter, you can work with the HTML version of your email or use a visual editor.
3.2. If you need to create an SMS newsletter Just enter the text and leave a link. Follow this guide.
3.3. A push notification template should contain a title, an icon, a text and a link. You can also try our new editor for push notifications, which allows you to customize the display of notifications for each browser individually.
Step 4. Set up dynamic content
Below in the «Options» section you can further customize the template.
If you are going to use dynamic content in your template, add a link to the JSON file with this content. This will allow you to add information to the message that will be generated on your server exactly at the moment each message is sent. This option will come in handy if you want to regularly send information that is updated daily (e.g. the current exchange rate or stock quotes).
You will see a preview of the first level objects at the lower section of the screen.
Learn how to work with JSON content in this article.
Now let's move on to the last section of template settings.
Step 5. Add custom links

Custom links are created by account master users. Read more about it here.
5.1. Add a link that the user will follow if they click on the unsubscribe link in your email. For example, redirect the user to the subscription management page.
5.2. Add a link that the user will follow if they click on the confirmation link in your email. For example, if a client confirms that they have registered on the website of your online store, redirect them to their personal account.
Step 6. Specify a suppression list
Select a suppression list and restrict sending to clients who are not interested in this type of content. If you don't want this template to be sent to those who have already unsubscribed from your newsletter, tick the corresponding box.
Step 7. Save the template
Click «Save» on the top toolbar. After that, the template is ready. Use it in your campaigns. And remember that you can always edit it.
---