Push-notifications
Date: 2018-01-15 | Time of reading: 4 minutes (867 words)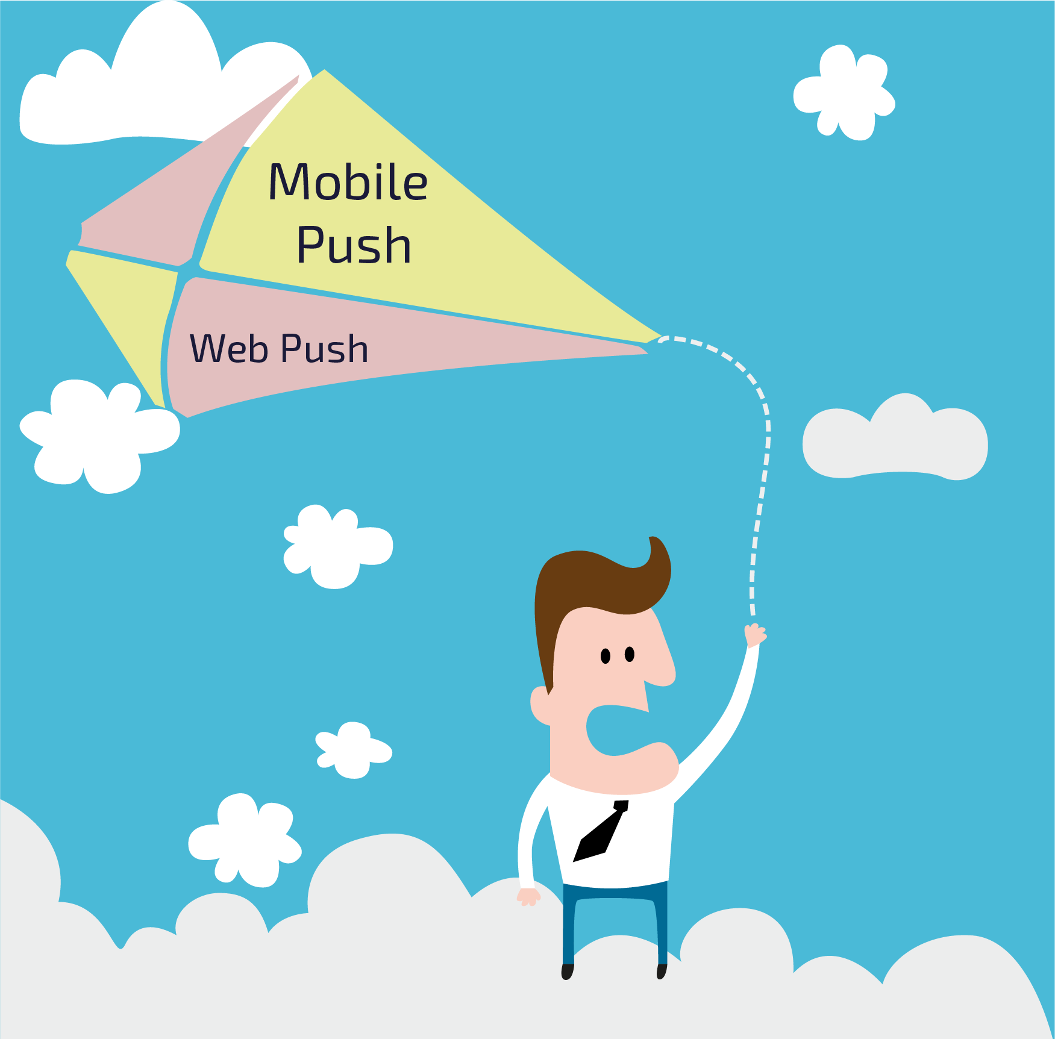 In its functionality, the Altcraft Platform has an opportunity to connect Web Push and Mobile Push to a communication chain along with such channels as email, SMS, Viber.
Marketers still argue whether Push Notifications are good or evil. That is why speaking about them we most frequently use the phrase "Do not do harm". The risk of inappropriate (careless) usage of Push Notifications might be explained by their being the cheapest way to deliver information to the end-user.
Users get a notification banner or a pop-up notification while using their smartphones or desktops. The notification will be shown regardless of what the client is doing on his device at the moment.

Marketers have come to have an opportunity to make personal offers to their clients based on the information about their previous activity in the mobile app or on the site.
Push-notification escape spam filters, it is hard to miss such a notification, as it often happens with ordinary letters in your inbox. If the client has given their consent to get Push Notifications from your company, the information is sure to reach its recipient.

Using Push Notifications you can:
reactivate users;
enhance the quality of service notifying clients of changes in order status in proper time;
transform unknown users into clients by offering better facilities after registration in a personal account or filling in a contact form;
send transaction messages right after the client's action;
redirect clients to other marketing channels such as social networks.
The Accengage Company has carried out research based on 50 000 advertising campaigns, 65 billion notifications sent to 750 million users all over the world during 2016.
The facts are:
72 % is the average of subscription to Push Notifications;
Most often it's users from the "Telecom" sphere that subscribe to Push (49 %); gamers, however, are least frequent subscribers (34 %);
Russia has entered the top three countries where users more often than others turn on Push Notifications: the first place is occupied by Brazil (47 %), the second place – by Russia (46 %), the third-place – by France (44 %);
The average of reaction (clicks) to PN is 4.5 % on iOS and 12.2 % on Android.
Conversion of HTTPS sites users into followers may considerably differ on different resources (based on ain.ua materials):
The average conversion for eCommerce projects, news sites and blogs is 3–5 % of total new visitors;
On most of the sites, the average conversion doesn't exceed 8 % but is almost never less than 1 %;
On sites of social networks or mobile apps, provided the clients' loyalty is high, conversion of subscription to Push Notifications might reach 10 %, but it's an exception to the rule.
The Altcraft Marketing Platform makes it possible to start push campaigns based on users' behaviour, events and attributes, including innumerable personalization scenarios. You can send messages to iOS and Android mobile apps, the Mozilla Firefox and Google Chrome browsers. Web Push has one very important limitation: they are suitable only for HTTPS sites.

With the help of the Altcraft Platform, it becomes possible to start a campaign with Push Notifications or an independent triggered push campaign in three stages. Let's consider the browser variant.
First stage
We create databases of recipients and add a resource: the website's URL, forms or apps where the user will see Push Notifications.

Second stage
We are to carefully look through the browser settings. All browsers (except Apple Safari) provide identical settings using Firebase Cloud Messaging.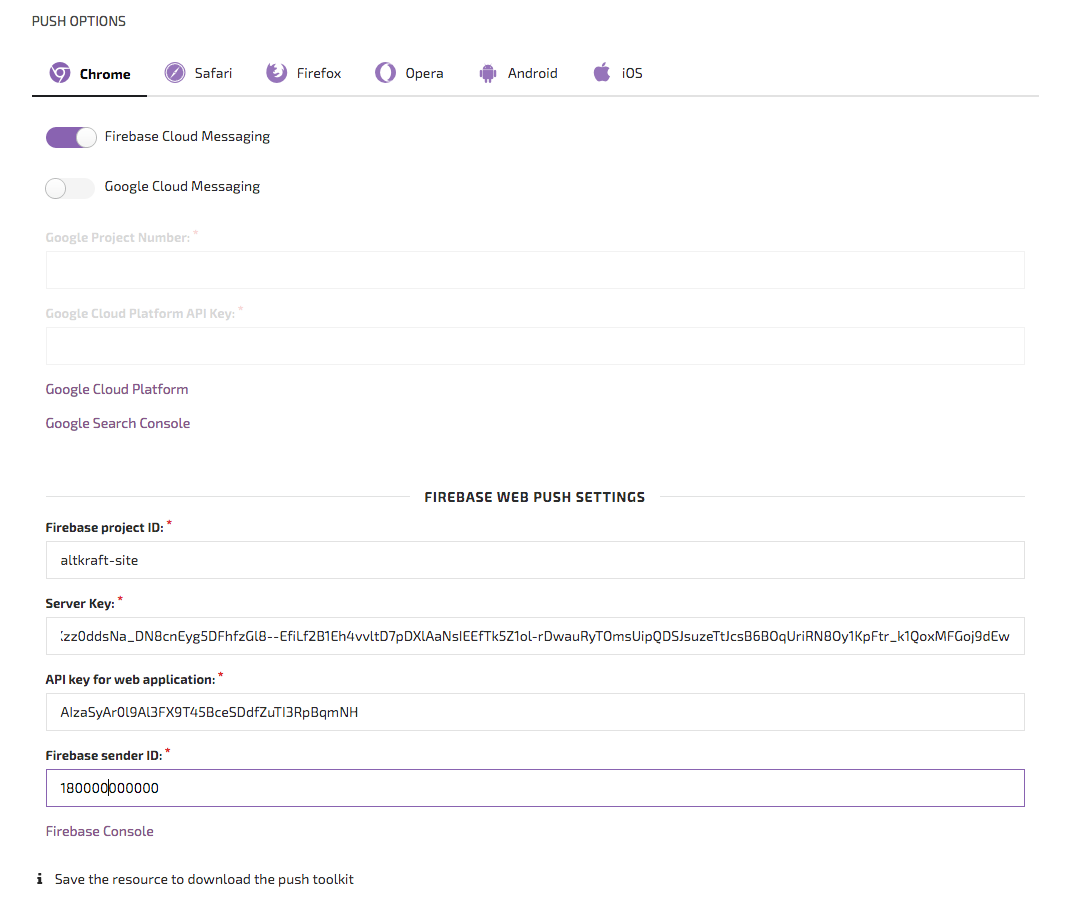 Settings for sending push notifications in Apple Safari are different and are held separately.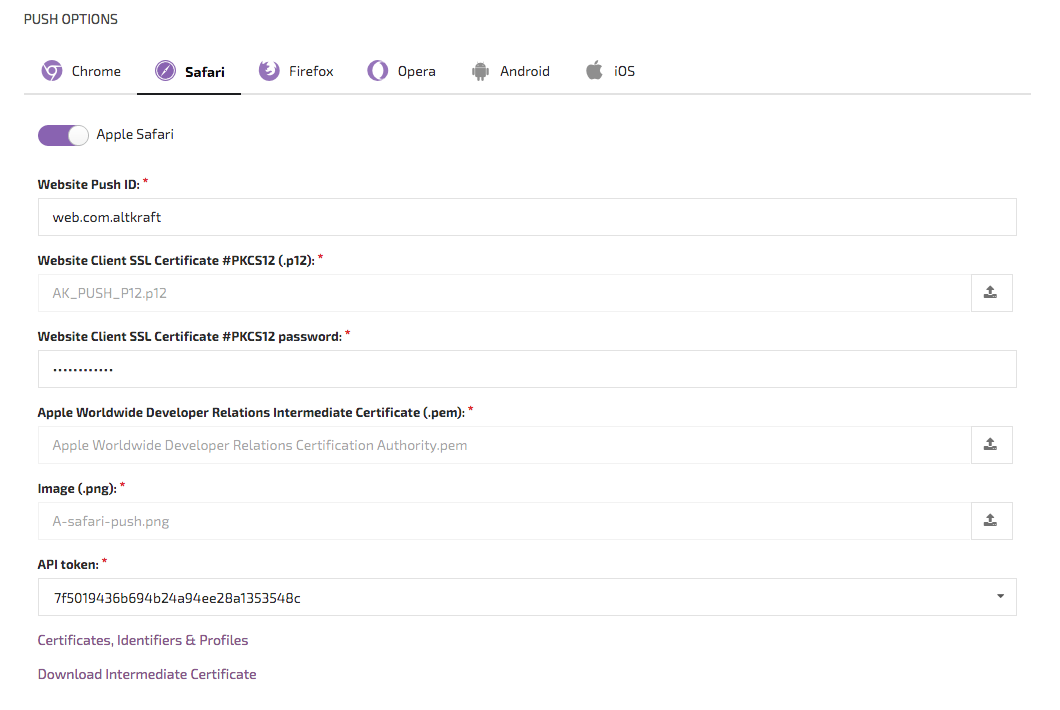 The interface is intuitively clear but in case of necessity, you may use the instruction on the website. After that, you can save your resource and download Toolkit, parts of which will then be placed on the website to which Push Notifications will be sent.
Third stage
Creation of Push Messages, campaign settings.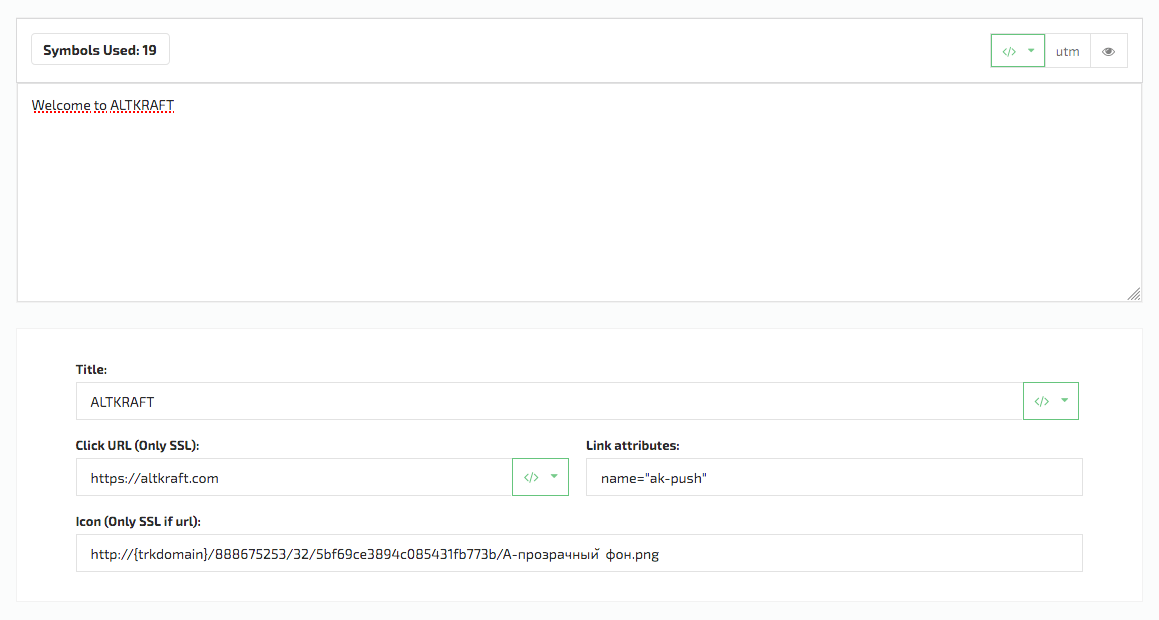 An optimal number of signs for Push Messages.
| Platform | Number of signs |
| --- | --- |
| Mozilla Firefox | 50 |
| Google Chrome | 50 |
| Opera | 50 |
| Safari | 50 |
| IOS | 50 |
| Android | 45 |
Conclusion
Due to their simplicity, Push Notifications could turn out to be riding a web tiger. If the marketer doesn't have a clear cut strategy and supervision over accounts, he can spam the user and eventually lose them as a client. See that your Push Notification mailing is always informative and unobtrusive.
Would you like to test Push Notifications in Altcraft Platform? Contact us to get trial access!
You might be interested in: