Customer Loyalty Program: What Is It and How to Build It
Date: 2021-07-16 | Time of reading: 5 minutes (1011 words)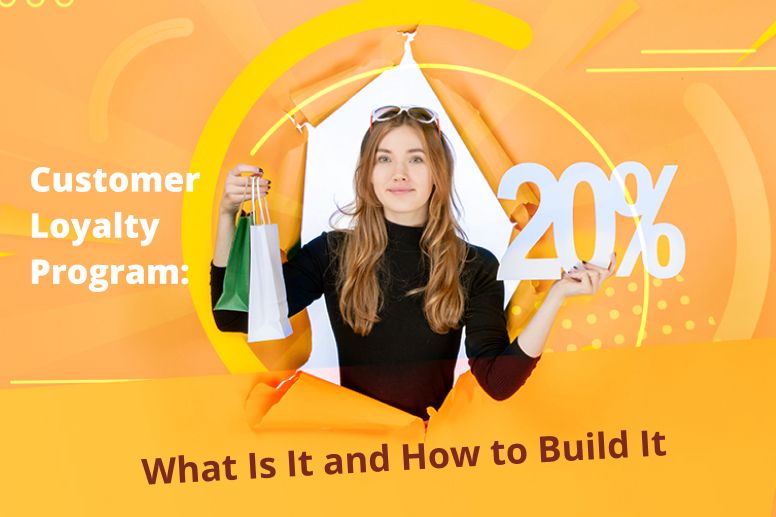 Once a marketer has enticed prospective clients to use their products or services, their marketing mission immediately turns to ensuring these same customers will return. A satisfying user experience is essential to making that happen.
One strategy, an effective loyalty program, has proven infallible in bringing customers back, even for decades, after that initial purchase.
Quality, value, and customer satisfaction will always be the fundamental drivers of consumer decisions. But airlines, hotels, car rentals, banks, coffee shops, grocery and drug stores, restaurants, credit card companies, and most other businesses today rely on loyalty programs to retain their client base.
What are Loyalty Programs and Loyalty Marketing?
Loyalty programs, sponsored by retailers and other businesses, usually consist of rewards, discounts, freebies, or other incentives to entice buyers to come back to buy future products or services.
While loyalty programs of some type have been around for centuries, these have become more prevalent, sophisticated, and far-reaching in recent years. More miles or overnight stays, more money spent, and more frequent purchases often mean free goods or services, money back, or other powerful incentives to maintain loyalty.
Customer loyalty programs not only retain more customers for future purchases, but these clients are more likely to try new products. And, on average, these consumers will spend 31% more than first-time buyers.
In any instance, the lure of a free airline flight, hotel stay, prizes, gifts, and discounts earned with a certain number of purchases becomes an irresistible draw that comes them coming back.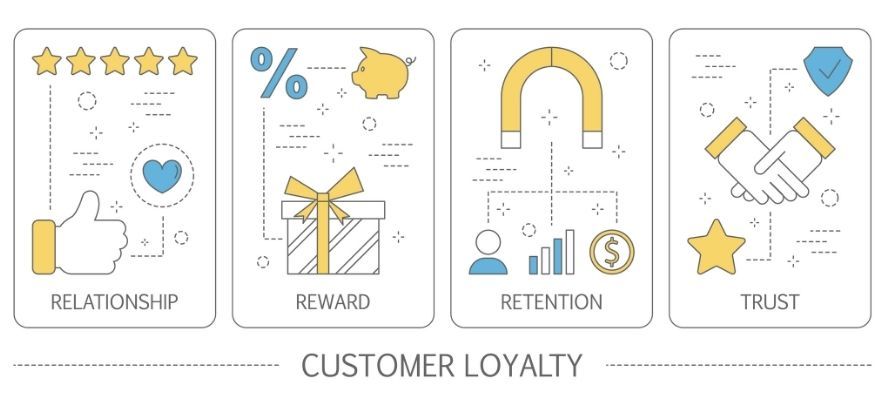 How to Create an Effective Loyalty Program
If you have not already implemented a loyalty program, creating one can be a low-cost, high-return strategy to lock in and grow your client base.
Businesses spend five times more to attract a new client than to keep existing ones. Increasing customer retention by just 5% can create a 25% to 90% increase in profitability, depending on the starting point.
So, how does a new or existing company go about creating an effective loyalty program?
Excellent products and services are the first and most crucial element of a successful loyalty program. A loyalty program cannot even begin to capture the consumer's interest unless what you offer addresses the fundamental reasons why they came to you in the first place.
Stay Consistent with your products and communications. One bad experience can damage the relationship permanently since the possibility of future bad experiences becomes a deterrent to returning.
Focus on the customer. Be sure you understand their needs and continually determine whether your products or services are meeting them.
Do more than what is expected. Whenever possible, add something extra to prove your commitment to the customer.
Reward customer loyalty. Design your program to offer meaningful rewards.
Make the Rewards Program available for all interactions, both in-person and online.
Create Status Levels. Airlines, among others, do a great job of rewarding Frequent Fliers with status levels that offer preferred seating, upgrade possibilities, boarding preferences, lounge availability, and more. Similarly, wineries reward their exclusive Club Members (those who spend more) with direct access to the more exclusive wines, complimentary wine tastings and winery tours, and further recognition while visiting the winery.
Surprise and delight customers. Awarding customers when they may not be expecting anything is a great way to solidify a relationship. A birthday gift, for example, can be a warm, personal way to reward them. For example, Altcraft platform allows you to personalize emails and wish every customer a happy birthday by sending a promo code.
Offer first opportunity to buy new offerings. As you introduce new products, an introductory offer to your Loyalty Program participants is a way to show them that they are preferred.
Be Creative when naming the program and even your rewards points.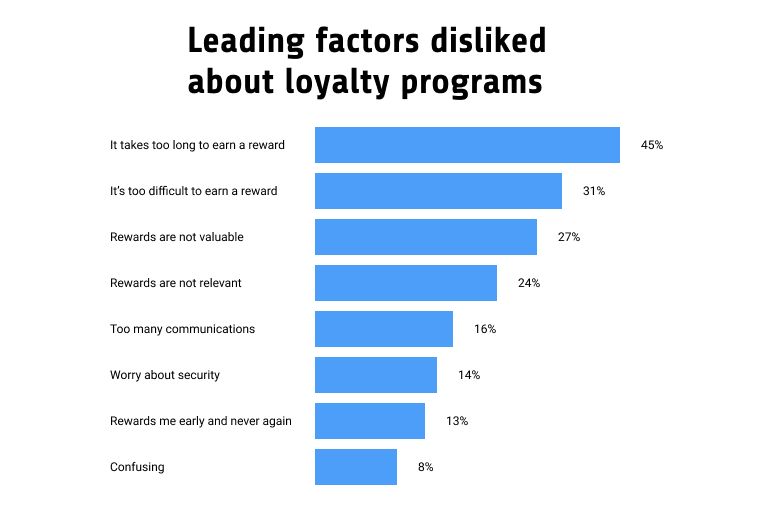 Types of Loyalty Programs
Types of loyalty programs vary depending on the products offered. These may include:
While programs have different requirements, some offer a single point for each dollar spent during a specified period. In some instances, points should never expire. However, setting a time limit may encourage more frequent visits. While a weekly visit to a grocery store can be a natural frequency, airlines do not expect their less-than-elite customers to fly as often. So, their rewards "miles" may never expire.
One of the most popular point programs is Sephora's Beauty Insider rewards program. Customers earn points for each purchase they make: 1 point for every dollar spent. When there are enough points, they can exchange points for limited cosmetics.

Sephora's Beauty Insider rewards program
When customers spend a certain amount of money, they may be rewarded with coupons or cash to be used at the issuer's business. Bank credit cards also offer cashback awards that can be redeemed as credits on balances, deposits to checking or savings, or purchase items at specified retailers.
Each time a customer purchases, one or more holes of their customer loyalty cards get punched. When the card is "fully punched," the customer receives a free item. This is if we're dealing with paper cards. When it comes to digital punch cards, they exist within a mobile app, but the idea is the same.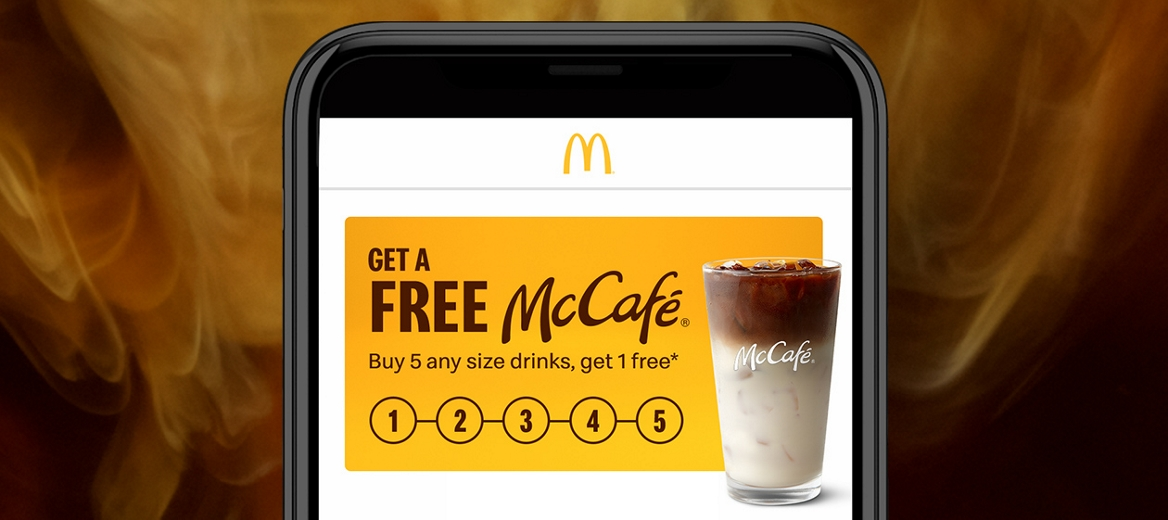 Digital customer loyalty punch card at McCafe
Promo codes to loyal customers can enhance your relationship with prospective and current customers. These may be personally directed or general and can be presented through multiple platforms.
In Altcraft Marketing automation platform, it is convenient to generate personal promotional codes: set up your own marketing automation workflow and decide at what moment you want to give your loyal customer a promo code.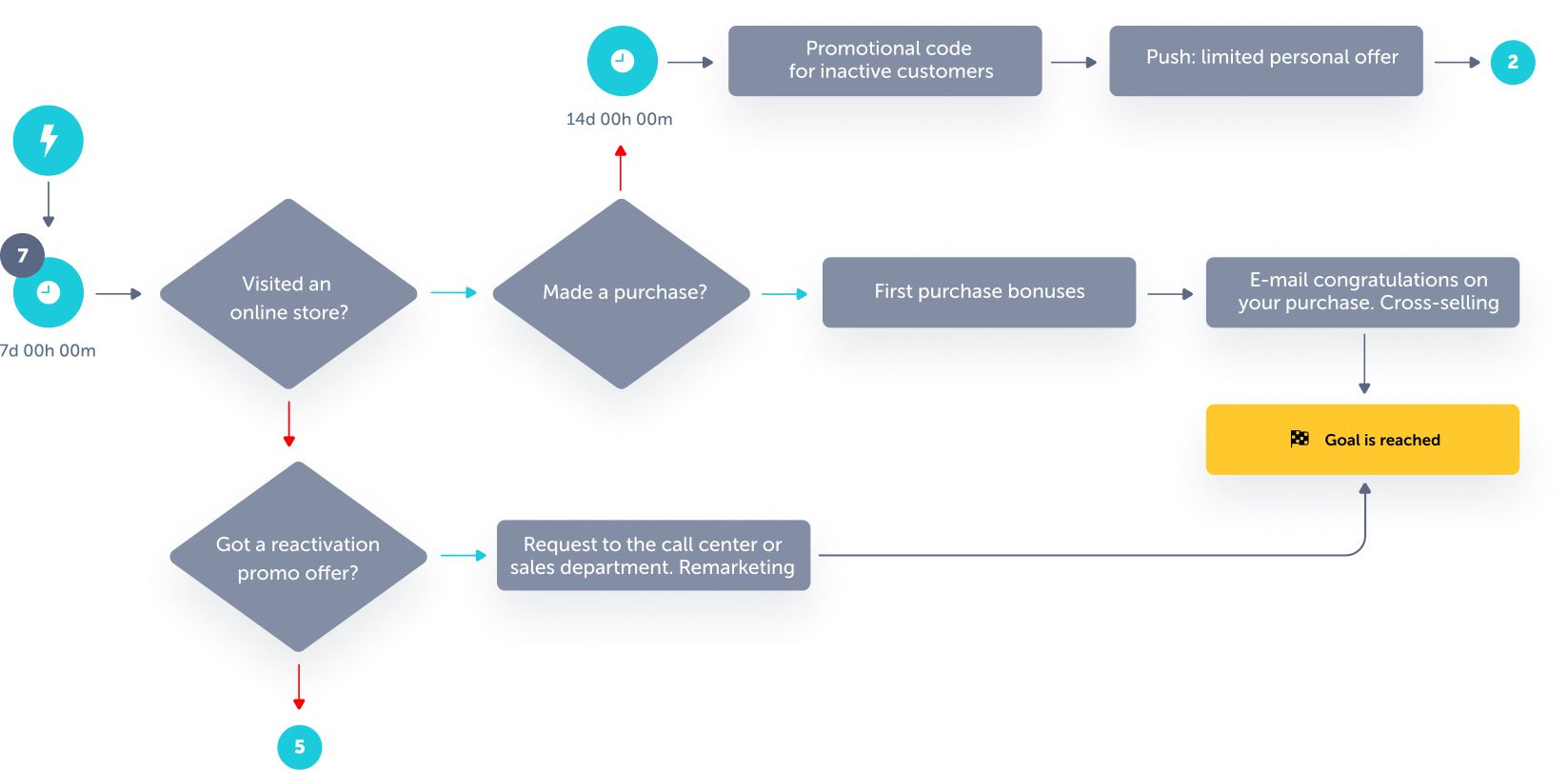 Promo code workflow sample
These programs involve earning "points" at more than one business to be used at any of the participating companies.
Conclusion
An intense focus on customer care will benefit your company in very significant ways. Satisfied customers will relay their positive experiences to friends, thereby creating new business and will positively represent your brand to others. An effective loyalty program is an integral part of customer care.