Marketing Automation for Insurance Companies
Date: 2021-11-02 | Time of reading: 6 minutes (1224 words)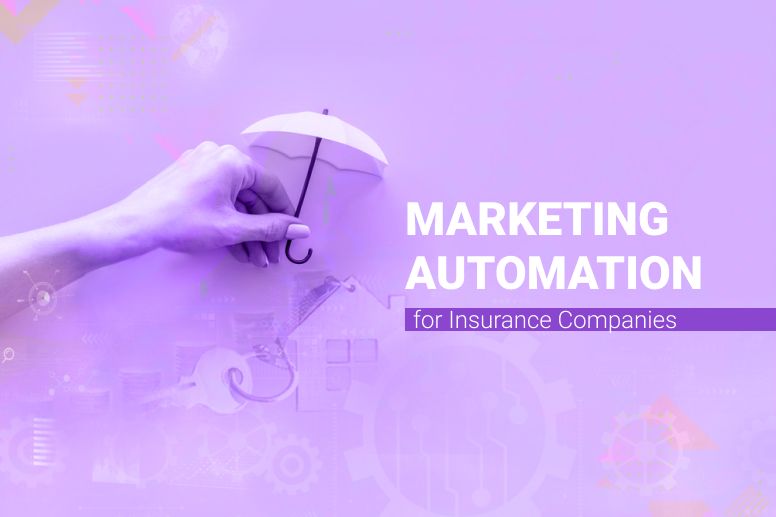 The Internet has provided marketers with special tools for customer acquisition and customer retention. Marketing automation platforms are becoming one of the most powerful tools for the above-mentioned activities. The emergence of CDP has brought about global changes that make it possible to work with clients on a whole new level. It goes without saying that these changes have influenced such a large field as the insurance business.
In this piece we are getting into the reasons why insurance companies need on-premise marketing automation and share five effective strategies of automation in this business field.
Why does the insurance sector need marketing automation?
As we have already mentioned in the article about marketing automation, this industry will increase to $8.42 billion by 2027. It means that automation will become an essential component of brand promotion in the market, without which companies will be uncompetitive.
The insurance business is developing rapidly nowadays, and companies feel the need to improve their strategies of insurance marketing. That is why they tend to introduce automation. For example, launching personalized campaigns makes it easier for a client to go from clicking on a promotion banner to purchasing an insurance policy. A unified on-premise marketing software provides companies with the following advantages:
work processes optimization;
customer acquisition;
customer retention;
client data enrichment;
cross-sell automation;
all data sources integration in a unified platform (makes it possible to promptly segment the client base into targeted audiences);
complete analytics for evaluating results and optimizing strategies.
When key work processes are automated, specialists make fewer errors and have more time to solve more global problems. Thus, the primary task for a marketer is to develop strategies that will promote insurance services for target audiences.
Five strategies of marketing automation for insurance companies
So, we present to you five strategies of marketing automation for the insurance sector.
1. Prolongation of OSAGO (CMTPL insurance)
OSAGO is an abbreviation that can be translated as "compulsory motor vehicle third-party liability insurance". It guarantees that in case of a road traffic accident a culprit's insurance company will pay compensation for damage to victims. The insurance is issued for a term of one year, and it comes into force three days after it is issued. Thus, it is suggested that policyholders should apply for renewal in advance to avoid interruptions in insurance.
"What does it have to do with marketing automation?" you may ask. And the answer will be the following – OSAGO and marketing automation are most directly related. By automating the process of insurance prolongation you get rid of the necessity to make notification calls. You just need to set up a prolongation script once, and your clients will be notified on time. All they have to do is click the right link and send their application to the insurer.
Our Altcraft Platform makes it possible for you to implement marketing automation workflows of any complexity. It will greatly facilitate your work with clients because you will not have to send newsletters to them – the platform will do this work for you. You should interact with your clients, tell them about discounts and promotions, give them promo codes and special offers. Just be beneficial to your clients so that they can be beneficial to your company.

«OSAGO prolongation» strategy
2. Cross-selling of CASCO Insurance
While OSAGO is compulsory insurance for the owners of motor vehicles, CASCO policy provides voluntary motor vehicle insurance. In this case, marketers in insurance companies have to develop different strategies for cross-selling of CASCO.
Different companies prescribe their own rates for this policy, which depend on certain factors, such as driver's experience and age, age of a motor vehicle, insurance period, etc. So, promoting CASCO, marketers apply some sales gimmicks, for example, they offer installment plans to their regular customers.

«Cross-selling of CASCO Insurance» strategy
3. A «Calculator-on-hold» scenario
Nowadays, clients do not need to call their insurance company to find out the price of the policy, for there are special calculators on the website of the company.
Imagine that a person by the name of Ivan Petrov, for instance, calculated the price of CASCO, which turned out to be acceptable, but a sudden call from work forced him to leave home on urgent business. To make sure Ivan does not forget about it later, your company needs to set up a "Calculator-on-hold" script so that you can remind your client of yourself.

A «Calculator-on-hold» scenario
4. Promotional codes and bonus points
Nowadays, people are interested in different types of insurance. Some people take out building insurance so that they can protect themselves from undesirable expenses in case of an unforeseen situation in their apartment or house. Tourists buy a travel insurance policy, and more and more people are choosing to take out health insurance.
You should motivate your clients not to delay taking out an insurance policy: offer them promo codes and bonus points that they can use to pay for a certain percentage of a policy price. If additional bonuses do not encourage your client to buy a new service, you should apply retargeting. The process of retargeting is easy to set up on our marketing automation platform – Altcraft Platform. Just take the data from necessary segments on the Platform and then add them to Yandex.Audience and Facebook Audience. In their turn, these services will launch targeted advertising according to the collected data. Thus, you will always stay in touch with your clients, and they will remember you at the right moment.

«Promotional codes and bonus points» scenario
5. Prolongation of VHI and cross-selling
VHI is voluntary health insurance that is actively used by the residents of big cities. It is issued for a term of one year, and people consider many factors when it is time to decide whether it is worth being renewed. You should help your clients to make a choice in favour of their health: give them promo codes, send them customer satisfaction surveys and take all responses into account, remind them in advance that their policy is about to expire.
If your company uses Altcraft Platform, you will not have to resort to any outside services to create a questionnaire or a survey. For these purposes, we have developed our own internal tool – Forms. The Forms builder is intuitive, so you do not need any professional knowledge to create a questionnaire, a test or a survey. Moreover, you can customize the logic of the Form in the editor. It means that respondents will go to different pages depending on which answer they choose.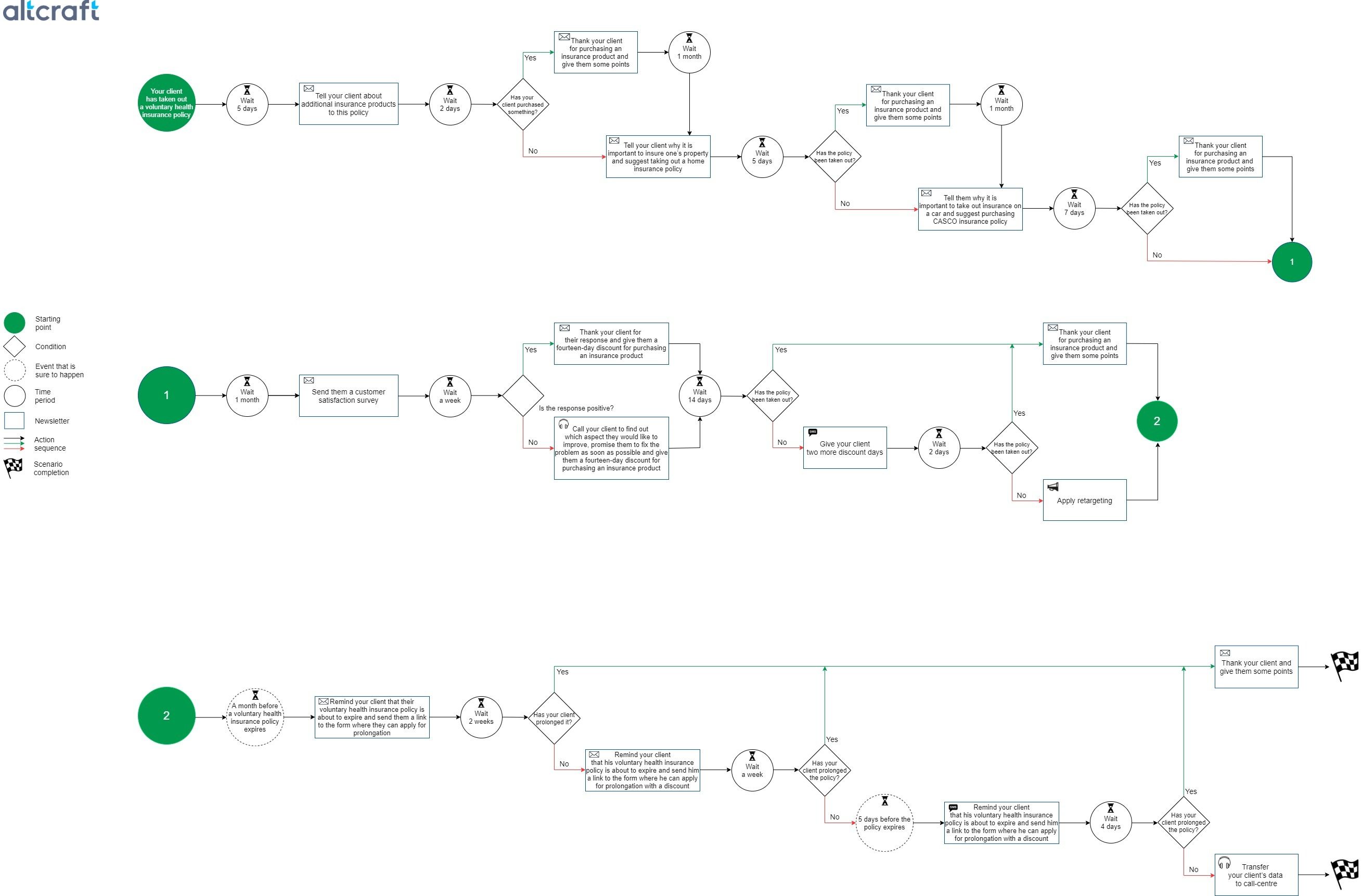 «Prolongation of VHI and cross-selling» scenario
Conclusion
On the one hand, marketing is moving onwards and upwards in the field of insurance. On the other hand, it is difficult for marketers in this sphere to stand out from competitors and develop an individual approach to clients at the same time. So, in this case, it is important to choose a solution that will make it possible for you to promptly and flexibly automate the strategy and communicate with customers without limitation.
Russian insurance market leaders AlfaStrakhovanie and Soglasie are already successfully using our on-premise marketing automation software to implement their marketing ideas.
You might be interested in: