How Altcraft Marketing Helped AlfaStrakhovanie Group Increase Subsequent Sales by 49%
Date: 2020-06-26 | Time of reading: 4 minutes (773 words)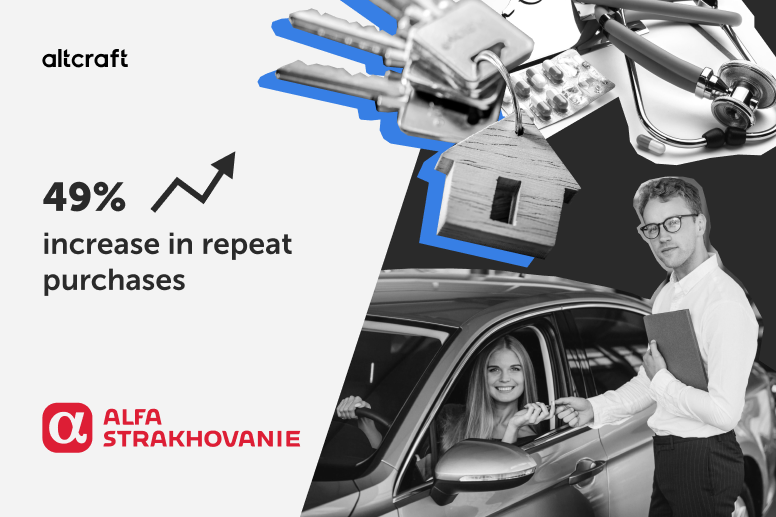 AlfaStrakhovanie group is the largest Russian private insurance company featuring a universal set of insurance products: complex business-oriented programs and a wide range of products for individuals. They have been automating their business processes since when the company was founded in 1992. For the last year CRM-automation has been implemented with the help of Alckraft Marketing platform. Currently more than 500 triggers are configured, providing thousands of message variations for email, push and SMS channels.
Analyzing their experience can advise you how to increase subsequent sales rate.
Objectives
AlfaStrakhovanie group builds communications with tens of millions of their customers, based on personal and behavioral data, processed by machine learning. It's quite a large amount of business data — and it just cannot be exported to external services. Thus, the task was to find a software platform that can operate in tandem with the company's internal CDI system while processing no data in cloud services. The software had to be flexible in order to fit the group's changing requirements while business and marketing continue to scale up.
Work done
Client communications with micro-personalization were implemented. The internal CDI segments customers into micro-segments for every contact point with the customer by the following aspects: active products, contracts made, insured events, steps of online purchase etc. Personal hyperlinks and sets of data are formed and then transfered into Altcraft Marketing platform. It performs additional segmentation and limitation. Then these requests are forwarded to corresponding channels.
The workflow here is the following:
If a customer does not react to the email and push, they receive an SMS.
After the message they get a robocall.
If the customer proceeds ignoring communication, a manager from AlfaStrakhovanie group contacts the customer.
The platform allows to configure а customer journey map and manage all marketing processes in a single window of Altcraft Marketing. This strategy helps retaining your customers and engage them in dialogue with the company. Afterwards the platform registrates results and returns them to the CDI system for further processing.
All messages in the platform are made up on the basis of CDI data. 10 product types and 10 customer psycho-types are combined for the messages like «Automated purchase». This makes 1000 combinations for just one message. And for 50 products it will make 25,000. Getting such a message last thing that a client can do is to wonder its timeliness and click the «Purchase» button. At the same time it is possible to note in the same message to get this offer later because a customer is interested in another product. The platform saves the answer, activates the corresponding triggers and forwards data to the CDI system.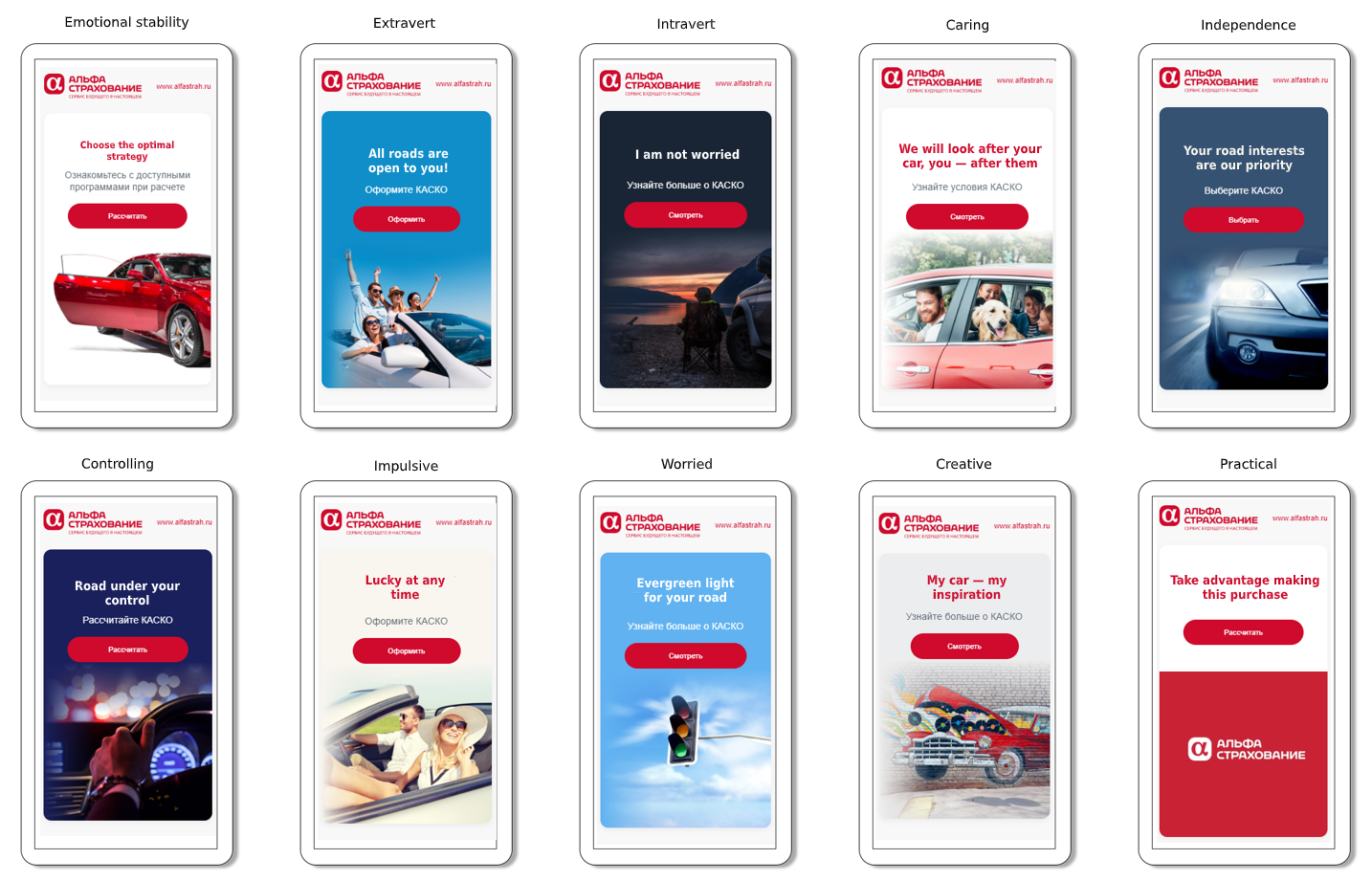 Results
Our client's objective was to implement a marketing automation platform to operate with large amounts of data within the company's Intranet. Altcraft Marketing in tandem with the CDI system creates micro-segments and launches triggers using known customer information. This made marketing campaigns personalized and maximized customer engagement.
One year of collaboration brought the following results:
A combination of machine learning, segmentation and micro-personalization created effective advertising campaigns templates.
High rates of micro-personalized communications performance were reached: OR — 42% and CTR as high as 36%.
The rate of contract renewals increased by 49%, that means more frequent subsequent purchases.
Revenue for products sold online increased by more than 30%.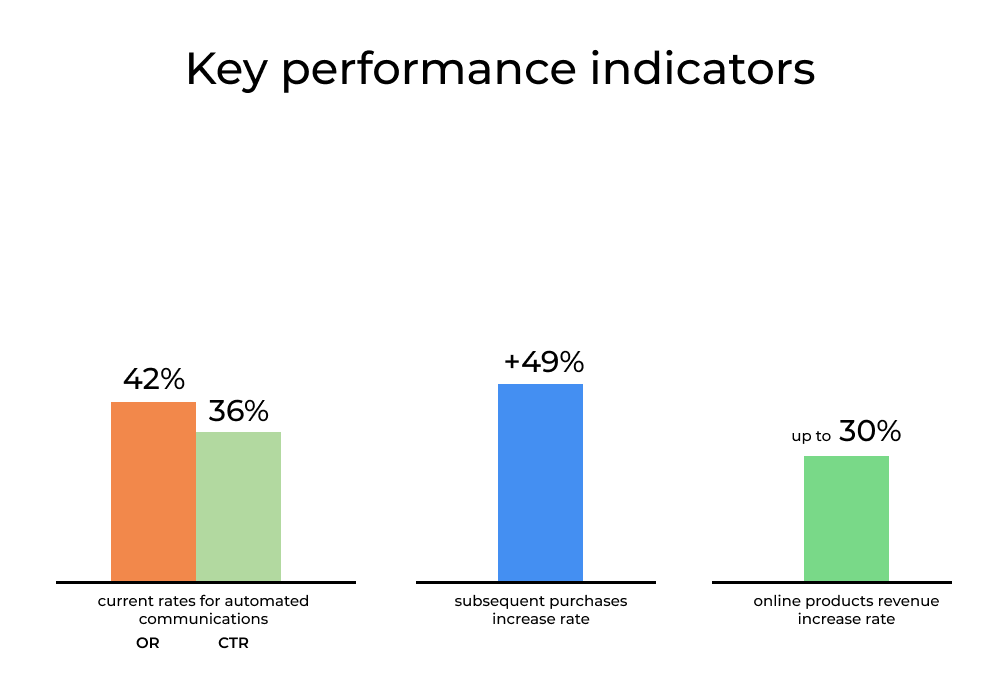 The plan for 2020 is to migrate the remaining online products and to further explore the existing points of contact with customers.
Dmitriy Leonov, AlfaStrakhovanie group CRM-marketer:
We were looking for a marketing automation service, that could run within our network, sharing no sensitive data with cloud services. Altcraft Marketing, I would say, is the only omni-channel platform that can adapt to meet our business needs and operate in sync with other services within our intranet. Now all business data is safely stored in one place and it's not processed in any cloud services. We use Altcraft Marketing for additional segmentation and for building micro-personalized communications.
To sum it up
During a year AlfaStrakhovanie group implemented micro-personalized communications for every step of a customer lifecycle. Around 500 triggers were configured with thosands of content variations. Beside that, subsequent purchases increased 49% and revenue — 30%. As well, the customer journey map was defined with various marketing scenarios — and all within a single window of Altcraft Marketing.
Looking where to start with marketing automation? Write us — we're always glad to help.
You might be interested in: