Maximize Sales: Seasonal Marketing as a Profit-Boosting Tool
Date: 2023-11-02 | Time of reading: 8 minutes (1583 words)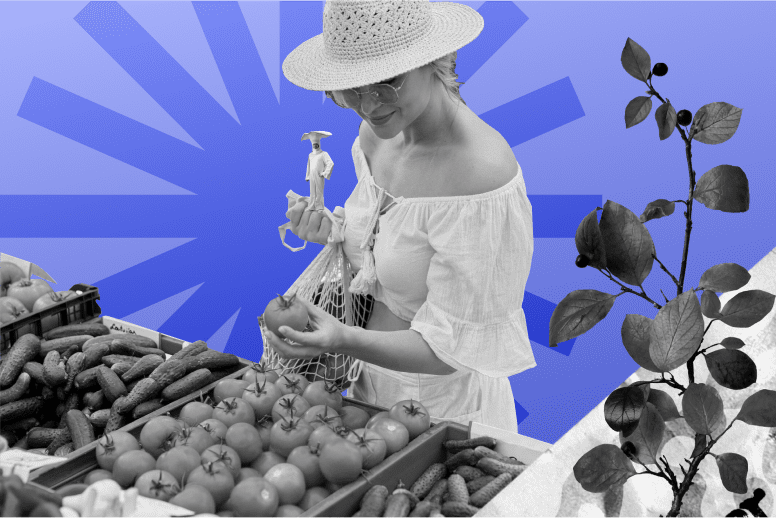 Demand for products and services isn't always constant. Some items are only purchased during specific seasons, such as sandals in summer, snow tires for cars in winter, or Valentine's Day gifts on February 14th. To maintain consistent sales, marketing strategies must adapt to these fluctuations in demand.
Seasonal marketing campaigns have limited, often very short, durations, making the preparation of such advertising even more critical than usual. Missing the timing or executing incorrectly may result in waiting a whole year for another opportunity.
This article explores the nature of seasonal demand, the advantages of seasonal marketing, and how to launch a temporary advertising campaign, with examples from various brands.
What Is Seasonal Marketing
Seasonal marketing is the practice of adjusting a brand's advertising activity based on fluctuations in demand throughout the year. During certain periods, consumer activity decreases, while in others, it reaches its peak. Marketers must adapt their campaigns to align with customer behavior to achieve the best results.
Several factors influence demand, including changing seasons and weather conditions (e.g., the transition from warm to cold seasons), holidays, and other events. For example, insect repellents are purchased during the summer, but there is little demand for them in the winter. Similarly, chocolate snowmen and artificial Christmas trees are primarily sold in the lead-up to the New Year.
Seasonality is often categorized into three levels, assessed based on the extent of sales fluctuations.
| Degree of seasonality | Percentage of sales drop | Example |
| --- | --- | --- |
| Moderate | 10-20% | Such fluctuations in sales are typical for year-round products that are relevant throughout the year, such as household appliances and personal hygiene products. |
| Vivid | 30-40% | Seasonal demand often occurs at the beginning of the summer cottage season for construction materials because many people undertake such projects during the summer and spring. |
| Harsh | 50-100% | It applies to products that are relevant for a very short period. For example, holiday-themed gifts for Easter, New Year, and similar occasions. |
How to predict future demand for a product
To plan marketing activities effectively, you can calculate a seasonality coefficient to determine which months of the year experience increased or decreased sales.
This coefficient is calculated on a monthly basis using the following formula:

Seasonality factor formula
The result will look like this, for example:
| Month | Seasonality coefficient |
| --- | --- |
| January | 0,82 |
| February | 0,84 |
| March | 0,83 |
| April | 0,91 |
| May | 1,03 |
| June | 1,15 |
| July | 1,32 |
| August | 1,27 |
| September | 1,03 |
| October | 0,95 |
| November | 0,92 |
| December | 0,93 |
To calculate the average sales for a year, you need to sum the quantity of products (or services) sold each month and divide it by 12.
There are more in-depth methods to study demand seasonality. The ratio of the monthly market fluctuations to a year or a period over several years reveals the seasonality index.
Why is seasonal marketing important
Marketers take the seasonal factor of demand into account to retain or attract more customers for businesses and make them the right offers. Fluctuations in periods of buying activity also present opportunities for growth and development.
What are the benefits of seasonal marketing
Increased sales due to a rush for specific products or services when customers have an urgent need. For example, during a heatwave, there is a higher demand for seasonal services like air conditioner installations.
Another scenario is the return of a "dormant" customer base – people who are already familiar with your brand but are waiting for discounts on seasonal items or are making purchases because the product has become relevant to them. For instance, someone may have subscribed to a sunglasses store's account in the winter, followed their content, and made a purchase in the summer.
Attracting new customers. When there are shifts in demand from low to high, it becomes easier for businesses to acquire new customers as people are actively seeking specific seasonal products and services.
Increased brand recognition. Seasonal fluctuations in demand provide an opportunity for a brand to make a statement and enter the market with its offerings. Special promotions and creative advertising campaigns that set the business apart from others can enhance brand recognition and attract customers through various marketing channels.
How to create a seasonal marketing campaign
The key rule of seasonal marketing is to prepare in advance. At the very least, start planning several months ahead to go through all the stages without rushing.
Here's what you need to do:
1. Perform the analysis:
Review past seasonal advertising campaigns to identify shortcomings and adopt best practices, including techniques, tools, and platforms. This process is convenient and straightforward, especially if you have a customer data platform (CDP) where all customer data and marketing projects are stored.

Understand the audience that purchases seasonal products, including their age, problems, interests, and more. Take into account the feedback provided by customers in the previous season. To create a comprehensive picture, outline your customer's journey. For instance, use tools like customer journey maps (CJM).

Examine user search queries made during past years, especially concerning the months when seasonal demand peaks.
2. Set objectives, choose campaign dates, and establish evaluation criteria, typically focusing on return on investment (ROI) to gauge the return on investment.
3. Develop creative campaigns and determine the discount levels you are willing to offer. The offers should be enticing and expected, as people are aware of seasonal discounts and often anticipate them.
4. Select the tools and formats for implementation. After analyzing past campaigns, you will gain insight into which communication channels are most effective, such as email, messengers, or push messages. A creative approach to advertising will set you apart from competitors. Consider launching more than just a promotion; create a game, devise special themed content, or alter the design. Do not be afraid to introduce new tools like dynamic elements in emails or programmatic advertising. Test and select the best options.
5. Launch the campaign and monitor the results. Stay updated to make timely adjustments to your advertising efforts.
Examples of seasonal brand campaigns
The most popular time for seasonal marketing is New Year and Christmas. For example, a nutrition store organized a 12-day promotion with special offers for customers each day.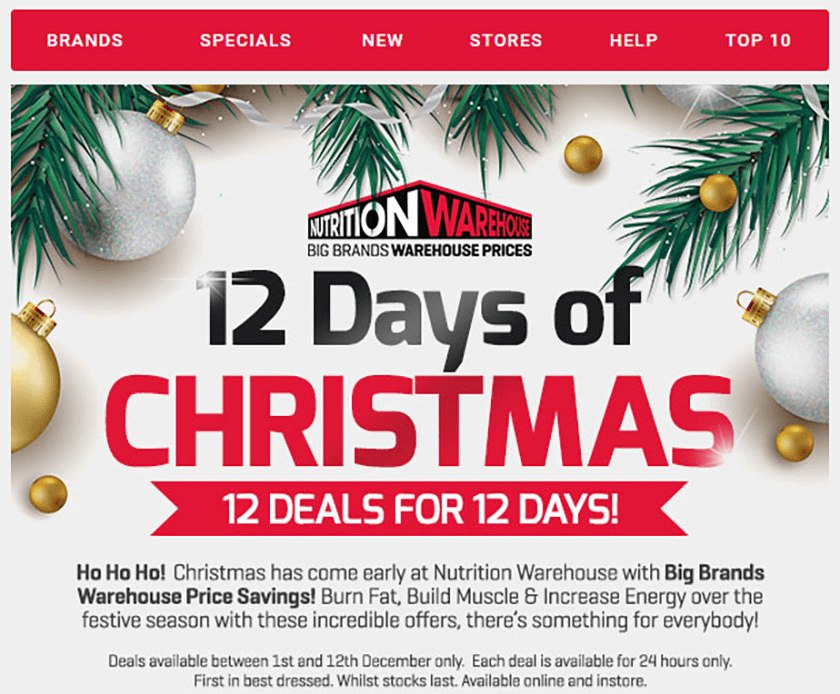 12-day promotion for nutrition store customers
Small online stores that sell handmade gifts do not miss the opportunity to launch sales and giveaways before the holidays when many people are looking for unique gifts at affordable prices. For example, this craft candle shop offers a Valentine's Day giveaway. One of the conditions is to tag three friends. This will attract people to the store based on recommendations from their friends.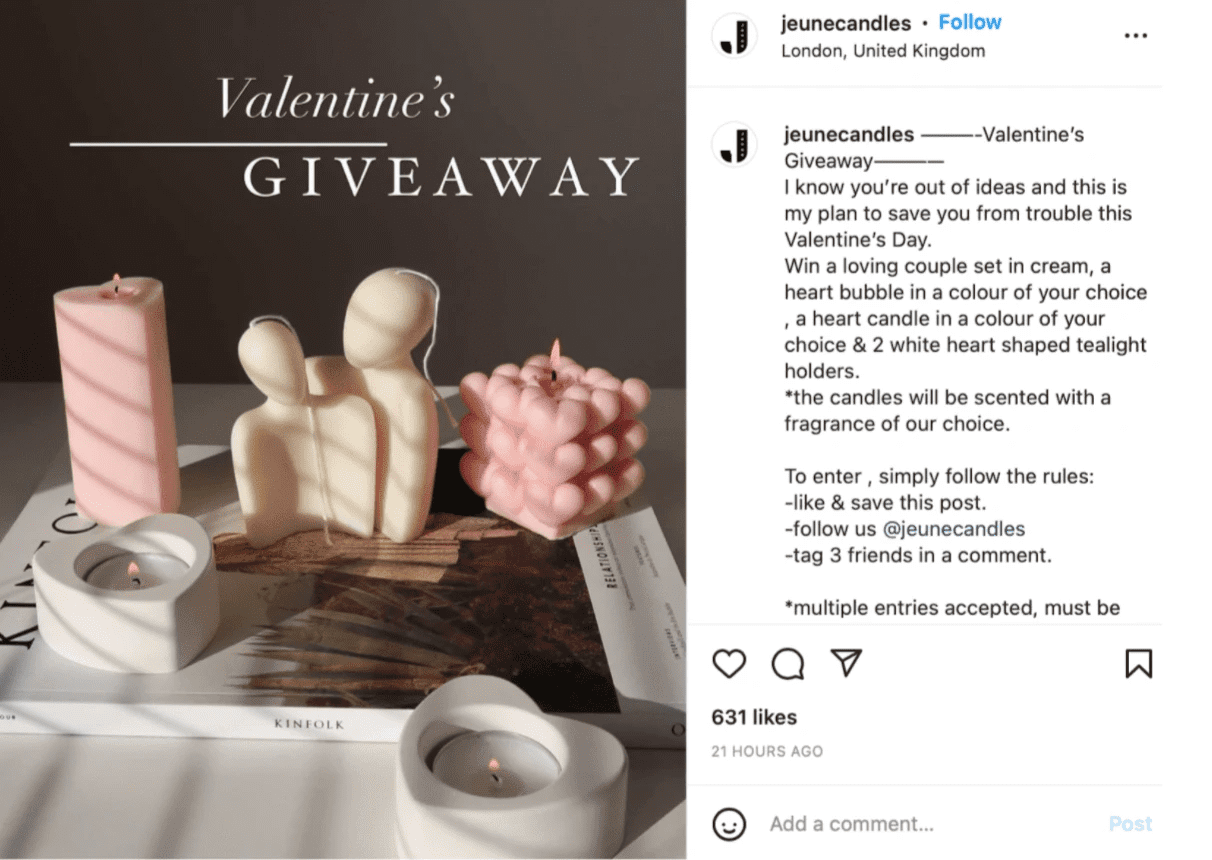 Promo action with a giveaway for St. Valentine's Day
A home goods store has launched an email newsletter with Easter sale that lasts until the end of the current day. Here, wordplay is cleverly used: "An EGGsellent idea."

Email newsletter with a smart wordplay
Traditionally, seasonal advertising campaigns often appear during the summer. People purchase items for leisure and update their wardrobes for vacations by the sea. Here, the newsletter informs about the arrival of the summer collection.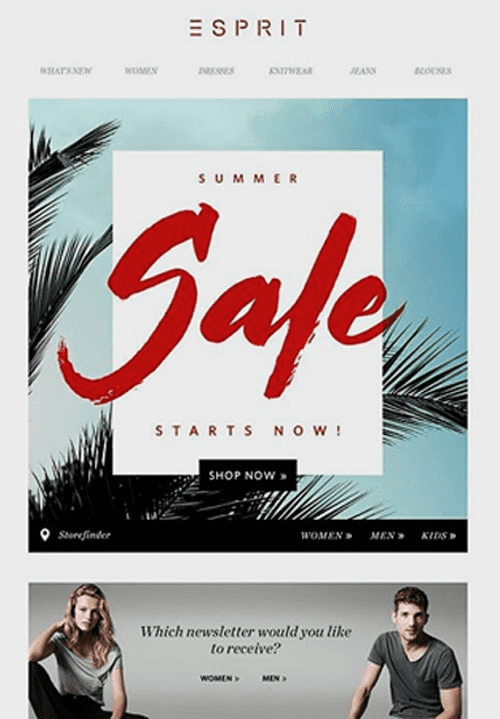 Newsletter for summer season from Esprit store
Another example of a marketing move for the summer is a summer sale with a discount using a promo code.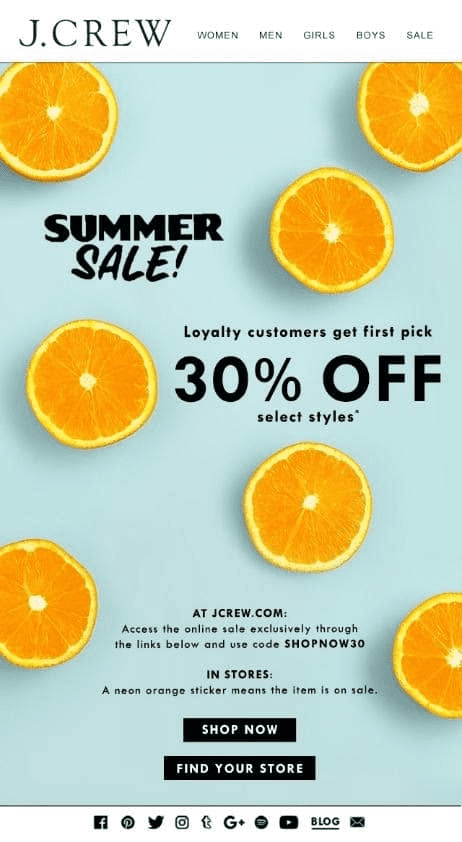 Summer sale from a clothes store
All brands, especially those selling children's and teenage products, hold promotions at the beginning of the school year. For example, here, the brand offers to dress and equip children at reduced prices, providing a $10 discount for every $40 spent.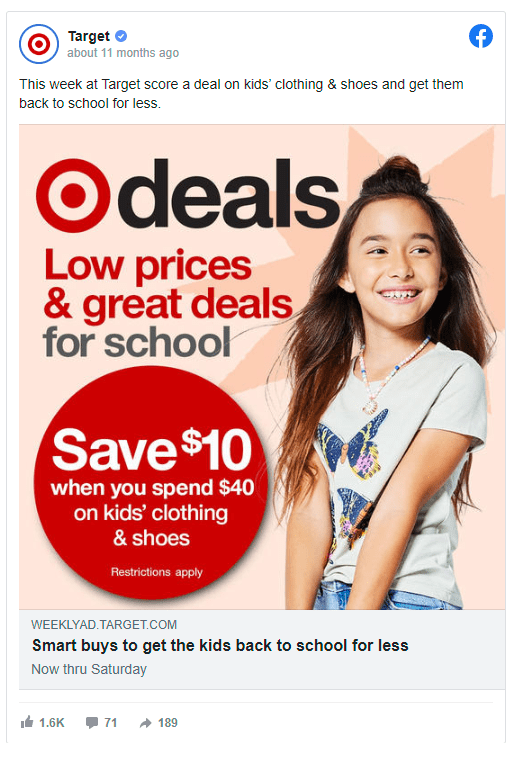 Sale at the beginning of the school year
Some brands organize seasonal sales for Halloween. These sales typically include thematic souvenirs, gifts, and items with holiday-themed symbols like pumpkins, candles, and witches. For example, in this case, the stationery company Moleskine offers discounts on special limited-edition series of notebooks and planners designed in a Halloween style.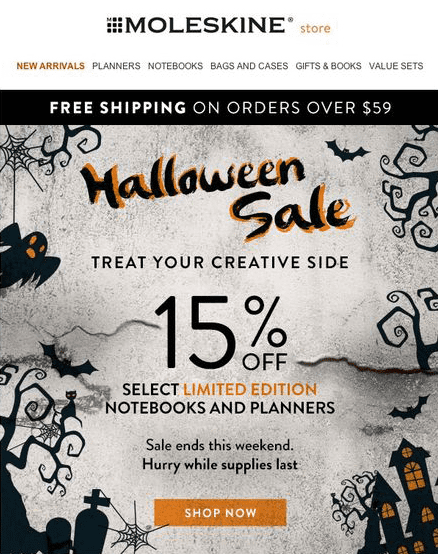 Seasonal sales for Halloween from Moleskine
Practically all brands offer their hottest discounts on Black Friday. This is the Friday following Thanksgiving Day. Typically, the period of grand discounts starts in the afternoon on Friday and often lasts not just for one day but through the entire following weekend. During this time, you can buy some items for as little as 10-15% of their previous prices. For example, the company Sephora offers discounts of up to half the price of their products.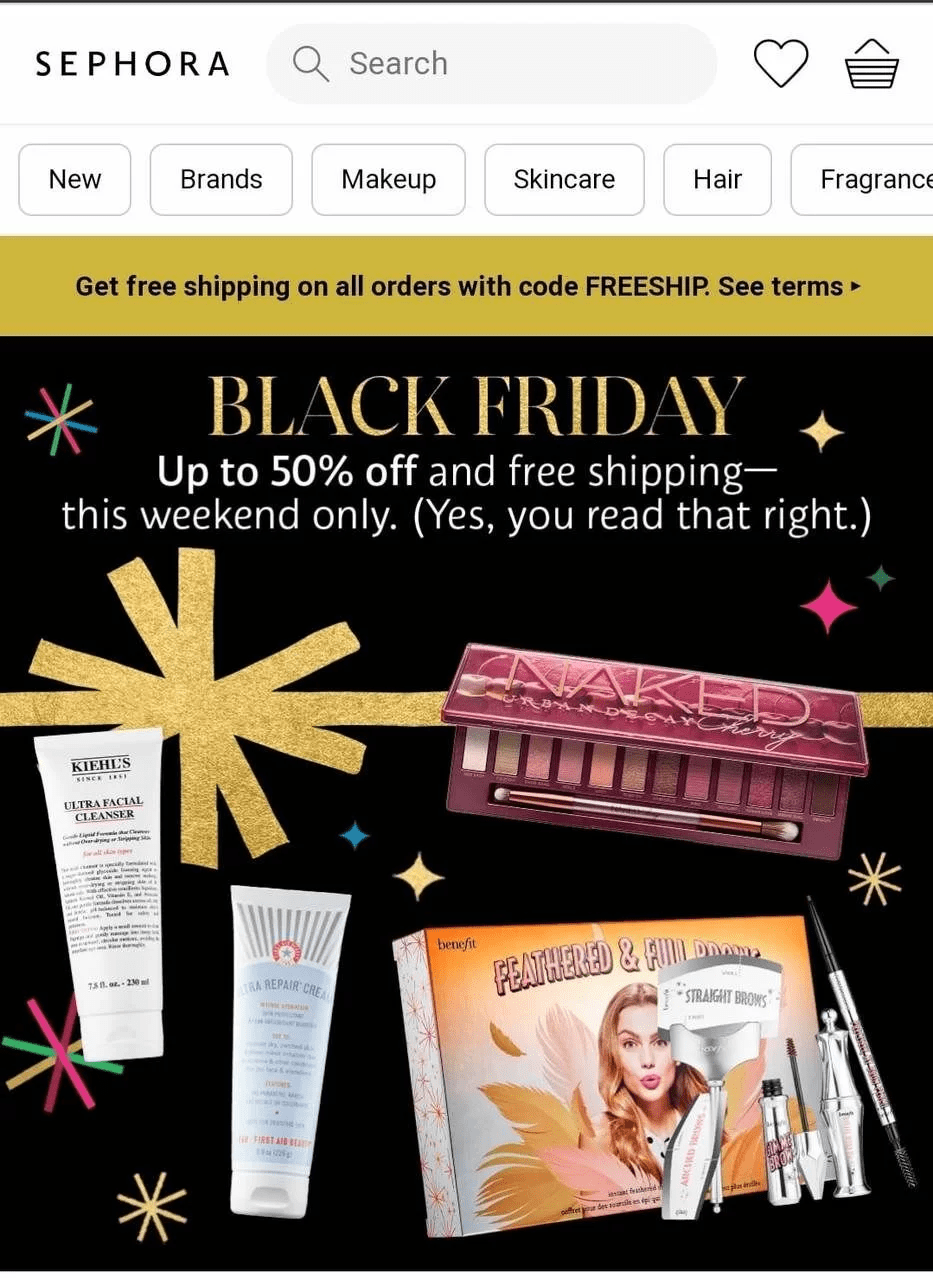 Seasonal marketing from Sephora offering Black Friday discount
Summary
Seasonal marketing is a response by brands to changing customer activity throughout the year, influenced by factors such as seasonal changes, holidays, and other events. Demand fluctuations can range from moderate to pronounced, with some periods experiencing a significant drop in sales. Marketers need to be able to react effectively and have a well-defined plan in place to capitalize on high customer activity, boost brand recognition, and attract new customers.
Seasonal advertising campaigns are typically planned months in advance and begin with an analysis of past campaigns, the target audience, and user queries during specific months of the year. Evaluation criteria and promotions are developed, often including sales and discounts.
You might be interested in: