Telegram in Business: How to Use Messenger Tools to Increase Sales
Date: 2022-02-02 | Time of reading: 10 minutes (1817 words)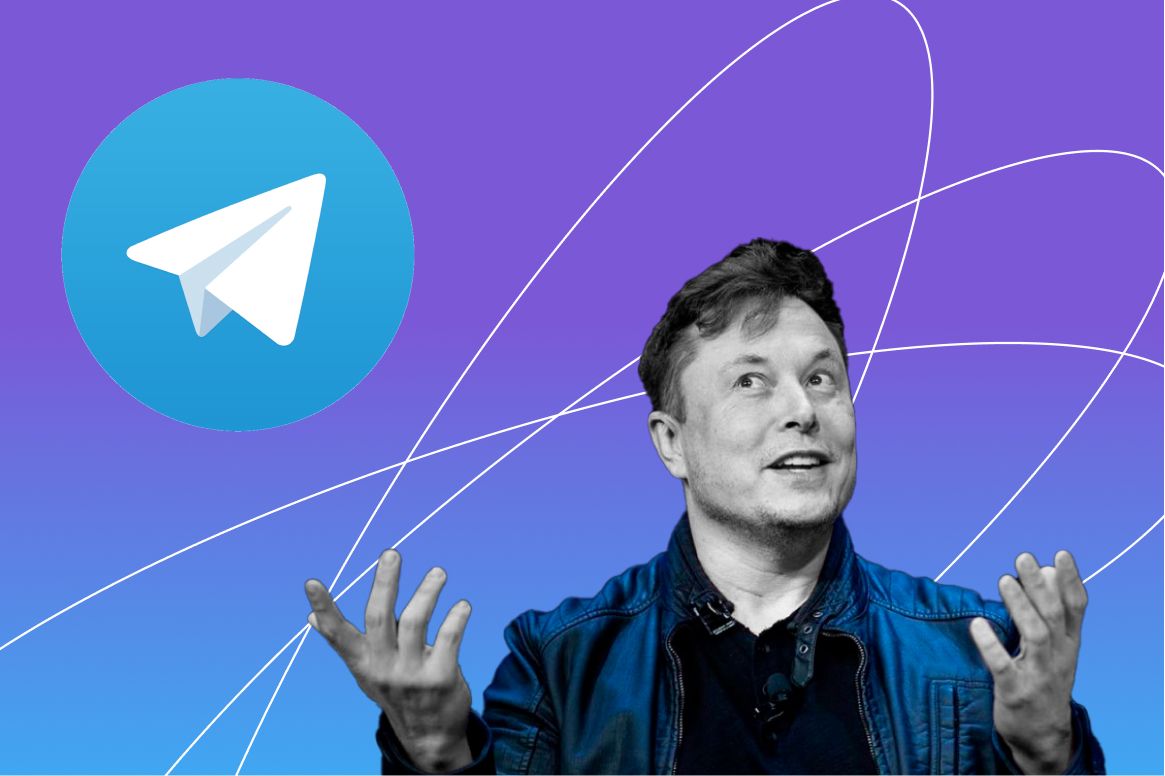 52% of the Russian Internet audience use Telegram and 500 million people around the world use the messenger every month. Telegram is the second most popular messenger after WhatsApp, but it is currently catching up with the competitor. In October 2021, Telegram grew by 70 million users per day due to WhatsApp and Facebook outage. In the same year, Telegram became the most popular app in 50 regions of Russia.
Speed, simplicity and security are considered to be the advantages of the messenger not only by regular users. Using Telegram for business is convenient and profitable: it is free and its functionality meets the needs of many companies. Telegram as a corporate messenger, cloud storage and a tool for communication with customers are just some of its features. In this piece, you will learn how to use Telegram for business purposes.
What is Telegram
Telegram is a free cloud messenger developed by the founder of VKontakte Pavel Durov and his brother Nikolai. It is popular in Russia, in the CIS countries, China, India, Iran and some other counties. The app emerged in 2013 and was called Telegraph. It is based on MTProto encryption technology, which increases the degree of data protection. Telegram works on mobile devices and in the desktop version with instant synchronization.
Private and group chats are not the only features of Telegram. The following features are available:
voice messages and broadcasts in the groups;
video calls and video messages;
file sharing (documents, audio, video, archives);
secret chats that can be deleted after a certain period of time;
channels.
The messenger was blocked by Roskomnadzor in Russia in 2018. It happened due to the refusal to provide the encryption keys to FSB. However, in 2020, the restrictions were lifted, and Telegram became legal again.
Telegram audience
The core audience of Telegram is users from 25 to 34 (30,6%), all other age groups are approximately equal. Except for teenagers, only 7,7% of them use Telegram. In other words, the audience of this messenger is quite adult.
More men than women (only 39%) use Telegram. As for the fields of activity, IT representatives predominate in this messenger (77%), 22,5% are engaged in manufacturing and 10,6% are engaged in the sales business. Marketers, specialists from the fields of education, healthcare, finance and others also use Telegram. 46% of Telegram users are employees, 11% of them are executives. There are few business people in Telegram — only 5%. There are more self-employed people and freelancers - 15%.
Telegram is used by an educated audience: 60% of users have a higher education, a quarter of them continue to study, for instance, at graduate school. About 11% of users are university students.
The audience of the messenger is solvent. Every fifth Telegram user earns more than 90 thousand rubles a month. Therefore, Telegram is a promising platform for sales and product promotion.
Telegram tools for business
Channels
Channels distinguish this messenger from its competitors. A telegram channel is a feed that consists of text messages with emojis or attached media files. Comments and polls are also available in channels. Subscribers get push notifications about new posts.
There are more than 300 thousand channels in the Russian-speaking segment alone. The most popular channels are news ones. 82% of users read news in Telegram. 43% of users are subscribed to channels connected with their fields of activity, 59% of users consume entertainment content and the same percentage is the audience of political channels. 55% of users use the messenger for educational purposes.
Some people promote their business in their channels, others order advertisements in bigger channels.
Group chats
Group video calls and file sharing are available to a Telegram group chat users. Two-way communication distinguishes group chats from channels: each user can write a message to the chat, while in the channel users can only leave comments (if this option is enabled). In group chats, users can respond to a specific person or mention them using @.
Types of Telegram group chats:
Basic - up to 200 users, each of them can add new members and edit a group description.
Supergroups more than 200 people in the chat. A group admin assigns roles and sets restrictions on user activity. Such groups are convenient to use as business chats or channels of communication with a group of customers.
Bots
Telegram bot is a Telegram chat that responds to certain actions of users and automatically provides the necessary information. Simple bots perform only one function. For example, they can check texts, put spaces, search for music, etc. More complex bots communicate with users and answer their questions. Bots are an alternative to mobile apps for companies. It takes fewer business resources to develop them, and users do not need to install one more app on their smartphones. Robots will take over communication with customers and even place orders with payment.
Advantages of Telegram for business
Telegram is suitable for internal business needs and for working with customers. Business advantages of the messenger:
Free use without limitations.
Fast speed of information delivery to other users and colleagues.
Channels and groups are easy to create.
Automation of some work processes by bots. No need to create separate apps.
How to use Telegram within a company
Telegram chat is a replacement for a paid corporate messenger. 41% of users communicate with colleagues in Telegram. This messenger is also suitable for chats with customers.
Sharing and storing files in Telegram is also an advantage for business. There are several file categories in the messenger: media, documents (and files of other formats), links and voice messages. It simplifies the search inside the chat.
How to use Telegram to work with customers
User support
Telegram support is an addition to email and phone communication or a replacement for it.
Pros of such a channel:
Speed — it's faster to send a message in Telegram than communicate via email. There is no need to waste time during a phone call: a specialist will answer when the problem is solved.
Automation bots distribute requests and answer standard user questions.
24/7 support — bots work instead of employees during non-working hours.
It is easy to share files: the user takes a photo or makes a video and immediately sends it to support. So the problem may be solved faster than over the phone.
Telegram channel instead of a corporate blog
The advantage of a Telegram channel is that the user does not need to create a certain layout as in a blog or a website. This messenger is suitable for short notes. There is an extended version called Telegraph that allows users to post articles. It is a simple text tool using which one can insert photos and videos into the text. If you add a link to some post from Telegraph to a channel or chat, users will be able to read this text in messenger.
A Telegram channel can act as an additional tool for a company's blog: the user can post short versions of blog articles, main points of articles or announcements with a link to the main blog. Posts in channels are similar to social media posting. However, there are certain pros and cons.
Disadvantage: posts have no organic growth, only subscribers of the channel can see them.
Advantage: there is no «smart» feed that sometimes does not show posts to the users. Channel subscribers can see all posts.
Newsletters
Dozens of requirements have to be met in email and SMS newsletters in order not to get into the list of spammers. In Telegram, everything is simple — no layout is needed, no restrictions on stop words in texts, and communication is free. Telegram newsletter options for business:
company and industry news;
information about promotions and discounts;
user order statuses;
event reminders and other information.
How to send out newsletters via Telegram
Manual method. However, it takes a lot of time. You will have to enter contact information yourself and use third-party analytics systems to check the effectiveness of your campaigns. The solution to this problem is sending out your newsletters via omnichannel platforms.
Altcraft Platform aggregates all user data from different sources and collects analytics from available channels. The platform is compatible with bots and Telegram groups. Send information to users individually via a bot or to a certain segment of customers using a group. In a few clicks, you can create a message for a broadcast, regular or trigger newsletter. You can add a bot to your group or channel.
Send text messages, photos, audio and video files, gif images, documents to Telegram via Altcraft Platform. Also, add buttons with a link to your website.
Telegram for sales
A Telegram channel is the same as content marketing. You post content for your subscribers and embed advertising of your product in it. If a company develops its channel, it gets a community of loyal audience.
Advertising a company's products through other channels is another way to sell via Telegram. There are two types of advertising: direct (when you approach channel owners) and official targeted messenger ads, which emerged in 2021.
Telegram ads are short messages marked «Sponsored». However, a company must have at least two million euros on its account to join Telegram advertising network.
Autofunnels in Telegram
Autofunnels are automated newsletters for warming up users and selling products: core and additional. They usually start with a lead magnet — a free product to get which users leave their contact information and allow newsletters. Then users receive emails (messages) that depend on their activity. Autofunnels in Telegram work via bots.
Telegram bots and channels as a business
A promoted channel generates income from advertising. A telegram bot itself, which performs certain functions instead of a person (e.g. sends messages at the right time, collects tasks and feedback), can act as a product.
Example. Eddy Travel chatbot helps users find hotels, explore tours and search flights. The bot is powered by Skyscanner and attracts free referral traffic to the service website.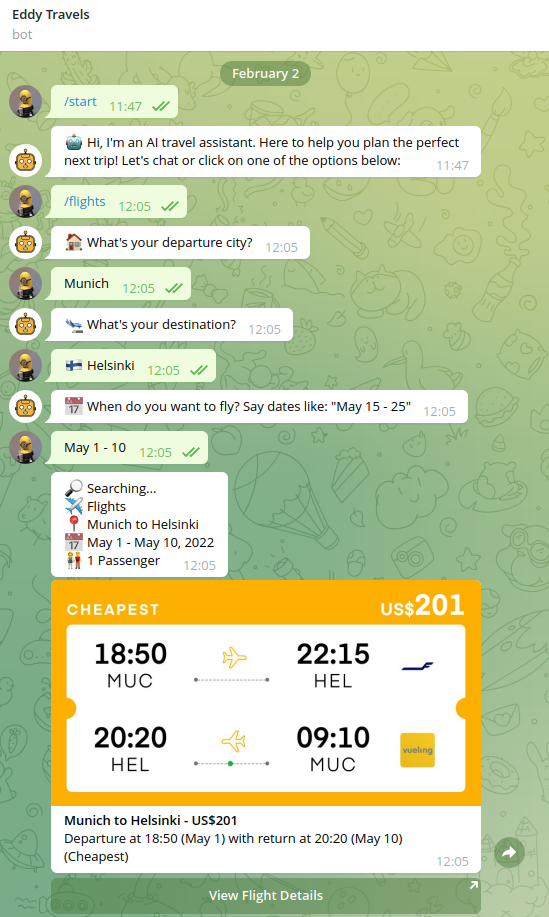 Conclusion
Telegram is a promising ever-growing platform for business. Adult, educated and solvent audience uses the messenger. The following Telegram tools are available for business: bots, channels and groups for both internal needs of companies and communication with users.
Telegram user support speeds up problem solving and simplifies communication. The bot will answer frequently asked questions, record a request or inform a specialist about the customer's question.
Sales in Telegram are usually conducted through newsletters, autofunnels with bots and content-marketing channels that replace corporate blogs. There is also an advertising function in Telegram to promote your product: direct through channel owners and official targeted ones.