How to Optimize All Stages of the Customer Journey
Date: 2022-12-29 | Time of reading: 8 minutes (1585 words)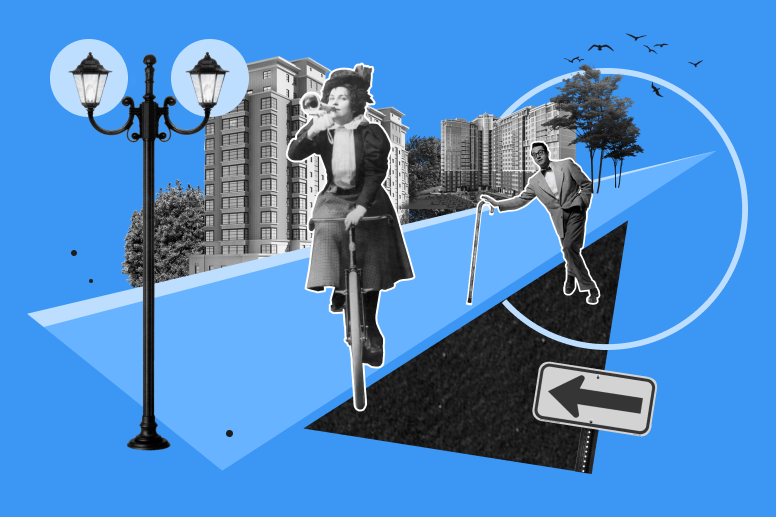 Collecting information about customers without a purpose is inefficient, as it will not bring benefits. While 1st, 2nd and even 3rd party data can improve customer experience when used with the right tools and strategy.
Users dictate conditions for companies. For example, when, where and how to communicate. Brands have to anticipate the behavior of customers, search for them on convenient platforms and accompany them to the completion of a targeted action. Therefore, businesses are constantly monitoring changes in consumer preferences and new communication channels, as well as thinking through new ways to conversion.
Personalized and omnichannel marketing is a way to catch customers at the right time in the right place. Information about consumer behavior will be useful at any stage of the customer journey, reducing the time and cost spent on attracting and retaining customers.The combined use of a data driven approach and AI gives you an additional advantage over your competitors.
How to optimize the customer journey map using customer data? Direct information to predict and develop an effective growth strategy aimed at attracting the right people. Track unique customer desires and preferences in real time. Each of your communication channels should become a tool to "personalized" marketing.
Take a look at customer data marketing services. With them, all the collected information will be integrated into the management decision-making mechanism and included in the forecasting process. In addition, information will be selected from the standpoint of the applicability of a specific user experience at different stages of the sales funnel.
As a result, the company's customers will receive a positive experience of interacting with the brand and will trust it. The company minimizes costs and maximizes profits. Let's take a closer look at how you can improve the efficiency of each stage of the customer journey with the help of data.
Ways to improve the efficiency of interaction with customers at different stages
Stage 1. Introduction to the company
Imagine that there are people who have never heard of your company. At the stage of getting to know customers, your task is to work on brand awareness and increase interest in your company. Most often, acquaintance with the brand occurs through contextual advertising. Focus on the value of the product and study the needs of the audience.
You can increase the effectiveness of your advertising by using the collected customer data. Working out the pain points and needs of your audience, as well as customer segmentation, will save the advertising budget.
How to effectively use the data at the stage of acquaintance:
Focus on attracting high-value customers. Paid media campaigns should be based on ideal prospects. Create segments using first-party data, develop lookalike audiences and automate work with them. Make it possible to purchase through paid media.
Reduce the cost of paid advertising services to attract customers. Remove already converted customers from paid media campaigns using the dynamic suppression lists. The easiest way to do this is to use CDPs. You can upload such a suppression list to a service and thus be sure that already converted customers do not fall into acquisition campaigns.
Stage 2. Comparison of competitors and similar products
When potential customers become familiar with your brand and product line, they begin to analyze and compare products that interest them. Customers will compare specifications, price, additional services and costs.
The task of the company at this stage is to warm up the interest of customers in their company and product. Make sure users have enough information to understand that your product is the best.
How you can use customer information at this stage:
Focus on reducing cart abandonment. Set up a push or email campaign for those customers who have added a product to the cart but have not placed an order for some time. Using customer data, you can identify the most active shoppers from all abandoned carts.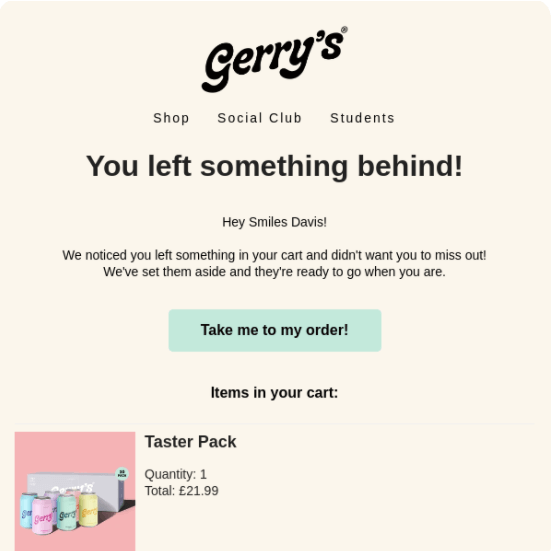 Convert the trial period to a paid subscription. To do this, you should optimize your omnichannel customer journey setup through testing. Once you have the test results, create effective routes and run workflows based on user data.
Stage 3. Decision making
How to hurry the client to complete the transaction and at the same time maintain his high motivation for further orders? In the minds of buyers, the value of the purchase will remain high if you use social proof (reviews and recommendations) and material incentives (promotional codes, discounts and bonuses). To make CLTV long, run engagement and retention events, work on loyalty throughout the customer's journey map.
How user data will help:
Improve cross-channel interaction. Try to interest buyers with new resources based on an analysis of their behavior in the past. Multi-channel clients bring more value to the company than single-channel clients. Work with clients both online and offline, and build a trusting relationship with the brand from the first touch point.
Support cross and upsell. Existing customers can be motivated to purchase new products. To do this, separate customers who have only shopped in one category. Offer them products from related categories. This way you can increase your average order value and customer lifetime value.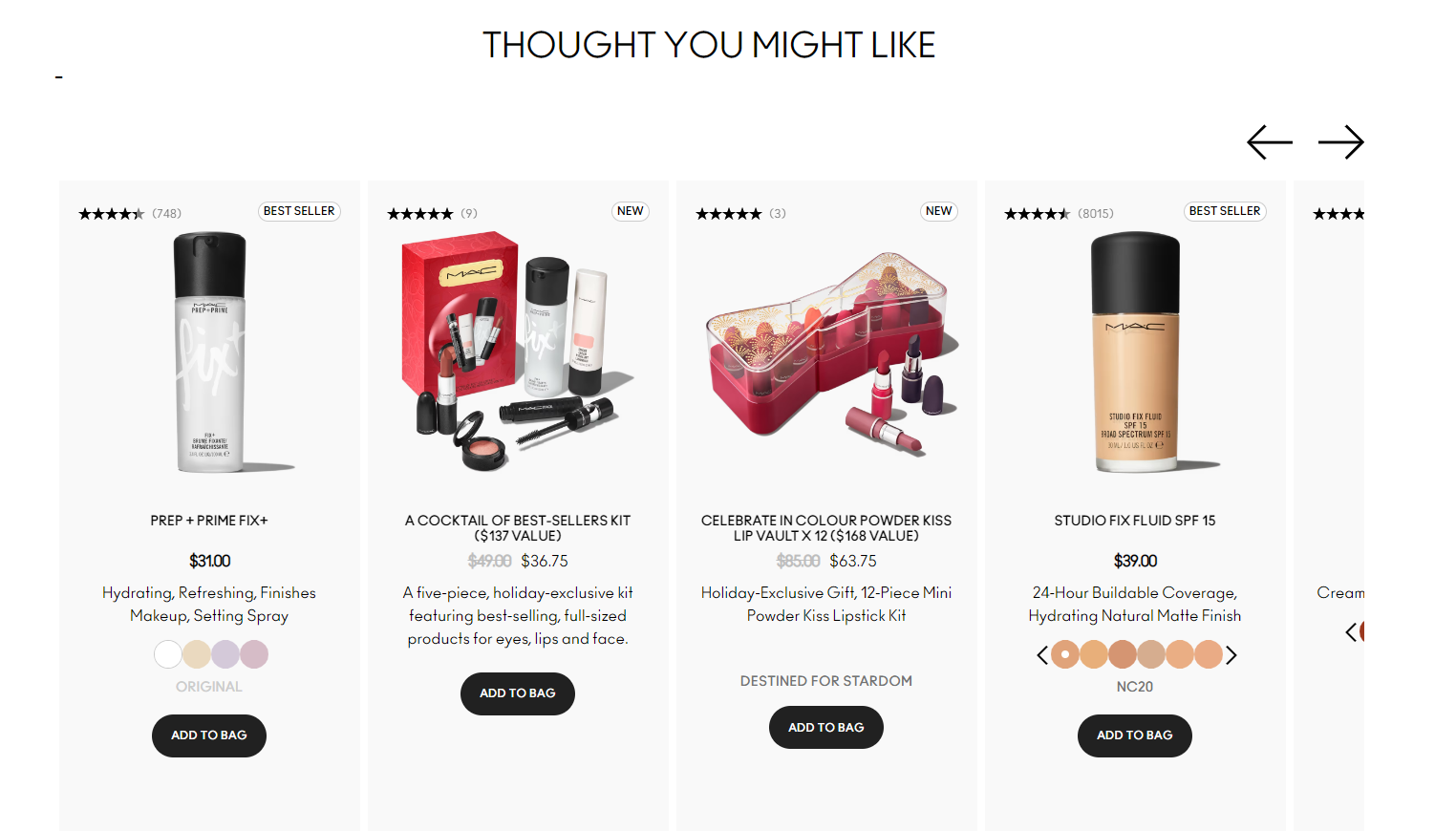 Cross-selling from MAC
Optimize shopping frequency. The purchase of many products can be planned. Schedule predictable repeat purchase windows. Customers often subscribe to constantly used products, which can be automated.

Shorten the time period until the second purchase. Personalized marketing aims to keep the customer engaged after the first purchase. Set up automatic messages to periodically remind the buyer about the brand and about new products. This improves CLTV, orders, and conversions.
Stage 4. Prevention of customer churn
Each new customer is valuable to the company, especially if it stays for a long time. How to motivate buyers to do this?
Collect customer reviews about purchased products or services, engage customers in a dialogue. Become partners with them, encourage repeat purchases and maintain high loyalty. This is how you prevent customer churn.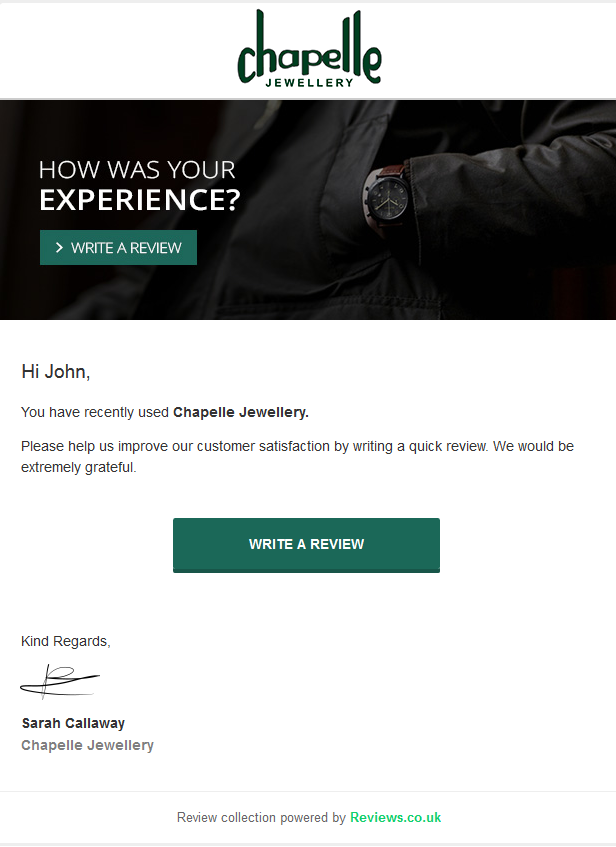 Feedback form from Chapelle Jewellery
A time-tested strategy is to work with referral links in bonus programs and loyalty programs. The method works great for retaining customers and expanding the audience.
How to make the most of consumer data in the retention phase:
Launch a loyalty program. Motivate users to participate in it. Focus on those potential prospects who match the profile of existing customers. These people are exactly your target audience, they become loyal supporters and distributors of the brand, especially if you offer them bonuses for attracting new partners.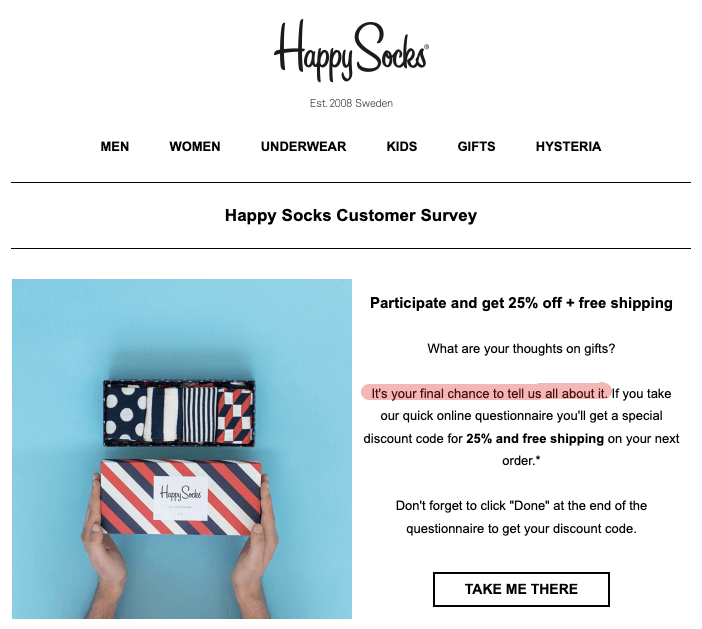 Loyalty program from Happy Socks
Consider discounts. Repeat purchases are well stimulated by special offers, bonuses and discounts. To find the most effective option, use multi-channel tests. With the help of them, you will find out exactly what bonuses to offer customers in a specific communication channel to increase the conversion rate.
Set your priorities. An analysis of the behavior of current consumers will allow you to notice a possible churn of customers in time. Activate advertising campaigns to retain customers. First of all, restore communication with those who are at risk.
Stage 5. Reactivation and return of clients
It happens that customers have lost confidence in the brand and left for competitors. In this case, your task is to bring them back. Customer lifetime value is at the heart of strategies to reactivate subscribers and reacquire lost customers. At the same time, it is important to use different communication channels when working with such clients.
How to use customer data in the return phase:
Target customers with high CLTV. The most valuable customers are determined by their purchase history and projected lifetime value. First of all, you need to aim at their return, motivate the return with special offers.
Use personalization. One customer will return after receiving the first email with a promotional code. The other will return only after a series of reactivation emails. Some won't come back at all. Consider the behavior and personal preferences of each customer and create omnichannel customer journeys. When it comes to reactivation, the time that has passed since the last interaction with the brand is of great importance.
Setting steps of the customer journey
It is important to plan settings, but the reality is that it can't be done without technical tools. Modern marketing technologies allow you to combine disparate information about users into a single resource, launch automated trigger campaigns to attract, retain or return customers, as well as generate an attractive user experience.
What capabilities should be in your technical toolkit:
360° customer view. With such a profile, the analytics will be accurate, and the customer journey map will be targeted.
Audience segmentation. It is important in order to provide consumers with personalized content.
Advanced customer journey configuration. This way, you can make interaction with customers comfortable at all stages.
Engineering real-time experiences for your customers, no matter where or when they engage with your brand.