The Ultimate Mobile Marketing Cheat Sheet
Date: 2021-06-22 | Time of reading: 6 minutes (1236 words)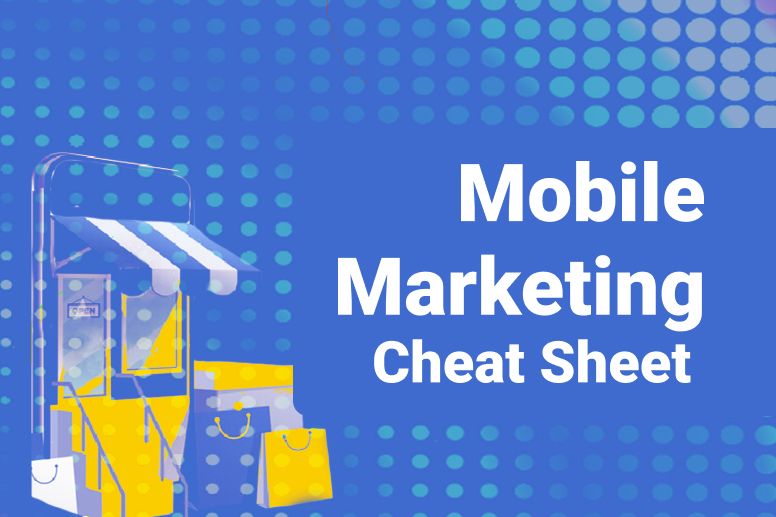 According to GSMA real-time intelligence data, today, the number of mobile users worldwide stands at 5.27 billion. More than half of the world's population has a mobile device, and this figure will increase by 700 million in the next four years.
Mobile isn't just the future; it has revolutionized marketing and the world of business. Mobile purchases are bypassing sales of PCs to become people's first means of internet connectivity. Marketing has always been about reaching the right people at the right time in the right place. Going by smartphone penetration rates, you need to reach your audience where they are: on their mobile devices.
Enter mobile marketing — an inbound marketing strategy that leverages the power of the mobile device to attract, engage, and delight customers online.
Here's everything you need to know to master and use mobile marketing strategies to fuel your marketing campaigns.
Learn about what mobile marketing is.
What is Mobile Marketing?
Mobile marketing is any advertising activity that uses digital marketing channels to reach an audience through their mobile phones. In other words, it's a marketing strategy that's optimized for delivery on all types of mobile devices.
A well-thought-out mobile marketing strategy can work wonders for your brand. It's an effective way to generate qualified leads, and it's an easier, better way to communicate with customers while marketing your products and services.
One of the biggest benefits of mobile marketing is that it allows you to reach a global audience and segment it. You can choose exactly who you want to reach. Researching your buyer person enables you to target people based on their interests, hobbies, and purchasing behaviors.
Mobile devices have become an extension of their users. And this is something your brand can use to its advantage. Creating personal mobile marketing campaigns can lead to incredible results. Mobile marketing is the future; the possibilities are endless.
How Does Mobile Marketing Work?
Unlike traditional marketing channels, mobile marketing audiences are grouped by their behaviors rather than by demographics. For instance, one distinct behavior is «snacking», where users check their mobile devices for brief periods of time, whether it's to maintain their social media presence or check messages. This constant need for instant gratification is a marketer's dream.
Which channels you use depends on where your audience spends their time and the type of content they consume on their mobile devices.
As technology becomes more fragmented, so must your marketing strategies. Content must be highly personalized for it to be effective. Mobile marketing strategies, from email to social media marketing, enable you to reach your target audience where they are most comfortable.
Mobile Marketing Tips That Drive Leads and Sales
From SMS marketing and in-app marketing to virtual and augmented reality, mobile marketing is unique in that it reaches people where they are in real-time. With the right roadmap and mobile marketing tools, mobile devices provide an opportunity to drive profound engagement with your audience.
Here are a few tips to optimize your mobile marketing program.
1. Develop a Mobile-Friendly Website
The first step of your mobile marketing campaign is to make your website more mobile-friendly. Speed up your site, or you risk driving visitors away. Mobile e-commerce is on the rise, and majority of digital traffic originates from mobile devices.
Plus, mobile-friendliness is a ranking metric on Google. It amplifies your visibility, making it mandatory to adapt all your content for mobile devices. Make sure your website and content are optimized for what users need on the go.
2. Screen Size Matters
In mobile marketing, the device matters. The screen size determines what kind of content people consume and how they react to different marketing strategies.
For example, smartphone users seek out informative content. In contrast, iPad users are more captivated by advertising that features eye-catching imagery: the larger the screen size, the more secondary the message of the content.
3. Push Notifications
Push notifications are the main reason why smartphones have become one of the most effective channels for customer engagement. Use push messages to offer discounts, advertise a product, provide data about your brand or just remind customers about something important.
Take into account, the CTR is higher for rich push with big images than for standard notifications, by 2–5%.
Of course, push notifications, email and SMS marketing should be combined for best results. So, email marketing is a great way to convert subscribers to customers and get feedback. When it comes to bulk SMS, it doesn't take much effort to create a text message. In addition, short text messages are opened and read more often.
4. Social Media Platforms
The majority of the traffic from social media platforms comes from mobile devices. Currently, there are 3.78 billion social media users — which equates to about 48% of the population. That's why, this is a great opportunity for marketers to share what they do with their audiences. Social media platforms can help you interact with your customers, promote your products and increase your brand awareness.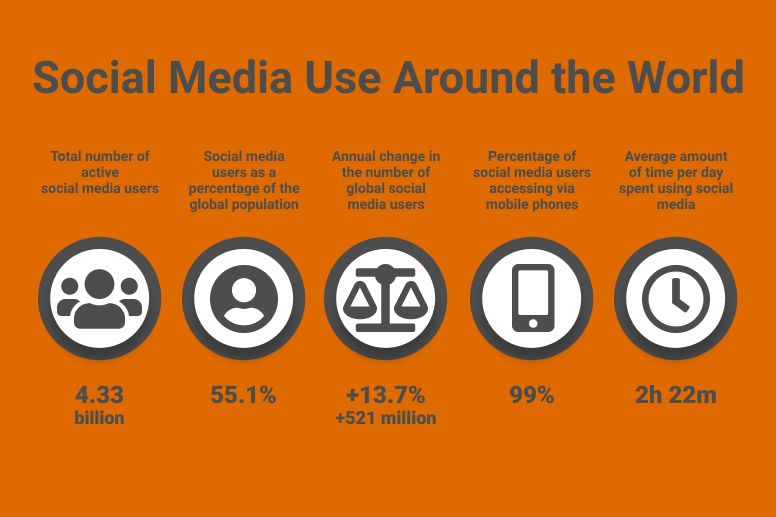 Set up social media accounts and profiles on popular platforms like Twitter, Pinterest, Facebook, LinkedIn etc. Then send messages to your customers. Of course, you can do it manually, but we recommend you save time by using a marketing automation tool. For example, in Altcraft Marketing, you can set up any social media platform as a communication channel for a marketing campaign.
5. Stories
Many brands are now actively integrating the Stories feature into their apps. Stories hit Instagram, and it became clear that audiences are interested in fast content these days. Thus, Tinkoff Bank has long been sharing with clients through Stories not only interesting and useful information, but also reminds them of frequent spending and spending for a certain month.
Altcraft Marketing has Resources where you can set up custom App Stories and Banner feeds. Submit stories to apps and share banners on websites to be even more useful to your customers. This will strengthen your relationship, as short stories create a sense of close contact with the brand, which is required for ongoing collaboration.
6. Put Your Data to Work
Embrace the power of mobile marketing analytics. Measuring ad spend and marketing ROI is an integral part of any marketing strategy. Marketing ROI is a measure of your success and can be used to determine the effectiveness of future initiatives.
You need to know what channels and strategies work best for your brand. Understand where your installs come from and your user retention rates. Mobile marketing tools provide insightful windows into your marketing performance and provide parameters that reveal opportunities for optimization.
Dive Deeper with Mobile Marketing Automation
Ready to get started? Here are some parting thoughts.
The number of smartphone users is growing by the minute. Mobile marketing is here to stay. However, not every channel will be right for you. It's best to monitor what works for your brand and refine as necessary. Find a marketing automation platform to monitor your marketing performance on the go to determine strategies that are excelling or underperforming. These analyses provide insights enabling you to make actionable, real-time decisions.
Keep reading our blog and stay in the know about information that's important to you.