Marketing Automation With Altcraft. Case: Marketing Agency
Date: 2018-02-07 | Time of reading: 2 minutes (486 words)
Not a single company would like to waste its funds on inefficient marketing. Automation could improve a company's performance and increase the profit.
The customer: Marketing agency providing marketing projects, marketing automatisation for banking and insurance organisation, retail-service.
Before approaching Altcraft: The customer has already experienced the services of other smaller companies for sending bulk emails, sms as well as web push to their clients. Such working process lead to waste of time while integrating the Client's infrastructures (CRM, CMS, Call-centres) with the service data. As a result, it was necessary to refuse to serve more customers.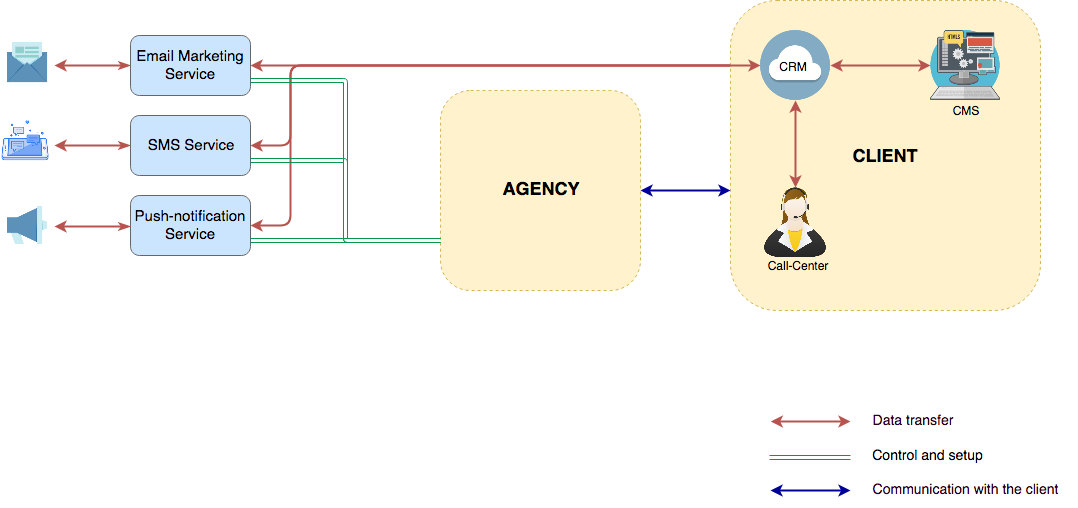 Customer`s tasks
cutting time of integration client`s infrastructure with marketing platforms;
refusal to work with exterior implementing organizations in favor of a single platform installed on the equipment of the Customer;
increasing productivity due to the aim to reduced data in more extent;
common clients` data integration in CRM with marketing platform;
securing customers` data.
What did the company Altcraft offer:
to use omnichannel platform for automatisation marketing Altcraft Marketing Platform in order to abandon exterior performers;
вto choose a model On-Premise that provides high productivity and data`s secure.
To solve the problems of the Customer, the following work was carried out
installation and configuration of the Altcraft Marketing Platform: 24 hours;
customer's staff training on the platform: 4 hours;
outgoing messages delivery optimization: 8 hours;
Integration of CRM systems of current customers of the Customer: 120 hours.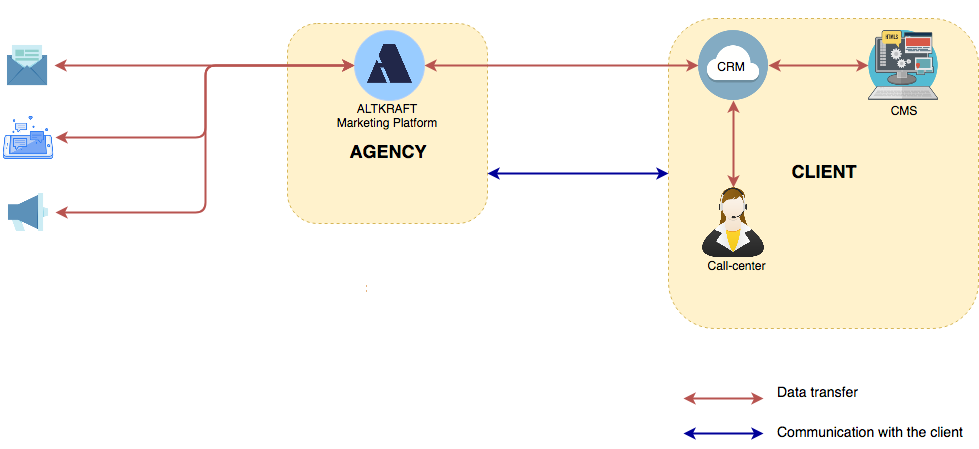 Results of implementing the Altcraft Marketing Platform
reducing the time in handling requests from the new clients;
an option to provide services by sending out sms instead of using third party services;
no limits about the extent of data and the number of sending messages for the customer;
no extra expenses for the third party companies;
an increase in Customer's profit by Altcraft sending out messages instead of the third party companies;
protecting client's data by setting the permission levels depending on the employee's' roles;
сompliance with the law of the Russian Federation "Personal Data Act" (data is stored on the equipment of the Customer in the Russian Federation);
ensuring high productivity when sending messages (on the customer's current resources, the platform allows you to send 1 million messages in ~ 20 minutes, deliver in ~ 60 minutes).
As a result of cooperation the customer (marketing agency) and the company Altcraft, a better level of the offered services has been reached. Now the customer offers more favorable terms of service as well as the time of service along with the integration of each client have significantly been reduced. Customer's clients have no longer a necessity to contract and make integrations with the third-party companies.