Mass Mailing: Types, Rules, and Examples
Date: 2023-10-13 | Time of reading: 10 minutes (1927 words)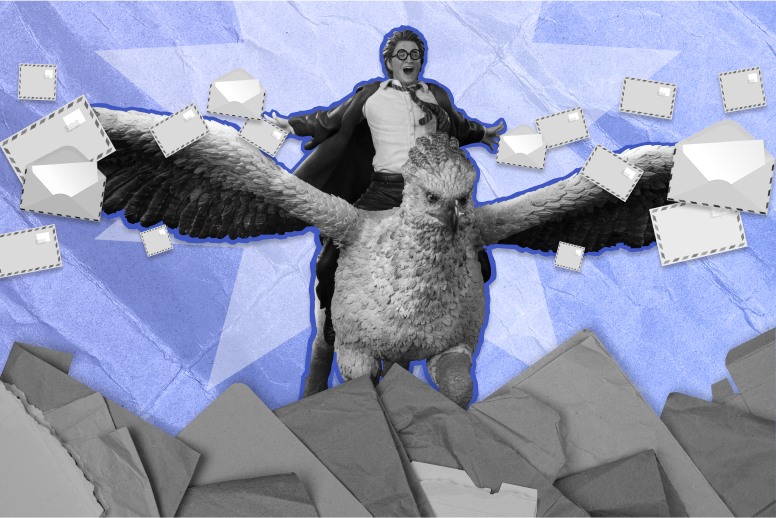 Email marketing is one of the most extensive marketing channels in the world, with statistics predicting that by 2023, the number of email users will reach 4.37 billion people. It is advantageous for businesses to leverage this method of communication and grow their email subscriber base.
To reach a large audience, companies often utilize mass mailing campaigns. This is a way to boost sales, quickly inform users about brand news, and maintain communication. Typically, such email campaigns are conducted using specialized tools that automate the email sending process.
In the following sections, we will discuss the features, types, and rules of mass mailing, as well as how to increase their effectiveness and avoid getting marked as spam. We will also provide some examples.
Mass mailings: what are they and why are they needed
Mass mailing is the sending of identical or similar email messages to a large audience. It can be sent to the entire database or to specific segments grouped based on certain criteria.
Such email distribution may seem similar to spam based on its description, but it is still a marketing tool. Emails are sent only to those individuals who have given consent to receive messages from the brand and can always opt out.
Mass email marketing involves carefully crafted content created after analyzing the target audience. Spam emails are sent to everyone indiscriminately without considering people's interests, often using stolen or purchased customer databases.
Mass email marketing is necessary to:
increase company sales;

quickly convey information about promotions, discounts, news, and actions;

make the company more recognizable and maintain contact with customers;

conduct audience behavior research.
Types of mass mailing
There are various types of mass email campaigns based on their objectives:
Promotional emails are campaigns that promote current discounts and brand offers. Promotional mass email campaigns often consist of several emails linked together in a series.
Informational emails convey important company news, updates about new products, changes in operations, or events.
Content emails provide recipients with valuable materials that help establish the brand as an expert in the field, building trust.
Trigger emails are sent in response to specific user actions, such as making a purchase (offering related products) or abandoning items in a shopping cart. These emails are highly personalized.
Transactional emails are automatic emails confirming payment, order placement, or providing updates on delivery status.
Onboarding emails are designed to introduce new subscribers to the company and engage them with relevant content.
Situational mass email campaigns are conducted to invite users to brand events or to send holiday greetings.
Research emails are used when companies want to gather audience opinions, collect feedback on products or services, and obtain insights on various aspects of their business.
Rules for mass email campaigns
Mass email campaigns follow the general rules of email marketing:
Clearly identify the sender. Use a recognizable sender name and a subject line that immediately conveys the email's content.

Use permission-based lists. Ensure that the email addresses on your mass mailing list are obtained through proper consent from users who have agreed to receive emails from your brand.

Create an engaging and consistent design. Design your emails to be visually appealing and maintain a consistent look and feel. Avoid overloading them with images and animated elements, as they may not load properly for users with slow internet connections.

Include call-to-action (CTA) buttons. Add buttons that encourage recipients to take specific actions, such as making a purchase, signing up, or clicking a link for more information.

Test emails before sending. Always test your emails to ensure they display correctly and function as intended for all recipients. Avoid sending errors to a large audience.

Avoid over-sending. Do not send emails too frequently to avoid overwhelming and annoying your subscribers. A frequency of one to two emails per month is often sufficient.

Provide accurate company information. Include accurate company details and contact information in the email signature for transparency and ease of communication.
How to conduct mass email campaigns without landing in spam
Mass email campaigns can raise red flags with email service providers, so it's crucial to stay within defined limits, adhere to rules, and make necessary settings to avoid being marked as spam. Here's how you can do it:
Obtain subscriber confirmation. Require confirmation from subscribers before sending emails. You can implement a double opt-in process, where individuals provide their email addresses on your website and then confirm their subscription through an email link. This helps prevent inactive addresses and spam traps from entering your database.

Monitor domain reputation. Regularly check if your IP address is listed on blacklists, as a poor reputation can increase the likelihood of your emails being classified as spam. Use specialized services to monitor your sender reputation. Also, periodically clean your email list of inactive addresses.

Configure SPF, DMARC, DKIM records. Set up SPF (Sender Policy Framework), DMARC (Domain-based Message Authentication, Reporting, and Conformance), and DKIM (DomainKeys Identified Mail) records for your email campaigns. These authentication methods help ensure the legitimacy of your emails.

Include an unsubscribe link. Always provide an unsubscribe link in your email's signature. Avoid hiding it, as this can lead to user complaints and spam reports. Make it easy for recipients to opt out if they wish.

Gradual list growth. Don't increase the volume of emails you send abruptly. Sending a sudden surge of emails is a signal to email providers that you may have acquired a list of people who didn't give permission to receive emails. When planning a mass email campaign, build your email list gradually.

Avoid spam trigger words. Be cautious about using trigger words in your emails. Phrases like "get rich quick," "exclusive offers," and "prize giveaways" are likely to trigger spam filters. Use language that is clear and informative rather than overly promotional.
How to improve the effectiveness of mass email campaigns
Personalize emails. Customize emails and send them to different segments of your audience based on factors like age, profession, interests, and purchase preferences. Avoid sending the same content to everyone randomly. For example, create product recommendations based on a user's previous orders or offer personalized deals to segments where people have made purchases exceeding $100.

Analyze campaign results. Continuously monitor the performance of your email campaigns. Track metrics such as open rates, click-through rates, and which CTAs receive the most clicks. Use the results to adjust your email content.

Build relationships. Focus on establishing a connection with your subscribers rather than rushing to make sales. Send informative and valuable emails that introduce people to your brand and products, effectively "warming up" your audience before attempting to sell.

Reactivation campaigns. Implement reactivation campaigns for subscribers who haven't engaged with your emails for an extended period. Try to recapture their attention, and if unsuccessful, consider removing them from your list.

Utilize email marketing automation. Leverage email marketing automation services that adapt to the requirements of email service providers. These tools provide features for efficiently and correctly creating email campaigns.

A/B Testing. Conduct A/B testing to compare different email elements such as subject lines, headers, buttons, and designs. This enables you to discover the most effective variations.
Capabilities of email marketing services
Email marketing services serve as invaluable tools for marketers when it comes to sending messages to large audiences. These legal and relatively straightforward tools save time for professionals and help prevent common mistakes. Let's explore the capabilities that email marketing services offer:
Email builder
These services often provide a user-friendly email builder that simplifies the process of creating email templates with the help of pre-designed blocks. Users typically do not need to have HTML knowledge, thanks to a library of templates. For instance, the editor in the CDP Altcraft Platform can add AMP elements, adaptive layout blocks, videos, banners, menus, lists, and more. They may also offer a library of images.
Campaign analytics
Every email marketing service includes analytics tools. These range from standard analytics such as open rates and click-through rates to more specialized reports on domains, senders, undelivered messages, and rejected emails. They often provide click maps to identify the optimal placement of buttons in emails and measure conversions and orders.
Automation
Online mass email campaigns can be easily automated through these services, where users can set up email sequences, including regular and trigger-based emails. Typically, it's sufficient to create a scenario once and make adjustments as needed.
Personalization
Email marketing services enable the sending of fully personalized emails. This is usually achieved through variables, allowing for the insertion of names, accumulated points, discounts, and other user data. Advanced tools curate product recommendations for users and even determine the most effective time to send emails.
CDP Altcraft Platform gathers data from various sources into a unified profile, including personal, demographic, and behavioral data, as well as information about user actions. This data is then used to segment and personalize email campaigns.
Data collection
These services often offer the ability to create email collection forms. Email marketers also integrate these services with their data storage systems.
Examples of mass mailing
The promotional email announces a 50% discount on the third package of business applications.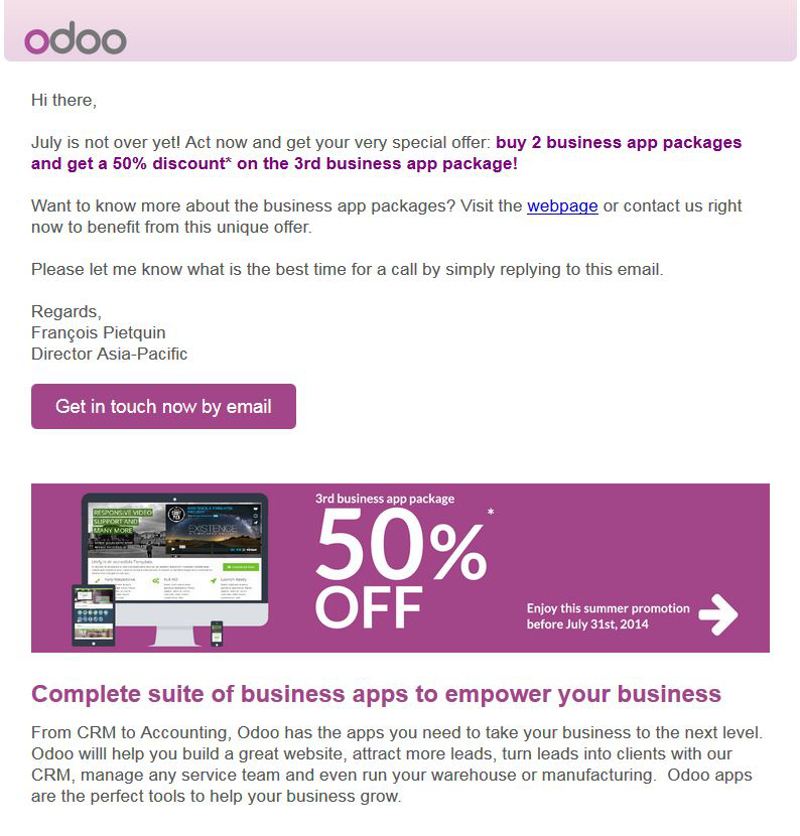 Promotional email announcing the discount
This informational email announces new layouts available on the Canva platform and invites its users to try them out.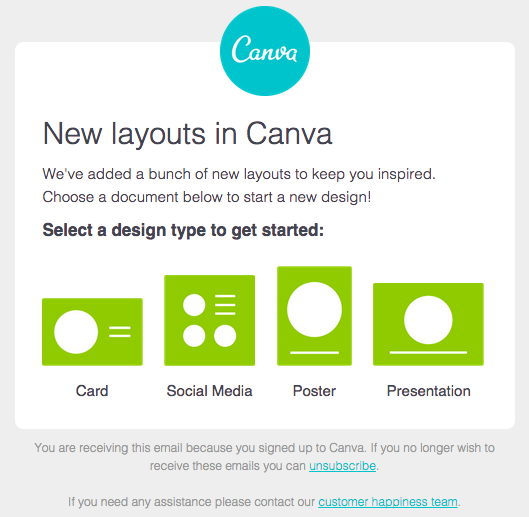 Informational email describing new features of the service
In this email, the company is requesting recipients to take a brief survey and provide feedback on their performance. At the bottom of the email, there is a CTA button that leads to the survey page. In other cases, surveys may be included directly within the email, eliminating the need to visit external resources.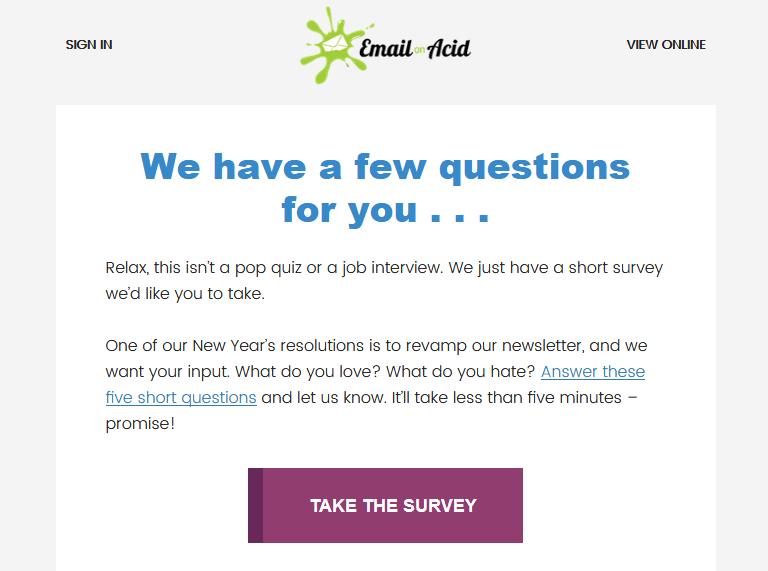 Email asking to take a survey
This email from Peet's Coffee offers its customers the opportunity to download the app, register with a promo code, and receive a $2 discount. Additionally, users will receive a complimentary beverage as a gift for their first order made through the app.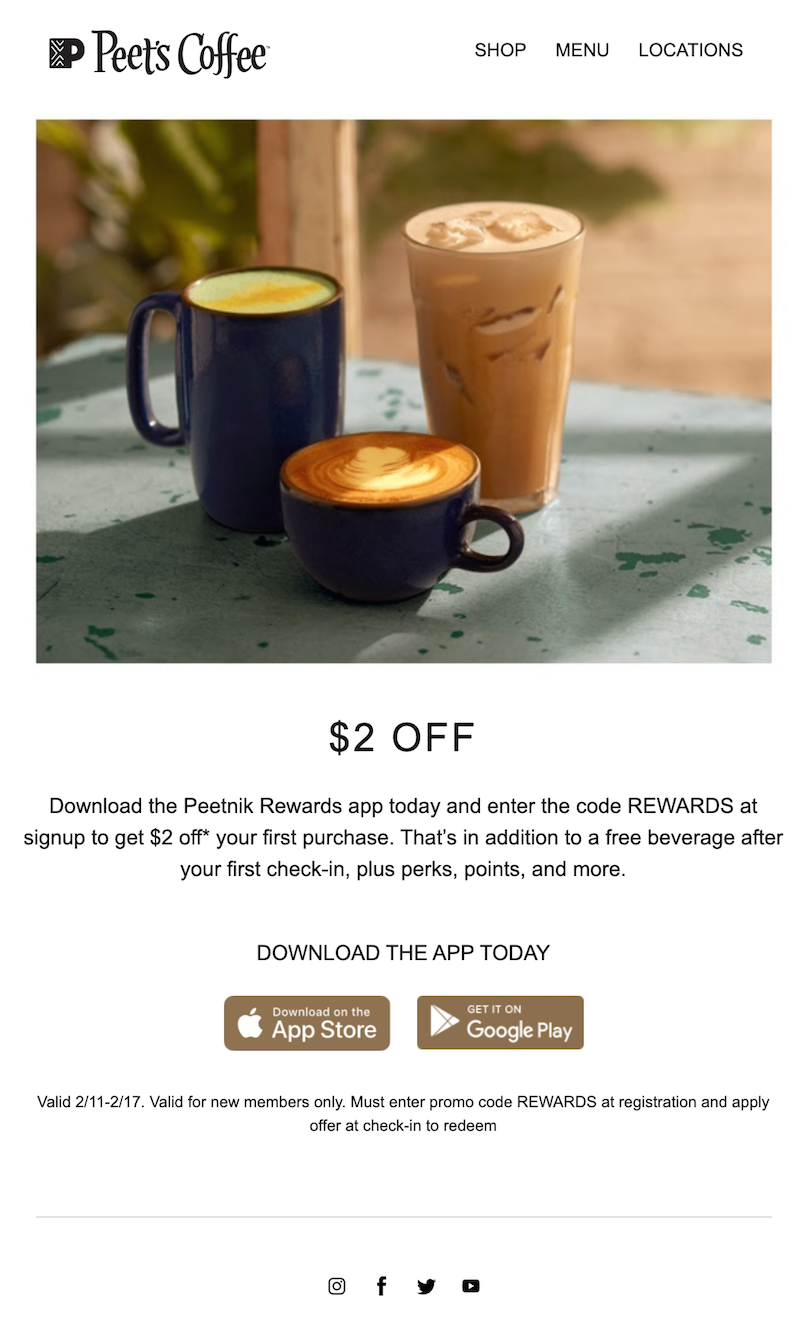 Example of a promotional mass email with an offer
The mass email with a reminder about an incomplete order is sent as part of a trigger email campaign to users who have abandoned their shopping carts.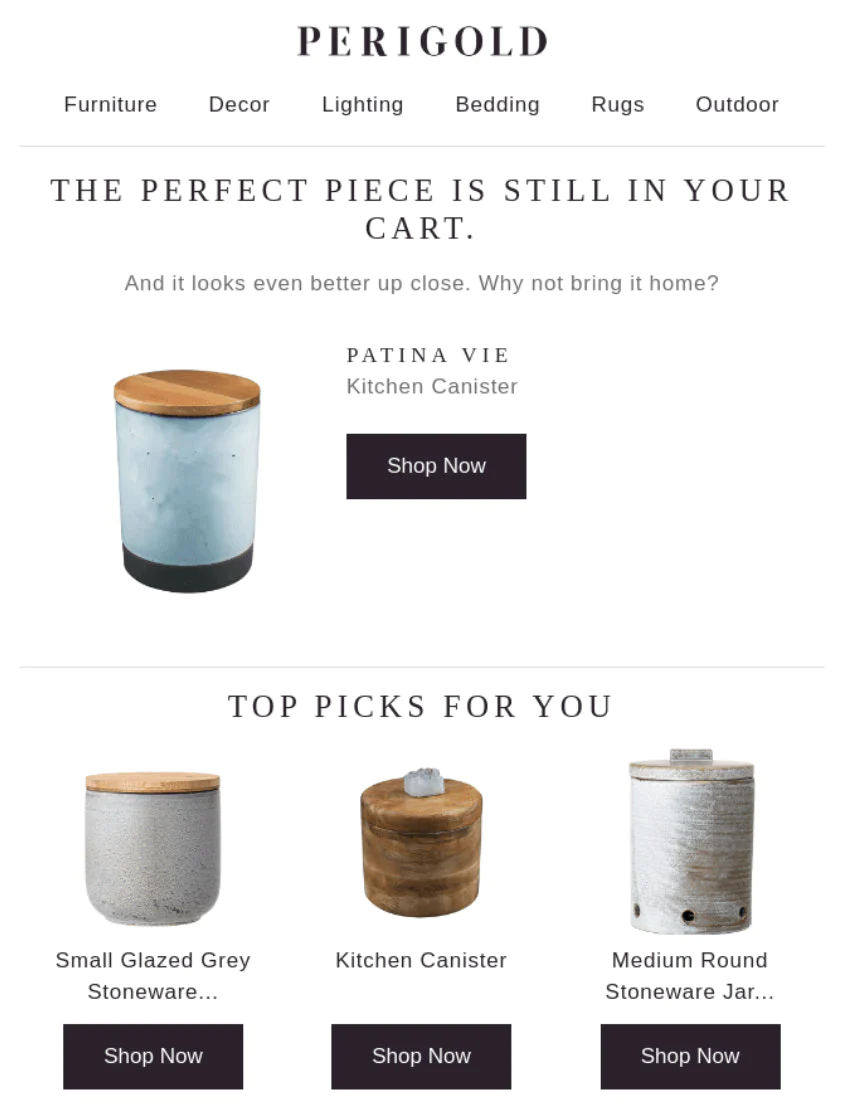 Email reminding of abandoned cart as part of trigger campaign
In this case, users receive a transactional email after completing their order. J.Crew is requesting its customers to leave reviews about the items they have purchased.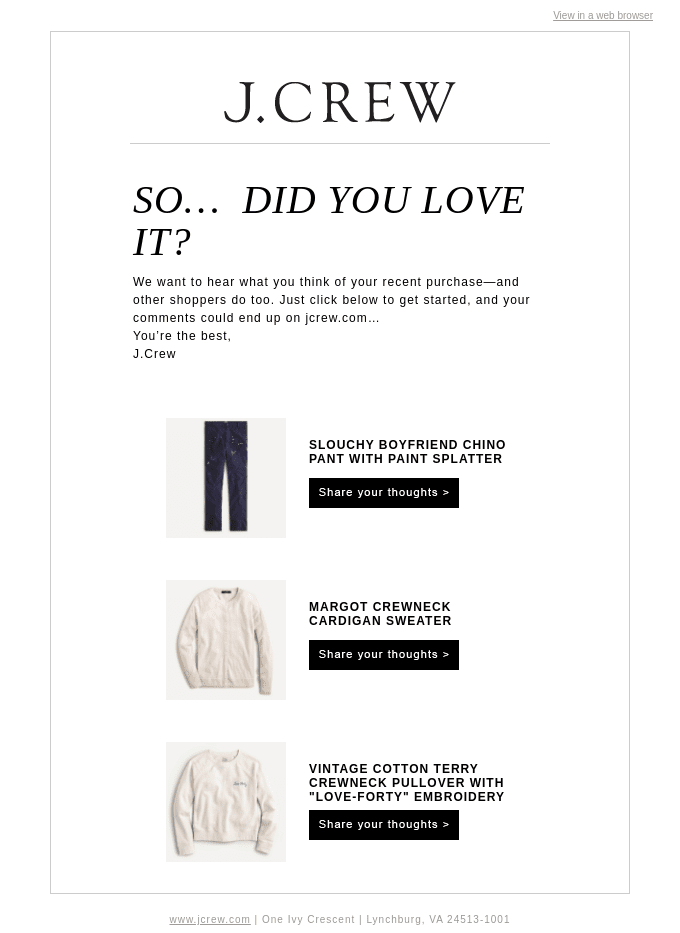 Example of a transactional mass email
Summary
Mass mailing is a method of communicating with a large audience by sending emails to hundreds or thousands of people. Brands use this approach to increase sales, enhance recognition, inform users about changes, and conduct research.
Types of mass mailings include promotional, trigger-based, informational, content-based, transactional, survey emails, onboarding emails, and situational emails.
When sending a large number of emails, there is a risk of ending up in spam folders, so it is recommended to monitor your domain's reputation, provide an option for users to unsubscribe, send messages only to your own database, and gradually increase the volume of emails.
To improve the effectiveness of a mass email campaign, it is advisable to personalize emails, reactivate subscribers, avoid immediate sales pitches, analyze results, and use automation services.
You might be interested in: