What is the New Social Media Platform Clubhouse and How to Use It in Marketing
Date: 2021-04-02 | Time of reading: 6 minutes (1212 words)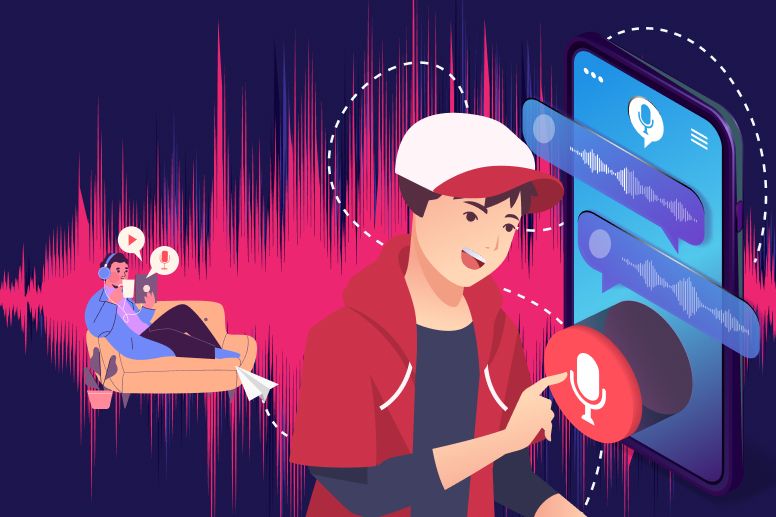 In the last week of January 2021, more than a million people joined a new social network — Clubhouse. Even the fact that the only door into it is a special invite didn't stop them. Users began to ask for invites from friends and to buy at various sites. Now we're going to tell you why this social network caused such a sensation and how to use it in your marketing strategy.
What is Clubhouse
Clubhouse is a new social media whose users communicate with each other only by voice messages. As mentioned above, you can become a member only by a unique invite.
Сlubhouse consists of «rooms» and «clubs» of interest, where people communicate in real time. By the way, there is no recording of conversations — it's forbidden by the service rules.
Every person signed up for Clubhouse has the opportunity to create a public «room» for a conversation on any topic. After that, his subscribers receive a notification with an offer to join the conversation — kind of a ticket to read Clubhouse. Then the same offer is sent to subscribers of those who have just joined. This is how a chain is triggered and brings new participants to the «room».
In a chat room, all people are divided into speakers and listeners. Each participant can speak, «raising his hand». If the user has created discussions in the «rooms» three times, he can launch his own «club». However, his registration requires the approval of the app moderators. «Rooms» in a Clubhouse can be public, private, or available to members of a specific «club».
The popularity of Clubhouse shot straight through the roof after Elon Musk and Mark Zuckerberg joined it. When the Tesla founder popped up in a Clubhouse room, he brought this audio-based social media app a lot of attention and a great number of new users.
Russia is one of the five countries where Clubhouse is gaining momentum right now, and it doesn't matter that app downloads have dropped 3.5 times lately, and registrations — 17 times.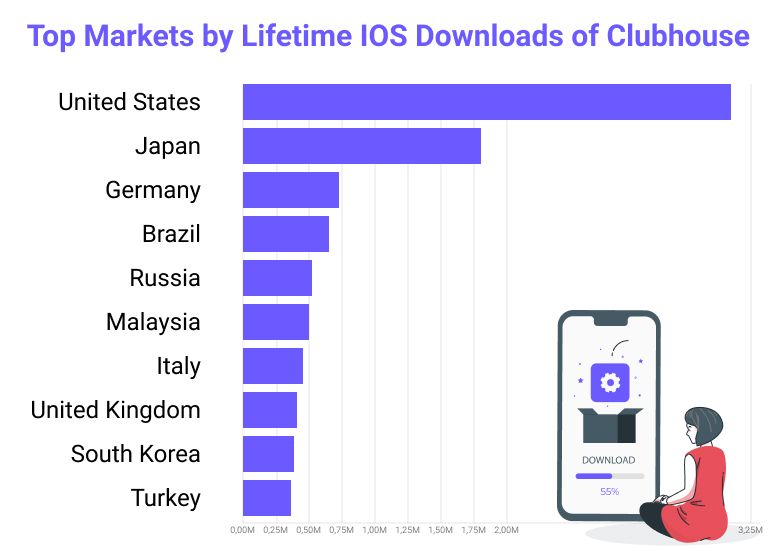 Clubhouse downloads in different countries
How Marketers Can Use Clubhouse in Their Business
Marketers could not just ignore the excitement around the Clubhouse. The specialists drew attention to the new social network and came up with some ideas on how to use it in their marketing strategy. So, how to use Clubhouse and benefit from a popular app:
1. Create your own club community
If you are a professional in a particular field, start a club and expand your sphere of influence. Create conversations on hot topics and give people valuable information. This way, you'll never have to ask how to get people to join your club. They will look forward to your new content, so you'll acquire the reputation of an expert before you know it.
All this let a large number of people know about you, and those people can turn into loyal customers. By the way, don't forget to collaborate with colleagues to develop business relationships.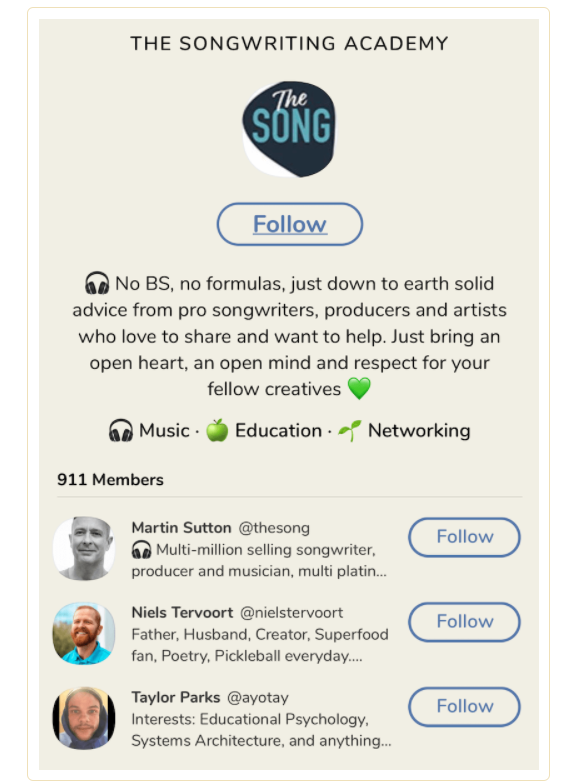 Clubhouse club
2. Follow the news in your industry
Join the rooms of influential figures or competitors in your industry and listen to what they're telling about. This will make you one of the first who knows about trends and let you stay on top of the news or even spy on rivals' ideas.
3. Announce product release
As soon as you get an audience wide enough, use Clubhouse to announce the top news of your company.
For example, you are planning to release a new product. Create a room and talk about the features and benefits of the product. If you do this, you can not only stimulate interest but also get potential buyers.
Have you decided to change suppliers? Share with your audience why you've done this. It is a good way to demonstrate your brand values.
4. Get user reviews about your company
Feedback plays an important role in a marketer's job. By relying on customer feedback, you can make your marketing strategy more flexible, so feel free to create a separate room and listen to the opinion of consumers about a product, service or a new idea. The point is you don't have to wait long for feedback: you just get it instantly.
5. Communicate with investors
If you are just planning to start your own business, Clubhouse can be the very place where you meet investors and establish business connections. Don't miss this social media opportunity.
Cons of Clubhouse
Like any social network, Clubhouse has its drawbacks. Every user should be aware of them if he wants to understand whether the platform is right for him or not.
Firstly, there is no content moderation in Clubhouse. Users have already encountered people who insult listeners and provide misleading information. On February 8, it resulted in a ban on the social network in China, where it was initially unallowed, but local residents got around that ban. In addition, the National Commission on Informatics and Liberty has launched an investigation against the social network. There is some evidence Clubhouse violates European law.
Secondly, the app is only available for Apple iPhone, so now owners of Android smartphones can't use it.
Thirdly, deaf and hard of hearing users are deprived of the opportunity to use this social network. Since Clubhouse is an audio-based app, people with hearing impairments will not be able to participate in the conversation.
Fourth, hackers managed to hack the application several times and get access to audio files in order to upload them to third-party platforms. Web security experts have already sounded the alarm about the vulnerability of the Clubhouse system.
Recently, we've published an article in our blog where we talked about the importance of data protection and two laws that cannot be ignored when it comes to this topic — the European GDPR and the American CLOUD Act. Recommend you to take a look.
Fifthly, Clubhouse has worthy opponents — they look more reliable and inspire more trust. For example, Twitter launched its new voice chat service — Spaces. Now it's kind of a test, but by April it will be available to all users.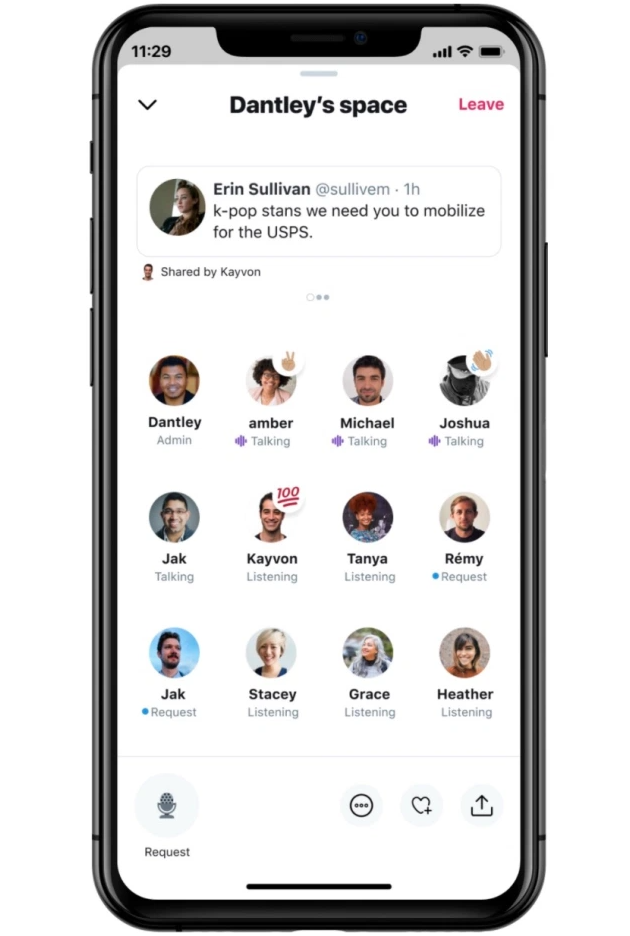 Twitter Audio Spaces
Telegram made its move as well. Now in groups and channels, administrators can create a voice chat and a main chat at the same time. The great thing is the audience does not need to agree on the time of the chat: the voice chat will always be open to them.
Conclusion
Will Clubhouse be able to become a worthy player in the market or will major competitors stop its growth? Anyway, the success of the social network is impressive, and at the very least, it needs to be monitored. The next steps of those who created the app will show us in which direction it will move. If the direction is straight up, the companies that have already joined the platform will get a head start on their competitors.