Exploring Loyalty Program Options: Captivating Cases
Date: 2023-08-17 | Time of reading: 9 minutes (1771 words)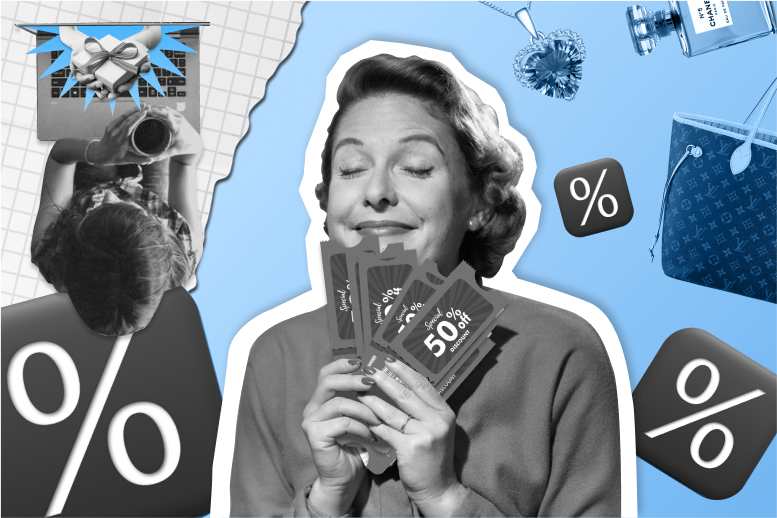 75% of customers choose companies that offer them bonuses. Additionally, 43% of the audience spends more money on brands to which they are loyal. Therefore, developing a loyalty program is a crucial aspect of marketing in various businesses. Retailers, marketplaces, cafes, restaurants, airlines, online services, and more build relationships with their audience through bonuses and other privileges.
Discounts, points accumulation, and cashback are offered to customers to motivate them to stay with the brand longer and make repeat purchases. A well-designed loyalty program also involves personalized offers, increasing the chances of conversion. In this article, we will discuss the various types of customer loyalty programs and provide examples from well-known brands.
What is a loyalty program
Loyalty programs are a set of marketing methods designed to retain brand customers and motivate repeat purchases. They are used to build strong relationships with the audience, attract new customers, increase conversion rates, and average transaction value.
A well-developed loyalty system is also necessary for personalizing offers to customers. This approach sets the company apart from competitors, especially if the program is unique and easy to understand.
The development of a marketing strategy should include customer loyalty programs as a crucial element. These programs strengthen the brand, cultivate a fan base, and create repeat customers. To join the bonus system, individuals need to register by providing their last name, first name, phone number, email, date of birth, and so on. Participants are issued a physical or virtual card.
Types of loyalty programs
The essence of a loyalty program is to provide significant benefits to the customer. This is accomplished through various methods that depend on the business's objectives and capabilities.
What types of customer loyalty programs exist:
| Type | Description |
| --- | --- |
| Discount programs | The customer receives a card with a fixed or cumulative discount. |
| Points-based programs | After a purchase, the user gains the opportunity to accumulate points (bonuses). The mechanics vary; often, one bonus equals one unit of currency, but there can be other combinations. Additionally, the brand determines the percentage of the total bill that can be paid using these accumulated points. |
| Cashback programs | Returning a portion of the money from a purchase back to the customer. Brands provide cashback to the user's account, which can be used for other purchases within the same company. In the case of banks, cashback can be used for any goods and services. |
| Promo codes | The customer receives a promo code via email after fulfilling the loyalty program's conditions. Typically, this requires spending a specific amount or making a repeat purchase within a designated timeframe. |
| Tiered programs | The more a customer purchases, the higher their status becomes. Each new level represents an increase in discount, new privileges, and so forth. |
| Partner programs | Several brands create joint loyalty programs. For instance, bonuses are accumulated in the online store of Company A but can be spent at the cafes of Company B. There's also an umbrella program where services under one brand are unified into a single loyalty system. |
Loyalty enhancement programs are categorized as either closed or open. To join an open bonus system, one simply needs to register and provide their information. For a closed system, a condition must be fulfilled, such as being invited by a current member or making a payment (either a one-time purchase of a loyalty card or a monthly fee). In return for this, individuals are granted additional benefits, like access to exclusive sales, free shipping, and more.
Loyalty programs: examples from brands
Alaska Airlines: Mileage Plan
Alaska Airlines' loyalty program, known as Mileage Plan, is a well-regarded program in the airline industry. It offers travelers a range of benefits and rewards, including earning miles based on the distance flown rather than just the ticket price. This unique approach allows passengers to accumulate miles more efficiently, leading to various perks such as free flights, seat upgrades, and access to partner airline services. Mileage Plan's partnership with a diverse array of airlines and businesses expands its attractiveness, making it a compelling option for frequent flyers seeking value and flexibility.
Uber Rewards
Uber Rewards is Uber's loyalty program designed to provide added value to its frequent riders. By accumulating points through eligible rides and Uber Eats orders, users can unlock different membership tiers – Blue, Gold, Platinum, and Diamond – each offering escalating benefits such as priority support, flexible cancellations, and even price protection on certain routes. This program aims to foster customer loyalty and incentivize riders to continue using Uber's services, while also enhancing the overall user experience through exclusive perks and rewards.
Expedia Rewards
Expedia Rewards is a loyalty program tailored for travelers who frequently use Expedia for booking flights, hotels, and other travel services. With each booking, members earn points that can be redeemed for discounts on future travel reservations or other eligible purchases. The program offers three membership tiers – Blue, Silver, and Gold – each with escalating benefits like access to exclusive deals, bonus points, and potentially even free upgrades. Expedia Rewards aims to enhance customer engagement and encourage repeat bookings by offering tangible rewards and personalized travel experiences.
Ben & Jerry's: Flavor Fanatics
The Flavor Fanatics reward program by Ben & Jerry's is designed to delight ice cream enthusiasts and foster brand loyalty. This program allows customers to earn points for every purchase, which can then be redeemed for free scoops, merchandise, or even exclusive event invitations. By catering to their customers' love for their products, Ben & Jerry's creates a sense of community and engagement, encouraging fans to not only enjoy their ice cream but also participate in a rewarding experience that goes beyond the treat itself.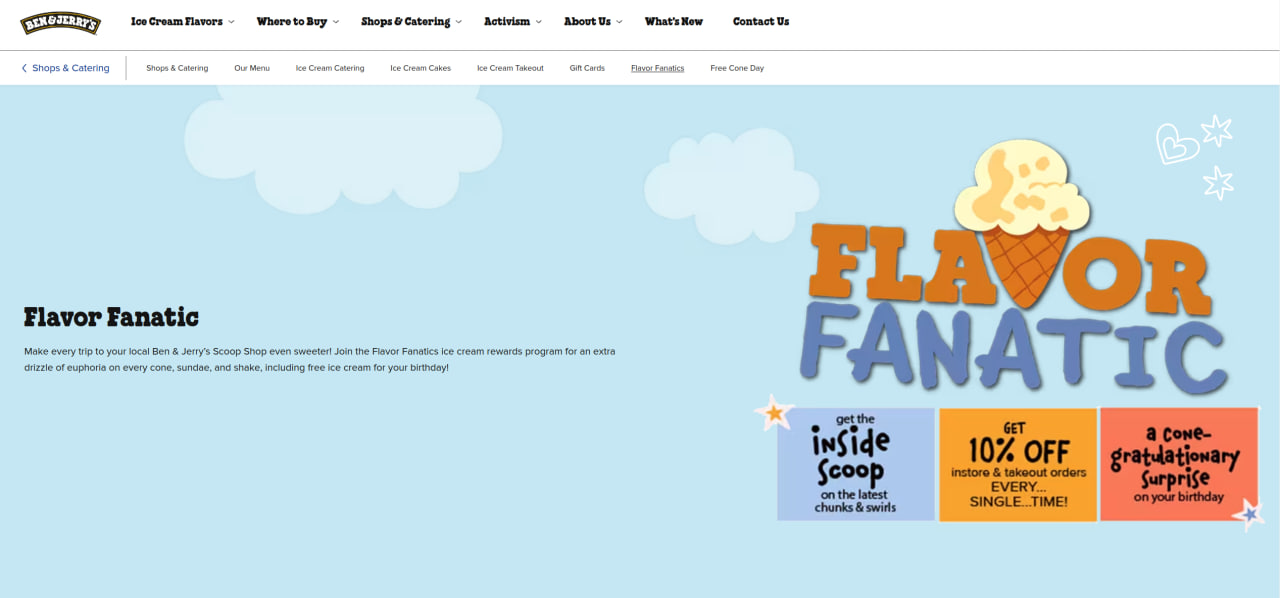 The North Face: XPLR Pass
The North Face's XPLR Pass is a loyalty program tailored for outdoor enthusiasts. By signing up for XPLR Pass, customers gain access to a variety of benefits such as exclusive discounts, early product releases, and invitations to special events. The program emphasizes engagement with the brand's outdoor ethos, encouraging members to participate in challenges and activities to earn points that can be redeemed for rewards. XPLR Pass not only fosters customer loyalty but also aligns with The North Face's adventurous spirit, creating a strong sense of community among outdoor enthusiasts.
Designer Shoe Warehouse: DSW VIP
DSW VIP is Designer Shoe Warehouse's loyalty program designed to cater to shoe and fashion enthusiasts. Members of the DSW VIP program enjoy various benefits such as earning points with every purchase, receiving birthday rewards, and gaining access to exclusive sales and events. The tiered structure of the program allows members to progress from Gold to Elite status, unlocking increasing levels of perks and rewards. By offering a personalized shopping experience and attractive incentives, DSW VIP encourages customer loyalty and keeps shoe lovers engaged with the brand.
The Body Shop: Love Your Body Club
The Love Your Body Club by The Body Shop is a loyalty program tailored for skincare and beauty lovers. Members of the Love Your Body Club enjoy numerous benefits, including earning points with every purchase, receiving a birthday gift, and gaining access to exclusive promotions and events. The program's focus on ethical and sustainable practices aligns with The Body Shop's brand values, resonating with conscious consumers. By offering rewards that align with their commitment to cruelty-free and environmentally-friendly products, the Love Your Body Club fosters brand loyalty while also encouraging positive shopping choices.
Hugo Boss Experience
Hugo Boss Experience is a loyalty program crafted for fashion enthusiasts who appreciate the brand's high-quality offerings. Members of the program receive exclusive benefits such as personalized styling advice, early access to collections, and invitations to VIP events. The program's emphasis on providing a tailored and elevated shopping experience resonates with Hugo Boss's premium image. By offering unique perks that cater to their discerning customers, the Hugo Boss Experience program aims to strengthen customer loyalty and maintain a strong connection with their fashion-savvy audience.
Lancôme Elite Rewards
Lancôme Elite Rewards is a loyalty program designed to engage beauty enthusiasts who value luxury skincare and cosmetics. Members of the program are treated to a range of exclusive benefits, including earning points on purchases, receiving personalized beauty consultations, and gaining access to limited edition products. The program's focus on personalized skincare advice and premium rewards aligns with Lancôme's commitment to enhancing their customers' beauty routines. By offering tailored experiences and coveted rewards, Lancôme Elite Rewards aims to foster brand loyalty and provide an elevated beauty shopping experience.
IKEA Family
IKEA Family is a loyalty program tailored for home and furnishing enthusiasts who frequent IKEA stores. Members of the IKEA Family program enjoy a variety of benefits, including special discounts, product offers, and even free coffee during store visits. The program's emphasis on providing value and savings aligns with IKEA's affordability and practicality-focused brand image. By offering perks that resonate with their target audience, the IKEA Family program aims to build customer loyalty and enhance the overall shopping experience for those seeking stylish yet budget-friendly home solutions.
Summary
Loyalty programs are a set of marketing tools that retain customers, motivate repeat purchases, and establish ongoing communication with the target audience. Within the context of loyalty systems, users are granted bonuses, cashback, provided with consistent or temporary discounts, and sent promotional codes. Customers use these benefits for new orders from the brand or at other locations as stipulated by the program, while the company collaborates with partners.
Brand loyalty systems can be either open (available to all and free) or closed, where entry is possible only through payment or upon fulfilling certain conditions.
You might be interested in: