Customer Loyalty Program Trends For 2022
Date: 2022-02-04 | Time of reading: 5 minutes (914 words)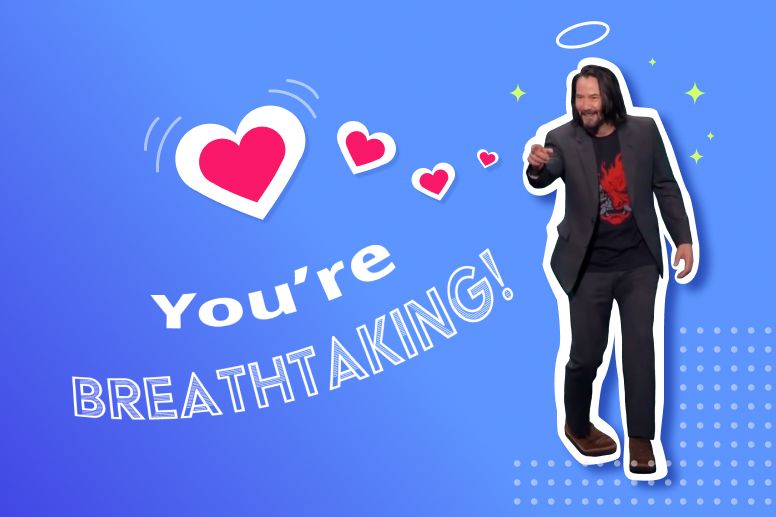 Building customer loyalty is the key to driving repeat business, increasing profits, and developing a customer base of long-term, satisfied clients. A well-designed loyalty program can help you build brand loyalty and increase the lifetime value of every customer.
Yet, many programs fail to take off because they're not relevant to their intended audience. Customer loyalty will likely fall when you offer subpar reward programs that fail to meet the target group's needs or expectations. Some people like getting discount coupons, others love free gifts, while some customers prefer to get early or exclusive access to new products or services.
It's up to you to understand your customers and tailor your loyalty program strategy accordingly.
Let's break down the loyalty program trends that will shape 2022 and the coming years so you can build better relationships with your customers.
1. Gamify the Shopping Experience
As far as loyalty program trends go, gamification is leading the pack by a considerable margin.
By definition, gamification is the incorporation of game design elements, like point scoring, leaderboards, and competition with others to non-gaming contexts. As a marketing strategy, it can be used to create an immersive, engaging, and fun experience for your customers. Gamification works exceptionally well as a tiered loyalty program where customers have to earn a certain number of points to move up a level.
When you gamify a loyalty program, it creates an incentive for customers to interact regularly with your brand. They provide a sense of accomplishment by associating each repeat action that's valuable to your business with a reward. As a result, customers' purchase more frequently, spend more money, and are more likely to use their loyalty points to get rewards.
Gamification helps to grow brand awareness and loyalty while increasing user engagement. Plus, it creates an interactive community around your brand that's key to growing your business.
Duolingo is a good example of how to use gamification in loyalty programs. The app has a free and paid version. In the free version, the user has only five hearts. If during the day he makes five mistakes, he will have to postpone classes until tomorrow. This way, they encourage users to upgrade to a paid Duolingo Plus version.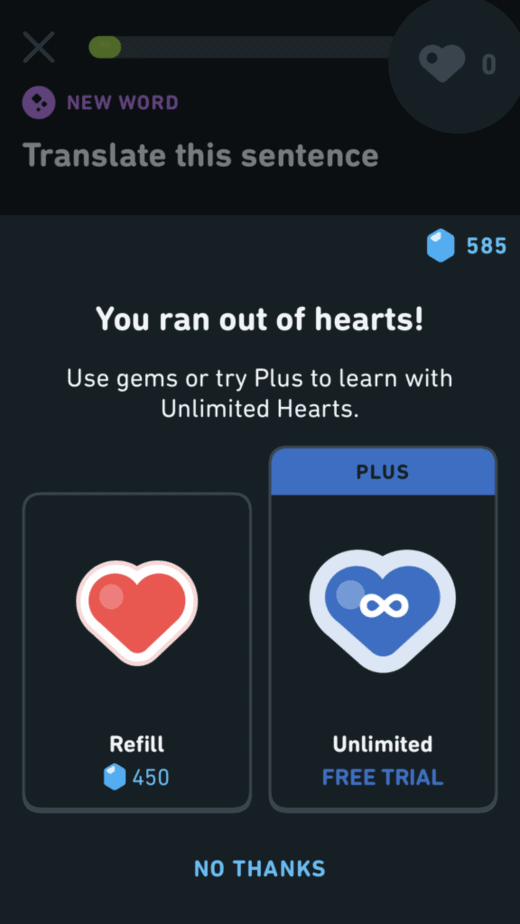 2. Make It Mobile
As dependency on mobile devices increases, so do the opportunities for mobile-based loyalty programs. Mobile apps allow you to track in-app customer activity and reward them accordingly. Through advanced analytics, you can understand your customers better to deliver more personalization and increase your sales.
When designing mobile loyalty programs, do not limit your rewards to purchases. The purpose of a loyalty program is to show customers that you care about them. For this reason, design your loyalty to focus on participation so customers can feel valued.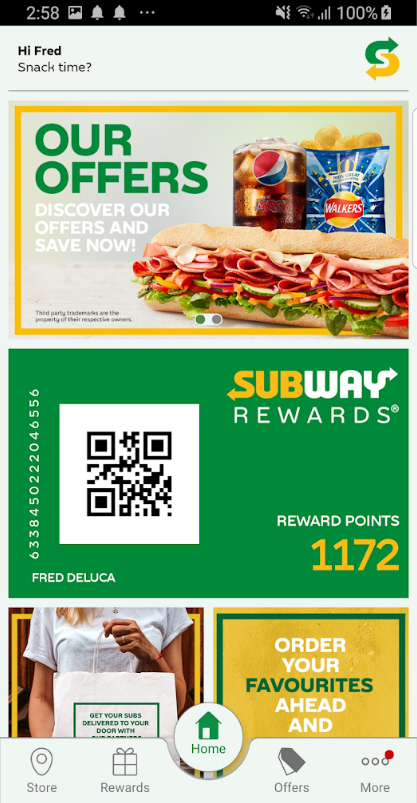 Subway loyalty program
3. Focus on Multiple Touch Points
Developing a mobile loyalty program is a crucial step towards creating an omnichannel loyalty program that offers consumer rewards for any actions taken on any channel – online, in-app, in-store, or otherwise. An omnichannel program covers all touchpoints, whether customers promote a product on social media, leave an in-app review, or refer a friend via email.
Hybrid loyalty programs are the future and the key to prolonged customer engagement. Merge scannable loyalty cards with digital avenues to create a seamless experience for consumers. Your loyalty program should be adaptable, no matter how your customer chooses to engage with you.
4. End-to-End, Customized Loyalty Programs
Consumers want to choose how and when they engage with their favorite brands. End-to-end loyalty programs offer both traditional points-based programs and subscription loyalty programs, where customers opt-in by paying a membership fee to access enhanced benefits.
An end-to-end loyalty program creates a complete loyalty ecosystem that incentivizes new and repeat customers. Point-based systems allow new customers to experience all the benefits you have to offer with a low barrier to entry, while a premium loyalty program provides loyal customers with a VIP experience that keeps them hooked to your brand. Such programs emphasize the value of loyalty without alienating those who aren't familiar with your brand.
5. Amazing Experiences Remain Essential
Going forward, customers expect personalized experiences from companies, be they a social media giant or a small business. Consumers are inundated with thousands of marketing messages every day making it challenging to break through the noise. One way you can do that is through loyalty partnerships. For instance, developing a product line with an influencer or another brand will expand the reach of your brand and create new engagement avenues like contests, sweepstakes, and rebates.
Also, there's an increasing demand for authenticity and social justice, which means customers are more likely to work with brands that have a conscience. By incorporating a charitable or sustainable aspect to your loyalty program, you can increase brand loyalty and attract customers whose views align with your values. It's a great rewards program for small businesses that allows you to build a loyal, engaged community while creating opportunities to partner with other like-minded brands.
The Future of Customer Loyalty Programs
For the next few years, the leading loyalty program trends will focus on mobile apps, paid memberships, and gamification.
Most loyalty professionals recognize the importance of getting actionable insights to predict consumer behavior. After all, the key to executing successful loyalty programs lies in hyper-personalization and creating frictionless omnichannel customer experiences.