An In-Depth Guide on Web Push Notifications
Date: 2021-10-07 | Time of reading: 7 minutes (1393 words)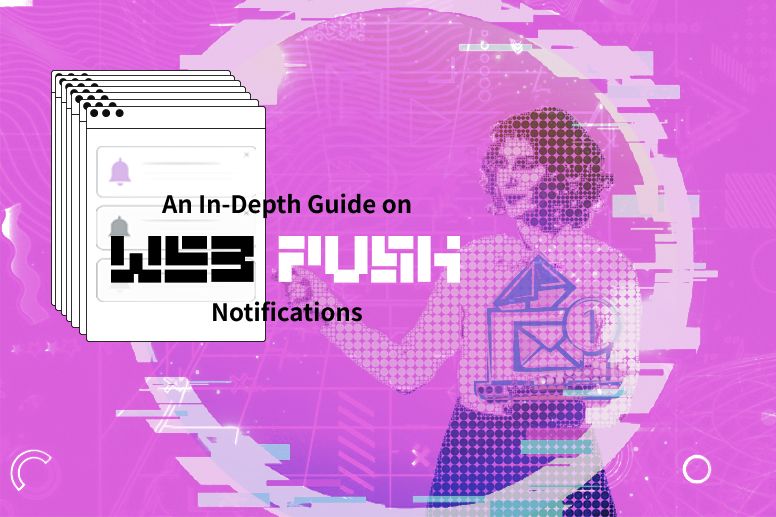 In the current competitive business environment, most small, medium, and large businesses face challenges in creating engaging channels that provide customers with relevant information for more clicks. This explains why more than 70% of online shoppers don't return to online stores. If you have been struggling too, take advantage of web push notifications.
What are Web Push Notifications?
Generally, push notifications, which includes web push and mobile push notifications, are rich-text messages, just like SMS, sent to devices from third-party applications. They are a one-way form of communication sent to alert or inform your prospects and customers. That said, it is worth noting that web push notifications are different from mobile push notifications. Just to mention, mobile push notifications in the phone come from mobile applications, such as a notification from Gmail about a new letter, while web push notifications are sent by sites through the user's browser, such as a desktop device or on a smartphone, and you do not need to install the application to receive these notifications.
However, while both types of push notifications can be received on a mobile device, only web push notifications can be received on the desktop.
How web push notifications work
A web push notification refers to a message delivered to a user's device from your website. The message is delivered as soon as they start browsing your site, on desktop or mobile. This content format alerts the user of generous offers and features—and the notification appears immediately when a user opens your website.
To use a web push notification, you need a set up with a web push notification service provider, who will also handle all the technical aspects related to delivery, activation, and content moderation.
Once you activate web push notifications, your website visitors will be prompted to subscribe. All they are needed do is click allow on the "Allow Button." Once they are subscribed, you can schedule notifications for them.
Push notification is triggered by external scripts that are triggered even if the web page is not being used at the moment. The user will be notified as soon as his mobile device or computer connects to the network.
Pros of Web Push Notifications
Below are the reasons you should use web push notifications:
They reach web visitors, whether they are on your site or not
Hooks both web and mobile visitors
No email addresses required
They encourage and accelerate conversion actions
Subscribers are loyal to this information because they agreed to receive it
Messages are not covered by spam filters
Easy to manage
There are no fake contacts to deal with
Best for companies without mobile apps
Cons of Web Push Notifications
Users must agree to opt-in (one-third of web users disable push notifications)
Ignoring or opting out is easier
Some people prefer ads or emails
How to Use Web Push Notifications for Business
Like any other digital marketing strategies, the underlying use cases for web push notifications are majorly determined by business objectives. As such, markets and businesses across multiple industries, especially affiliates, eCommerce, banking, media, and travel, can leverage web push notifications to achieve their business objectives. Below are some ways that businesses can use web push notifications.
Customer Engagement and Retention
Currently, marketers across all industries have understood the value of existing customers and thus focus on improving user engagement and customer retention. For instance:
Ecommerce businesses can send notifications with discounts and offers for high-level engagement. Trivial messages, such as welcome notifications, help build customer trust. They are also best for the cart abandonment response strategy. The same applies to flash sales, where businesses can send push notifications with the seasons' collections and new arrivals to spark customer interest.
Banking and financial service providers can encourage their prospects to visit their site by sending notifications about special discounts, bonus reward points that customers can redeem, and cashback opportunities.
Entertainment industry – usually, entertainment industry-related websites are either blogs, news channels, sports channels, which have their individual websites. You can send the users notifications and updates in the entertainment industry to attract visitors to your entertainment websites. For instance, you can:
Send visitors news about the latest releases — an album, movie, or a book by a celebrity.
Update your subscribers about the latest trailer release
Track your subscriber's activity and segment their interests to match their favorite celebs
Send notifications and updates to your sports fans about the most awaited match, send live scores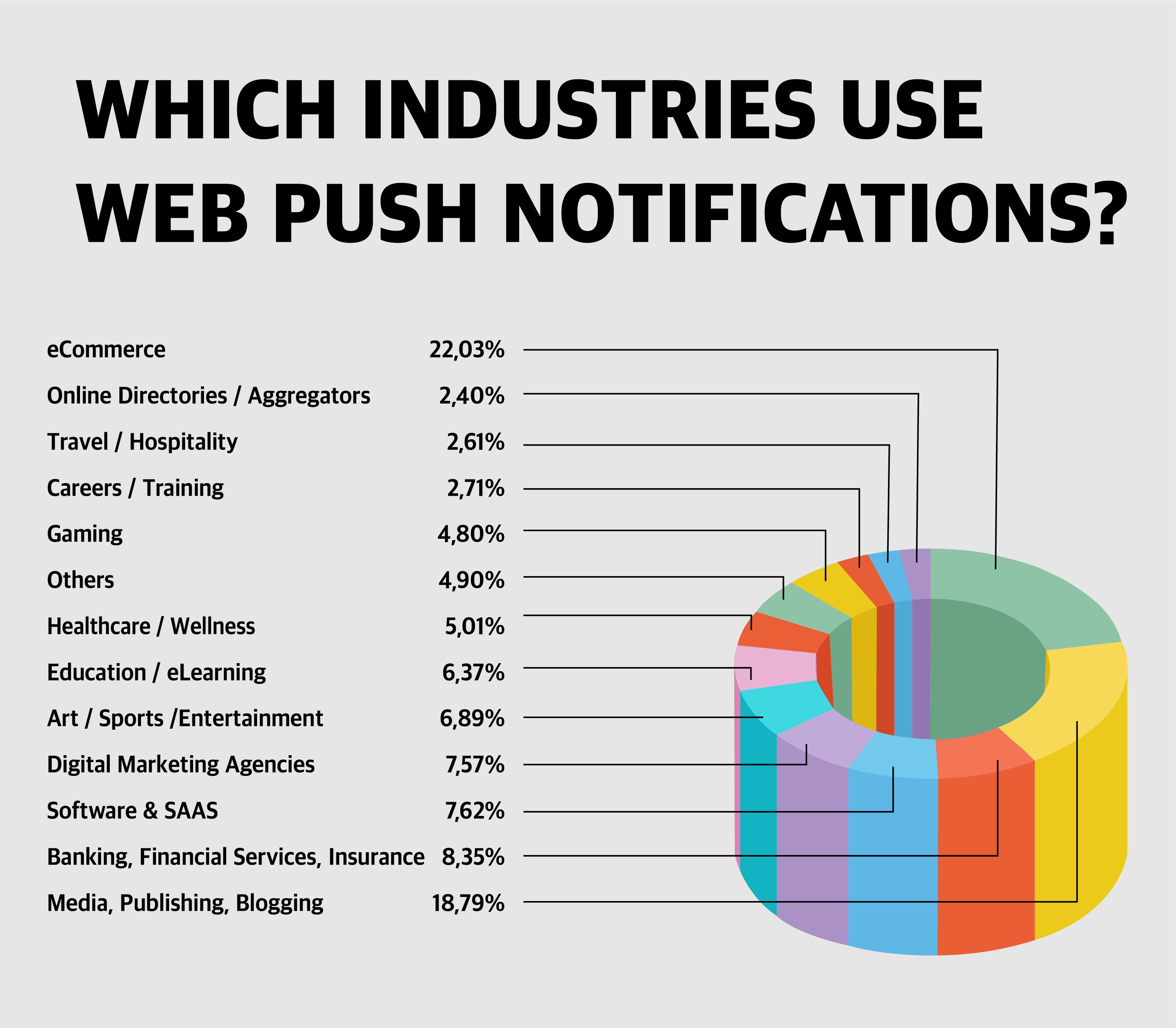 Content Marketing
Currently, more than 91% of B2B businesses use content marketing to create awareness, guide buyers through their sales funnel, and aid decision-making. Digital marketers have increasingly turned to web push notifications to communicate to their clients with the main goal of building trust and driving leads. Businesses use push notifications for content marketing in the following ways:
Awareness-driven campaigns – educating your clients about various aspects in your industry, such as how to use a product/service or defining complicated jargon, makes you an industry leader. Push notifications can simplify this.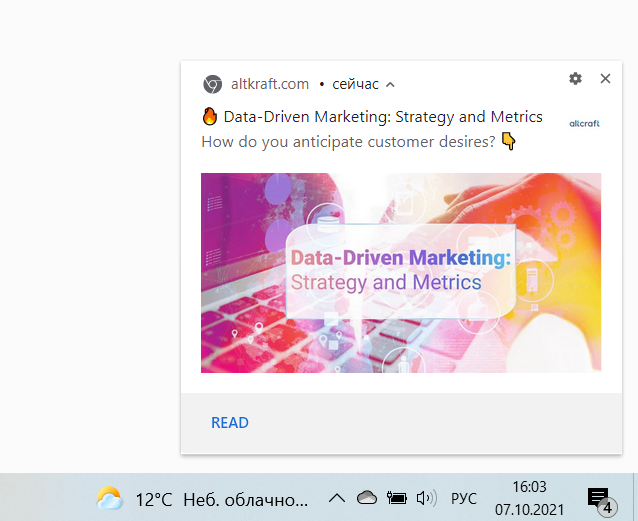 Product/service updates – you should inform your customers about new products or services and how these products suit their needs. Web push notifications can perfectly facilitate this.
Web push notifications can also be used for behavior-based communication, transactional updates, and product promotion.
Web Push Notifications Best Practices
Push notifications are probably the best communication tools for various reasons. However, like any other digital marketing strategy, some tips improve its effectiveness. Below are tips for perfecting your web push notifications campaign:
Web push notifications allow businesses to broadcast information according to user behavior and interest. Therefore, you should ensure that these messages are tailored to suit the context. Consider all information available about the subject to personalize these messages. Remember that there isn't much space to explain your message in detail. You are just prompting users to take a certain action.
Fortunately, rich push functionality can ease this task. As the name suggests, rich push platform allows users to send push notifications with rich media statements. With rich push, you can create web push notifications for different browsers and operating systems. That aside, it allows users to send push notifications of several characters with images, audio, videos, and other interactive element attachments.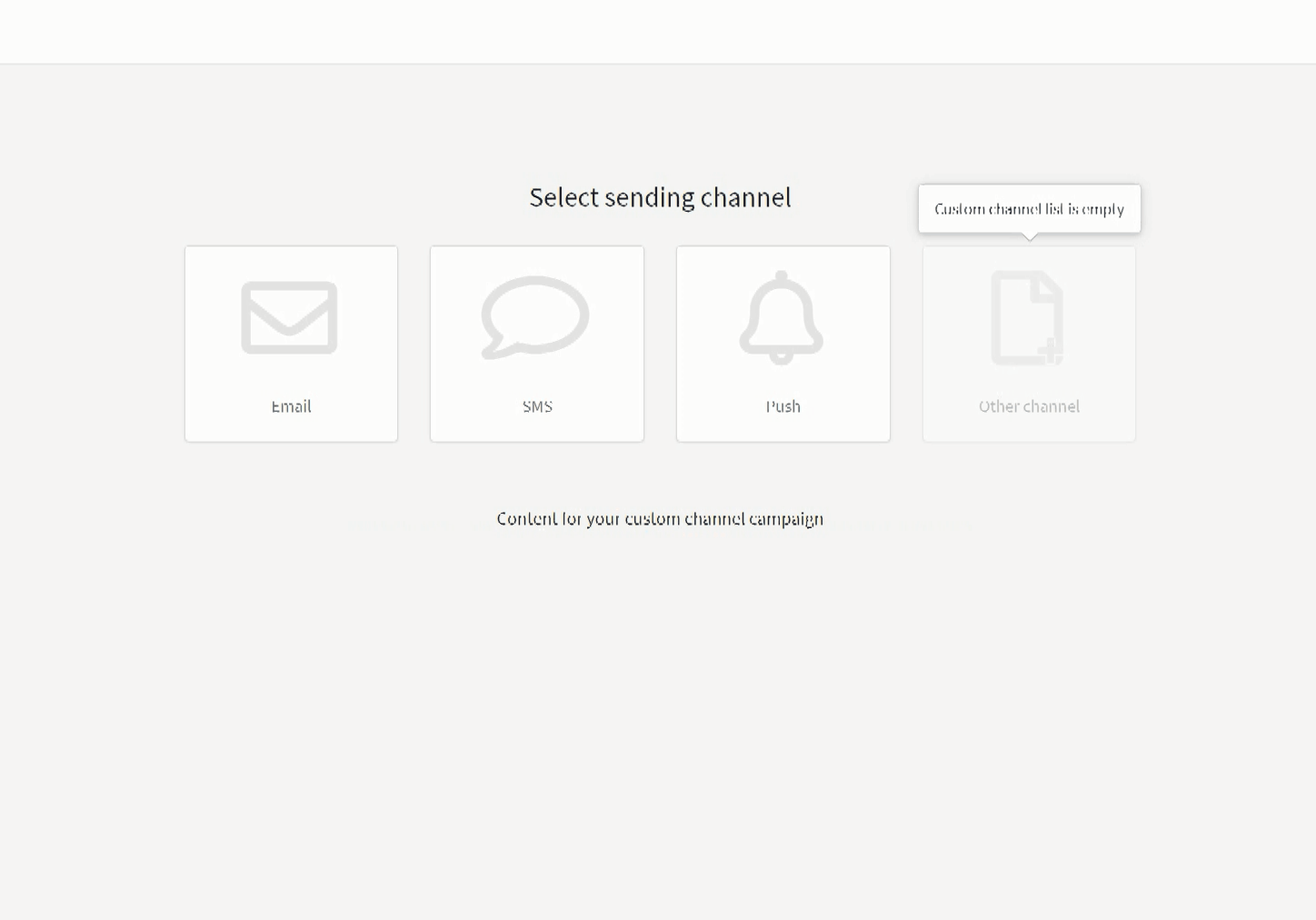 Rich push editor in Altcraft Platform
Accurate timing of push notifications is crucial to maximizing customer engagement. Therefore, depending on text content, you can send notifications as a response to customer actions. Similarly, if you want to target dormant visitors, time the sending perfectly. Timing is especially important for brands with a worldwide audience.
As such, you should do a time zone check before sending out notifications. The time and day of the week matter. For instance, business and finance-related communications are best sent in the morning and at the beginning of the week. Gaming and entertainment perform better during the evenings and weekends. Fortunately, automation can help you plan and schedule these notifications in advance.
You should make sure that push notifications are delivered to the right audience. As such, you should have a clear understanding of your audience to run an effective push notifications campaign. Understanding your audience makes it easy to send finely targeted messages that are appropriate for specific scenarios. For instance, notifications sent to retain or lure old customers shouldn't reach new customers who recently opted in. Newcomers should get a "welcome" message instead.
Conclusion
Web push notifications are a precise online marketing tool. It provides a high level of precision when targeting specific users and groups. Besides, they are very visible and hard to ignore. Reaching your users on their phone or desktop, whether they are browsing your website or not, isn't an opportunity to overlook.
That said, you should consider using a third-party tool for your web push notifications. For this, consider using Altcraft Platform, an omnichannel marketing automation software. We provide businesses with multiple communication channels, including push notifications.
You might be interested in: